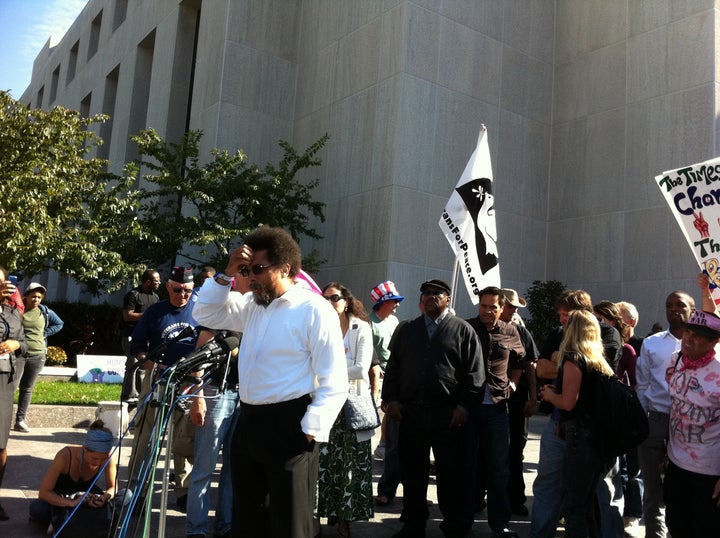 WASHINGTON -- After a day in detention, noted academic Cornel West and a group of protesters arrested at the U.S. Supreme Court on Sunday, have been released. Upon leaving D.C. Superior Court on Monday afternoon, West and the protesters gathered outside the Judiciary Square courthouse where they were greeted by well-wishers chanting "We are the 99 percent," a familiar slogan of the Occupy Wall Street movement that started in New York City and spread to cities across the nation in recent weeks.
Prosecutors chose not to move forward with charges for the 19 protesters arrested Sunday, although they have the right to revisit the charges. Ann Wilcox, an attorney for the group, told The Huffington Post that generally, unless protesters are arrested again in the next year on similar charges, cases are unlikely to be reopened.
During a press conference on the courthouse steps, West said that those detained were not given food and only had one cup of water. Overall, West said that the experience gave him "a deeper fortitude to continue the fight for justice."
Civil rights activist Jesse Jackson, one of the supporters greeting West and the other protesters, told reporters that "[a]t some point, the occupation must turn into legislation," and concluded that the protesters should ask for hearings.
When asked by The Huffington Post whether he was part of the Occupy movement, Jackson replied, "I always was."
After the press conference, protesters headed back in the direction of the Supreme Court on Capitol Hill, presumably to pick up belongings that they were forced to leave behind when detained.
Mark Goldstone, a National Lawyers Guild attorney acting as legal adviser to the Stop the Machine group, told The Huffington Post that he has already filed a cert petition before the Supreme Court challenging the law prohibiting protests on the steps. Stop the Machine is one of two groups of protesters currently engaged in ongoing demonstrations in the nation's capital. The group has been camped out since Oct. 6 in Freedom Plaza.
UPDATE, 4:25 p.m.: Kevin Zeese, an organizer of Stop the Machine, told The Huffington Post that Cornel West and the other just-released protesters went back to the U.S. Supreme Court after leaving the courthouse, but that they were not arrested again; they only picked up the belongings that had been held at the court after their arrest.
"Everyone got their stuff," Zeese said. "We just went back to get our stuff."
Zeese said that he expects the group will return to the Supreme Court for more protests, though he can't say when. "Washington, D.C., is filled with rich targets," he said.
Related
Popular in the Community