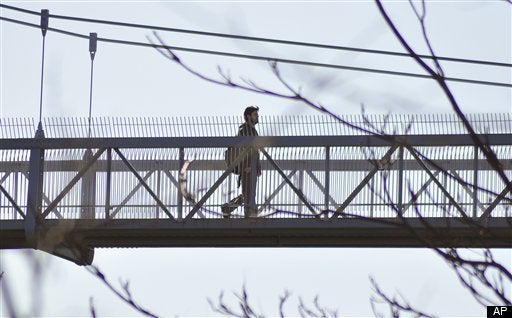 Hundreds of Cornell University students and faculty gathered arm-in-arm on Wednesday night to sing the school's "Evening Song" and "Alma Mater." The display of solidarity would have seemed odd any other week of the year -- but in light of the events of the past week, it felt not only logical but, in some sense, comforting.
At Cornell, students have been coping with the deaths of two classmates in as many days late last week.
Thursday evening, members of the Cornell community received word, via email from President David Skorton, that sophomore William Sinclair was found dead at the bottom of Fall Creek Gorge, just underneath the University's Thurston Avenue Bridge. The very next night, Skorton sent out another email, this time in response to the death of junior Matthew Zika, who was seen earlier that day dropping from a suspension bridge extending across the same steep ravine. The deaths -- which authorities suspect were suicides -- represent just the most recent in an academic year that has seen an unusual number of campus fatalities.
The effect of the tragedies has been oppressive. Though students continue their day-to-day routines, a somberness and emotional fatigue pervades the campus. Wherever one goes, it seems students are grappling with the questions "Why?" and "How?"
The deaths have triggered a concerted response from both Cornell and its students. The university has maintained a nearly constant flow of information, including email updates from President Skorton and Susan Murphy, Vice President of Student Services, as well as more general efforts to improve awareness of campus support and counseling services. Additionally, patrols are stationed at each of the gorge-spanning bridges across campus, manned by a combination of Cornell Police, student EMS workers and privately contracted security personnel -- a precaution which will remain in place until students depart for spring break at week's end.
The undergraduate response has been more varied, both in tone and execution. Most visible have been a string of student-organized events, of varying size and scope; as well as a series of do-it-yourself posters -- emblazoned with the yellow visage of a smiley face and statements of encouragement -- plastered around campus.
When community members joined together to belt out the University's "Alma Mater," it came at the conclusion of the most widely-publicized and well-attended of this week's student efforts. Titled "Lift Your Spirits," Wednesday evening's proceedings included statements from President Skorton and Vice President Murphy, as well as performances by student a capella and dance groups. A variety of activities and refreshments at booths were dispersed through Cornell's Arts Quad.
Rammy Salem, president of the Cornell Student Assembly and an organizer of the event, explained, "It was a symbolic gesture more than anything else, to show we can unite to overcome any troubles plaguing the students."
In that spirit, President Skorton quoted a student op-ed piece published in The Daily Sun, Cornell's student newspaper, encouraging community members to actively support one their peers through difficult times: "Let's take care of one another," he said. "Let there be love and community."
Tragedy has united the student body in grief, but produced markedly different opinions on the subject. Student events, in particular, have garnered a wide variety of reactions from the undergraduate community.
For example, many at Wednesday's gathering were taken by the outpouring of support following the deaths, though they all seemed to have concerns about the potentially fleeting nature of the response.
"I think it's wonderful," said Senior Meghan Smith. "But I also think the biggest thing is -- these [events] need to start happening without reason. It shouldn't just be reactionary, it should be something that continues and is preventative."
Freshman Sarah Grennin agreed: "Even if people came here with the expectation to get cotton candy and soda, it really provided the opportunity to have things discussed. As long as you get things started, talking, it goes a long way"
Others, meanwhile, took a more critical view of the campus response.
"I disagree with a lot of what the students are doing," commented sophomore Christina Cheung. "I feel like they have marginalized and belittled the problems of depression. ['Lifting Your Spirits'] is a PR stunt for students, and I think they're doing it in an uncouth manner. I really hope that people will realize that depression is a huge problem that you can't solve by throwing a little concert or rally. You need to reach out."
Other students expressed concern about the glut of media attention Cornell has received in the past week. National outlets such as the New York Times, CNN and the Huffington Post have all devoted coverage to the deaths, and a camera crew from NBC's "Today Show" even rolled through Ithaca on Wednesday to capture student reactions.
"It's just feeding into this idea of Cornell as a suicide school," worried freshman Levina Li. "This isn't a typical Cornell year, and the media focus on it is unnecessary and sort of disrespectful."
Whatever the case may be, all seem to agree that, if there is any hope of preventing more such deaths in the future, the prevention process needs to be an ongoing one.
"We need to open up conversations and dialogues," said freshman John Meluso. "And put some hope back into people's hearts. I think in the end there need to be some major changes to the University's philosophy as a whole. But that's not a now thing. That comes later."
REAL LIFE. REAL NEWS. REAL VOICES.
Help us tell more of the stories that matter from voices that too often remain unheard.