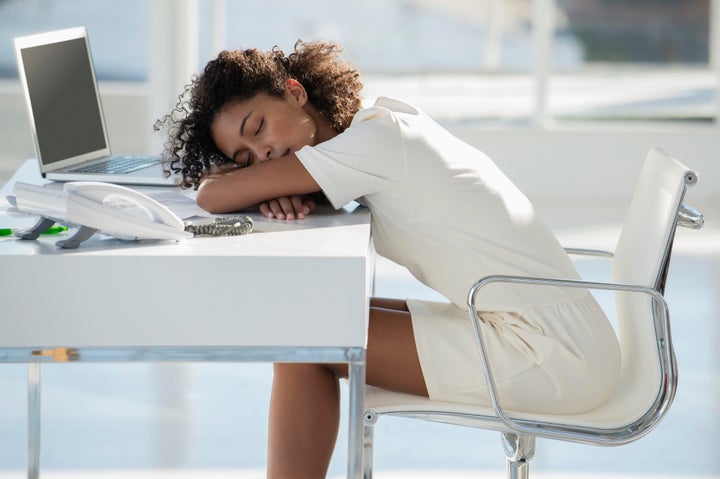 "You can sleep when you're dead."
You've heard the mantra before. You've likely even fallen victim to it in your professional or academic life. This phrase and its philosophy urge everyone from college students to business professionals and corporate leaders to ditch quality sleep in order to cram more achievements into the day. And, whether we sense it or not, the tradeoff comes at the expense of our health and well-being.
As more information about the harmful effects of sleep deprivation on our physical and mental health -- as well as on our productivity -- comes to light, more business leaders are joining the ranks in challenging this status quo. We partnered with Sleep Number to celebrate the business world's most innovative initiatives and prominent figures who are promoting healthier and happier lives through quality sleep.
1. The Product Never Sleeps, But The Employees Do
Hootsuite
Employees at Hootsuite know that the nap "cabins" at the social media management company's Vancouver headquarters aren't just for show. CEO Ryan Holmes is dead serious about employee wellness; there are yoga classes on site, the office is pet-friendly, and to encourage the use of the company's nap rooms and sleeping pods, Holmes reminds employees that even a 10-minute power-nap can make a world of difference.
"In your job, you can sprint from time to time, but long-term success depends on maintaining a marathoner's steady gait."
In a LinkedIn blog post, Holmes touched on the dangers of sleep deprivation amid the tech industry's "workaholic culture" -- where developers subsist on energy drinks and Adderall, and managers take pride in pulling all-nighters. Decrying Silicon Valley's stimulant problem, Holmes stressed the importance of getting adequate rest and highlighted the steps companies like his are taking to promote better sleep among their workforce and avoid employee burnout. "In your job, you can sprint from time to time," Holmes wrote, "but long-term success depends on maintaining a marathoner's steady gait."
2. Conquering The World Begins The Night Before
Amazon and Zappos
As CEO of online retail giant Amazon.com, Jeff Bezos never slows down. From making bold steps in the world of media (in 2013 he acquired The Washington Post), to working on drone deliveries and space rockets, Bezos is one of the busiest business leaders around. All this does not prevent him from getting a solid eight hours of sleep on a typical night, though -- a healthy habit he's kept since 1999.
In an interview with the Wall Street Journal, Bezos praised the power of sleep, saying he is more alert and is able to think clearly after a good night's rest. His company walks, or sleeps, the talk by providing nap rooms at the company's Seattle headquarters.
Zappos, a fellow online retailer and pioneer of workplace "power-napping," began its practice of sleeping on the job back in 2004. CEO Tony Hsieh has been outspoken about the importance of Zs, saying a 20-minute nap can make people more effective during the day. The company started with low-tech nap rooms and have since added EnergyPods -- ergonomically designed napping chairs -- to aid those employees looking to nap beyond the couches. The EnergyPods are furnished with built-in sound systems and headphone jacks to help eliminate background noise, even in bustling common areas.
3. The Virtue Of Sleep Starts At The Top

Lightspan Digital and The Huffington Post
As a young entrepreneur heading a digital marketing company, Lightspan Digital's CEO Mana Ionescu used to believe she could sleep less and get more done -- that is, until she was involved in a car accident caused by exhaustion following a sleepless night. Since then, Ionescu has taken steps to improve the quality of her sleep, such as keeping a regular sleep schedule and aiming for eight hours a night. These adjustments to her lifestyle,she says, changed everything.
"I am able to work more, decisions are easier to make, business is easier to close," Ionescu told Fortune. "I've been running half marathons and solved problems that before seemed almost impossible to solve."
Like Ionescu, HuffPost editor-in-chief Arianna Huffington has embraced the value of quality sleep since a 2007 fall and injury she suffered while exhausted. She has since become a "sleep evangelist," bringing her values to the workplace. In Thrive (2014), in countless interviews and in her latest book, The Sleep Revolution, Huffington preaches against the unsustainable habit of 18-hour workdays, and stresses the importance of unplugging in order to wind down and recharge. So, it's really no surprise that Huffington brought this philosophy to the office, installing nap rooms and encouraging staffers to put down their phones and get their beauty sleep and then some.
"I am able to work more, decisions are easier to make, business is easier to close."
In addition to its now-famous office nap rooms -- complete with white noise machines, candles, pillows and relaxing wall art -- The Huffington Post has long been lauding the benefits of sleep (and the harmful consequences of sleep deprivation) to its readers across the world, spreading the gospel of sleep.
4. Sleep Is Always On The Personal Development Agenda

The Portland, Ore.-based sports giant Nike may create gear to help us work hard and play hard, but that doesn't mean the company devalues rest -- especially when it comes to Nike's most important asset: its employees. CEO Mark Parker admits to thinking about balance a lot, so it only makes sense to promote the importance of sleep for athletic performance, and offer his employees peaceful "quiet rooms" where they can nap, meditate, or simply unplug and recharge. Employees also have the opportunity to unwind outdoors, by getting some fresh air in the company's Japanese garden, or practice breathing techniques while overlooking the on-campus lake.
It's not all about catered meals and concierge services -- sleep is also a big deal at Google. The company has not only enlisted the help of sleep experts to assist its workforce in pursuing their healthiest sleep ever, but also hosts an annual "Sleeposium" event and has integrated programs and workshops from sleep health providers that educate its employees.
Gopi Kallayil, chief evangelist for brand marketing at Google, preaches for the golden rule of eight hours a night. Kallayil isn't the only senior Googler to recognize the importance of sleep. Laszlo Bock, head of Google's People Operations, swears by an app called Twilight, which dims your device screens and tints them from sunset to sunrise in order to minimize blue light exposure and help regulate your sleep-wake cycle. Instead of spending time glued to his smartphone, Bock prefers to read in bed before falling asleep each night.
5. The Employees And Customers Both Reap the Same Benefits

Marriott and Select Comfort
Here's a refreshing story: Marriott Hotels' CEO Arne Sorenson recently spoke out against the glorification of sleep-deprived leadership. In an interview with The Huffington Post at the annual World Economic Forum meeting in Davos, Switzerland, Sorenson stated he gets 7 1/2 hours of sleep per night, and advises others to do the same. Sorenson doesn't just preach the power of sleep to his employees -- he's also concerned about his guests. By emphasizing the need for sleep-friendly hotel rooms, from construction materials to soundproofing rooms, Marriott is paving the way for other hoteliers to follow. "We don't want to be preachy to our guests when they get into our hotels," Sorenson says, "but I think there are some things we can do to be in a dialogue with our customers about the strengths of sleep."
"I think there are some things we can do to be in a dialogue with our customers about the strengths of sleep."
At Select Comfort, Sleep Number beds are specifically designed to deliver better quality sleep -– and in many ways the company's corporate culture is, too. CEO Shelly Ibach is outspoken about the need to change our relationship with sleep. Each employee's Sleep Number setting is part of his or her identity; they're printed on office doors and mentioned during introductions. Sharing one's SleepIQ score – a measure of how well you slept the night prior – is common. And Select Comfort's efforts to improve sleepers' bedtime experience extend beyond its products; sleep education ― epitomized by Sleep + Wellness, its editorial partnership with The Huffington Post ― is also a company priority.
Just like diet and exercise, sleep is unique to each person and important for optimal health. Sleep Number® beds are proven to deliver better quality sleep by adjusting on each side to your ideal level of firmness, comfort and support ― your Sleep Number® setting. And when you add SleepIQ® technology you'll know what to adjust for your best possible sleep.