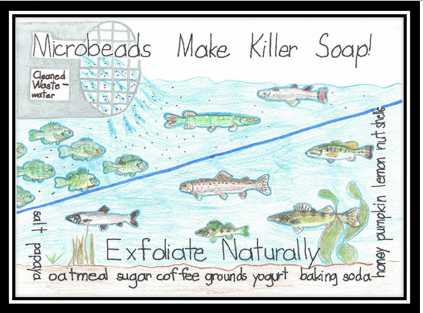 Johanna B., Grade 1, Minnesota, NOAA Marine Debris Program
Microbeads, those tiny bits of plastic found in personal care products from skin lotions to shaving cream, and even toothpaste, are poisoning our water systems and entering our food chain, and at the end, our bodies.
Now is the time to ask your local, state, and federal representatives to ban the bead, as a federal bill, proposed by Senator Kirsten Gillibrand of New York, to ban the microbead nationally, the bipartisan Microbead Free Waters Act of 2015, begins, we can only hope, its journey from The House of Representatives to the Senate and then to The President's desk. Its hard to imagine any reason to vote against it. No one wants to eat poison. Industry is ready to transition with a new law.
As an upstater, Senator is well aware of how these beads are now turning up in fish in The Great Lakes, and from there where else besides. According to a report released by NYS Attorney General Schneiderman's office, 'microbeads were present in 74% of water samples taken from 34 municipal and private [sewage] treatment plants across New York State.' New York is very familiar with the issue. In turn, the Senator knows this is an issue for all Americans, and has been working closely with various Great Lakes senators -- Mark Kirk, Rob Portman, Debbie Stabenow, Gary Peters, Sharod Breon, and Tammy Baldwin -- to pass a bill that would ban these beads from our products and our waters.
Once the beads go down the drain, they become magnets for toxins, such as dioxins and volatile organic chemicals found in our waters due to pesticides and industrial pollution. They're are so tiny that our sewage treatment systems can't filter them. From there, they end up in our lakes, our bays, the ocean, eventually into us, by the fish that eat the beads and we in turn eat. The top of the food chain ends up with the highest concentrations of them in tissue.
Unilever has voluntarily removed microbeads from their products. However, we still have Johnson & Johnson (Neutrogena for example), P&G (Olay), Estee Lauder, and many dozens of personal care product makers like Ahava, Aveeno, Clean & Clear, CVS, Rite Aid, Dior, Walmart and Kiehls knowingly contributing to the degradation of our marine food.
Political Corruption First, Meaningful Legislation Later
Efforts to ban the microbead in New York State in 2014 and 2015 tells you a lot about Albany, and about the many other state houses held captive by lobbyists. In 2014, The New York State Assembly voted 133-1 to ban the bead. The vote never even got to the New York State Senate. The Majority Leader at the time, Dean Skelos, was busy funneling water remediation business to his son, so it's no surprise he didn't find this piece of legislation a priority. The plastics industry, it is widely believed, blocked it from coming to a vote, just as they had done in California in 2014.
This year, the Assembly again in 2015 voted overwhelmingly for the ban at 139-0, but again the bill never reached the floor in the Senate, supposedly because of the disarray caused by Skelo's multiple indictments for corruption, along with those former Speaker Sheldon Silver now faces. The two main fixers in Albany are no longer in power. Meanwhile the plastics industry had their lobbyists on hand to ensure nothing happens.
What to do when your state legislature refuses to vote on a bill to ban a substance that brings toxins into our environment, into the tissues of fish, shellfish, birds, reptiles, into the food chain, and eventually into us, even though industry itself is amenable to removing the substance, and they do that two years in a row?
Piecemeal Local and State Bans
Here's the good news in 2015. Laws to ban microbeads statewide passed in California and in Connecticut. People are reading the science. Grassroots efforts from a number of environmental nonprofits have made a difference. This issue can be quickly won at this point, given the momentum.

Illinois also voted to ban microbeads, sorta. As many called out, this bill was written with a big assist from The Chemical Industry Council with a pretty loophole that the beads could be substituted out with corn-based plastic so-called 'biodegradable' microbeads. These corn-based plastics take a long time to degrade and only at very high temperatures. Perhaps the CIC and Illinois Senate are counting on boiling off the oceans due to global warming?
We've also seen local bans passed this year, such as in Erie County, NY, and just yesterday Chautauqua County. If a county enacts a ban, it puts pressure on industry to standardize the non-polluting version of the product, and makes a stronger case at the State House to implement a statewide ban.
While we environmentalists feel very much like Charlie Brown with Lucy and the football, it is our expectation that we can get a ban passed in Albany in 2016. Meanwhile we are building up local support for a ban, county by county.
But what about the other 3005 counties in the U.S.? Local bans get the ball rolling, but we need broader solutions and quickly. These beads know no county lines. They flow into our streams, rivers, and lakes.
For that matter, they know no state boundaries either. I think we'd all agree that relitigating this across all 3000+ counties and all 50 states would be a huge waste of energy, though profitable for lobbyists, of course. This is a serious global issue. We share one ocean. No one anywhere should be putting these in their products, for the sake of us all. This issue must be addressed by Congress as a national ban.
We've seen a growing call to ban microbeads at every level. This is a national and global concern. This should be a unanimous slam-dunk for Congress: A national ban on microbeads.
Industry would embrace it because it wants clarity in the market. Hunters and fishermen don't want them in their game. We consumers don't want to eat them.
Let both of our senators in each state know that here at least is an issue we can all agree on, that we don't need 8 trillion plastic particles entering our waters every day.
Find out if there's a law pending at the county and state level, and if there is, make sure it isn't being written by the personal care industry or the chemical / plastics industries. That's happening all over.
Thank you! They must be banned and we can't let industry slip in any fake 'biodegradable' substitutes. People before profits.
Calling all HuffPost superfans!
Sign up for membership to become a founding member and help shape HuffPost's next chapter