David Crosby, Stephen Stills and Graham Nash are standing with former bandmate Neil Young in removing their music from Spotify amid the streaming platform's continued support of podcaster Joe Rogan.
The three musicians announced their plan in a joint statement posted to Twitter and Instagram Wednesday afternoon.
"We support Neil and we agree with him that there is dangerous disinformation being aired on Spotify's Joe Rogan podcast," the statement read. "While we always value alternate points of view, knowingly spreading disinformation during this global pandemic has deadly consequences."
It was a rare gesture of comity between the trio and Young, who collectively performed as the folk-rock supergroup Crosby, Stills, Nash & Young between 1969 and 1970.
The former bandmates have been known to feud publicly in the years since. When asked about the possibility of a Crosby, Stills, Nash & Young reunion in 2019, Young quipped to AARP: "Crosby should write an introspective book: Why People Won't Talk to Me Anymore. He made a lot of great music for a long time. I don't know what happened with David." He added: "I love Stephen. I love Graham."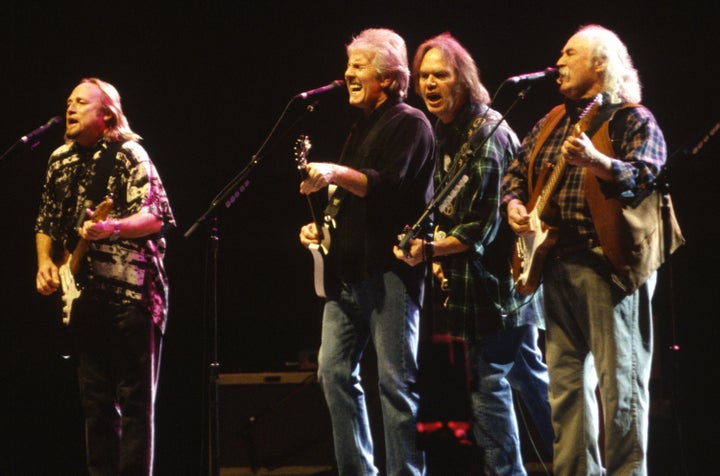 Crosby, for this part, described Young as "the most self-centered, self-obsessed, selfish person I know" in a 2021 interview with The Guardian, adding that the two men hadn't spoken for several years.
"I don't want to talk to him," he said. "I'm not happy with him at all."
Last month, a group of 270 doctors and scientists blasted Rogan's many false statements about the COVID-19 pandemic in an open letter to Spotify that was circulated online.
"He has discouraged vaccination in young people and children, incorrectly claimed that mRNA vaccines are 'gene therapy,' promoted off-label use of ivermectin to treat COVID-19 (contrary to FDA warnings), and spread a number of unsubstantiated conspiracy theories," the letter read.
Shortly afterward, Young announced his intent to pull his music from Spotify, writing in a since-deleted letter on his website: "They can have Rogan or Young. Not both."
Days later, Joni Mitchell followed suit, noting that she was doing so in support of Young as well as "the global scientific and medical communities on this issue."
On Sunday, Spotify responded to the fallout by announcing it would add content advisories to any podcast episode that discusses COVID-19, and make public its long-standing rules for podcasters.
CORRECTION: An earlier version of this story included an inaccurate transcription of the statement from Crosby, Stills and Nash. It has since been corrected.
Popular in the Community