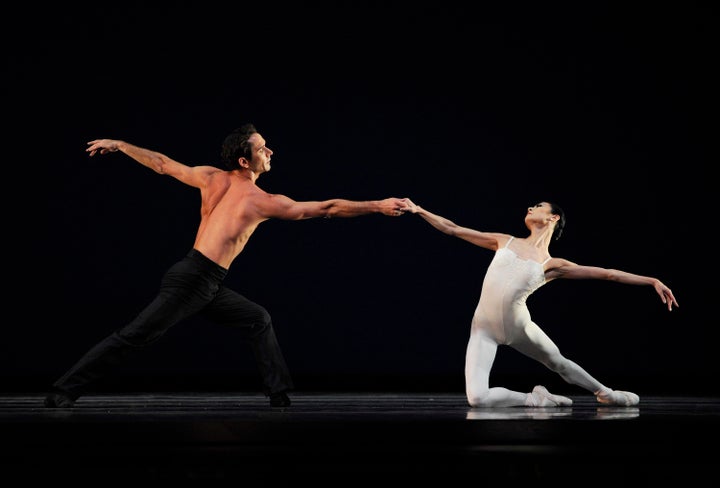 While the hit comedy One Man, Two Guvnors has just opened on Broadway, I saw the London production. I also saw the Metropolitan Opera's new production of Don Giovanni with the Polish tenor Mariusz Kwiecien. As for bragging rights, it's hard to match having seen David Hallberg's debut with the Bolshoi Ballet in Moscow in "Sleeping Beauty."All this, without ever leaving Los Angeles.
I've taken to attending theater, opera and ballet performances from around the world, recorded live in HD and shown in Los Angeles movie theaters, each for less than $20 a ticket, an exceptional value.
My adventures in high culture with a side of popcorn began much like Phileas Fogg's journey, with a performance in London. No sooner had I read a review of Helen Mirren's appearance in the National Theatre's London production of Phedre, Racine's great tragedy, than I discovered that it would soon be shown in HD at the Mann Chinese 6 in Hollywood.
Although a screen can't convey the intensity of a live performance, where you feel as if the outside world has stopped as you witness a greater truth revealed, watching Phedre it nevertheless felt like a privilege to see a world-class performance. Moreover, there were some real benefits that went beyond the availability of concession snacks -- no need to feel bad about slouching in your chair or not dressing up, no guilt for getting up mid-performance for a bathroom break and no compunction about leaving early. Plus, the advances in HD cinematography are such that, regardless of where I sat, it was like having the best seat in the house.
Over the course of the past year, I've attended two National Theatre performances: the very enjoyable Victorian comedy London Assurance, which featured brilliant performances by Simon Russell Beale and Fiona Shaw, and the aforementioned One Man, Two Guvnors, whose comic set pieces had the whole audience laughing as one. Upcoming in 2012 for the National Theatre, at UCLA's James Bridges Theater, are the Oliver Goldsmith classic, She Stoops to Conquer on April 29, and the acclaimed Danny Boyle-directed production of Frankenstein, in June.
As for opera, I had always been told that it was a pleasure I would come to appreciate late in life. My parents were opera goers. I recall with great fondness how my mother would always remark on how, the minute the opera began, my father would fall asleep, only to snap awake when the curtain fell. When I asked him once why he was willing to spend so much on opera tickets if he was going to sleep through the performance, he answered: "Sleep like that I don't get at home!"
I am here to report that after attending "The Met: Live in HD" performance of Don Giovanni, not only did I not fall asleep, but for the first time I "got" opera. I realized that Mozart's genius was to take the beautiful sounds of sacred music, associated with the church and heavenly pursuits, and put them in the service of the profane -- in Don Giovanni there is even an aria where a young woman pleads with her husband to beat her so that they can have makeup sex. Don Giovanni is the story of a rake meant as a wake-up call to the one percent of its day after the revolutions in America and those about to erupt in France. The closest analogy to contemporary music is the revolutionary way in which Ray Charles, Sam Cooke and Aretha Franklin took the sounds of gospel music and formed "soul music" to narrate the songs of unhallowed human experience and the way in which James Brown made it political.
Opera in HD is a global phenomenon: In addition to the Met's performances, Emerging Pictures "Opera in Cinema" program offers HD performances from La Scala in Milan, the Royal Opera House in London, even from the Liceu in Lisbon.
Given the even greater price differential between live opera and HD, and the similarly large gap in informality, not to mention what I save on plane tickets, I've decided that I'm just as happy to attend the opera in HD in Santa Monica. It's hard to imagine sitting in an opera house eating peanut M&Ms without incurring the daggers of dirty looks all around.
Finally, the Emerging Pictures folk also have a "Ballet in Cinema" program that delivers dance performances from the Bolshoi in Moscow and London's Royal Court. Of the three experiences in HD -- theater, opera, ballet -- I would say ballet was the least successful.
Watching ballet is often about suspension of disbelief, watching how dancers achieve with ease the hard-to-believe perfection of line, grace of movement, physical prowess and stamina, displaying supra-normal abilities to stand en pointe, leap, lift and turn. On film, our eyes have been trained by the tricks of special effects to accept and even expect the superhuman (think of those flying martial arts scenes in Crouching Tiger, Hidden Dragon), and because of this, in ballet on film, the extraordinary seems more ordinary than it should.
My objections aside, it is still mind-boggling to see the Bolshoi dancers perform on their stage in Moscow. Bolshoi means "large" in Russian, but also "grand," and to see a Russian heirloom production such as Sleeping Beauty, with music by Tchaikovsky, based on the original choreography by Marius Petipa as passed down to Bolshoi ballet master Yuri Grigorovich, with its seemingly endless depth of dancers, incredible costumes and amazing sets in that storied theater -- that is certainly grand -- and good value.
Now, a caveat about the theaters -- not all are created equal. For example, the sound and the screen at the AMC in Santa Monica, where "The Met: Live in HD" is screened, is not as good as that in Century City (but Century City often sells out). As for the audience at the performances I attended, the crowd was not so much hip as candidates for hip replacement. But so what? There is an easy camaraderie at these performances, where people applaud at will and schmooze during the intermission, trading insider gossip. It's fun (although the more precise technical term would be gemutlich).
One could do worse than to abide by these resolutions: Be lazy. Stay local. Be frugal -- see theater, opera and ballet in HD. A world of high culture awaits -- a chance to travel the world without ever leaving home, to see great performances in grand locations, at affordable prices with popcorn, candy and soda, as close as a nearby movie theater.
This article originally appeared in print in "The Jewish Journal of Los Angeles."
REAL LIFE. REAL NEWS. REAL VOICES.
Help us tell more of the stories that matter from voices that too often remain unheard.