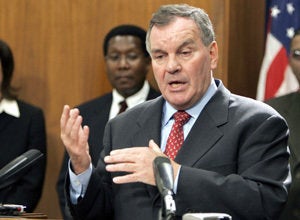 Mayor Daley on Thursday issued a sarcastic blanket apology for the alleged torture of suspects by former Chicago Police Lt. Jon Burge.
"The best way is to say, 'Okay. I apologize to everybody [for] whatever happened to anybody in the city of Chicago.'... So, I apologize to everybody. Whatever happened to them in the city of Chicago in the past, I apologize. I didn't do it, but somebody else did it. Your editorial was bad. I apologize. Your article about the mayor, I apologize. I need an apology from you because you wrote a bad editorial," Daley said, laughing.
"You do that and everybody feels good. Fine. But I was not the mayor. I was not the police chief. I did not promote him. You know that. But you've never written that and you're afraid to. I understand."
REAL LIFE. REAL NEWS. REAL VOICES.
Help us tell more of the stories that matter from voices that too often remain unheard.