Las Vegas police opened fire on two chimpanzees let loose in a northwest neighborhood of the city, warning citizens via Twitter that the animals were "dangerous."
Investigators have not identified the apparently domesticated chimps' owner and it is not known if the chimps attacked anyone. The chaos, however, certainly excited whoever runs the Las Vegas Metropolitan Police Department Twitter page (photo below):
Story continues below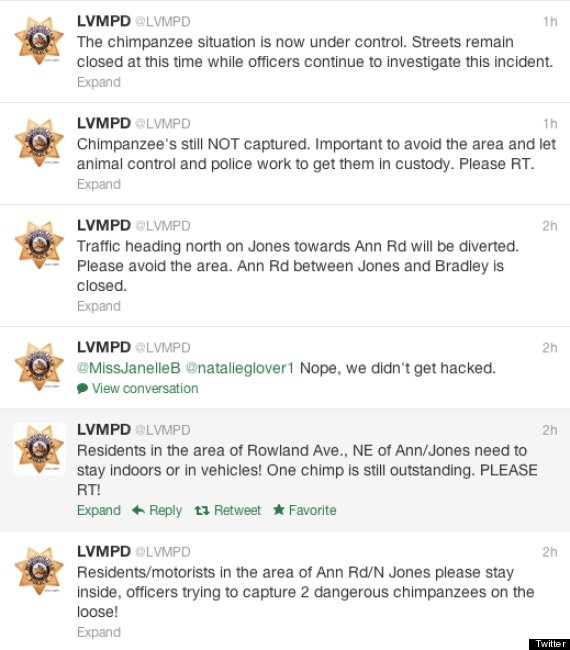 "Residents/motorists in the area of Ann Rd/N Jones please stay inside, officers trying to capture 2 dangerous chimpanzees on the loose!" the department tweeted, adding, "Nope, we didn't get hacked."
The chimps broke loose at about 10:15 a.m. The 13- and 14-year-old male and female -- named "Buddy and "C.J." -- were described as at least 170 pounds and "agitated" by police, according to KLAS.
When the male proceeded to a populated area, an officer "had no choice" but to shoot it dead, the department told KLAS. Authorities returned the female to her enclosure.
It remains unclear how the chimps escaped.
Roads in northern Las Vegas are closed as police investigate the incident.
Correction: In an earlier edition, we referred to chimpanzees as monkeys. They are apes.