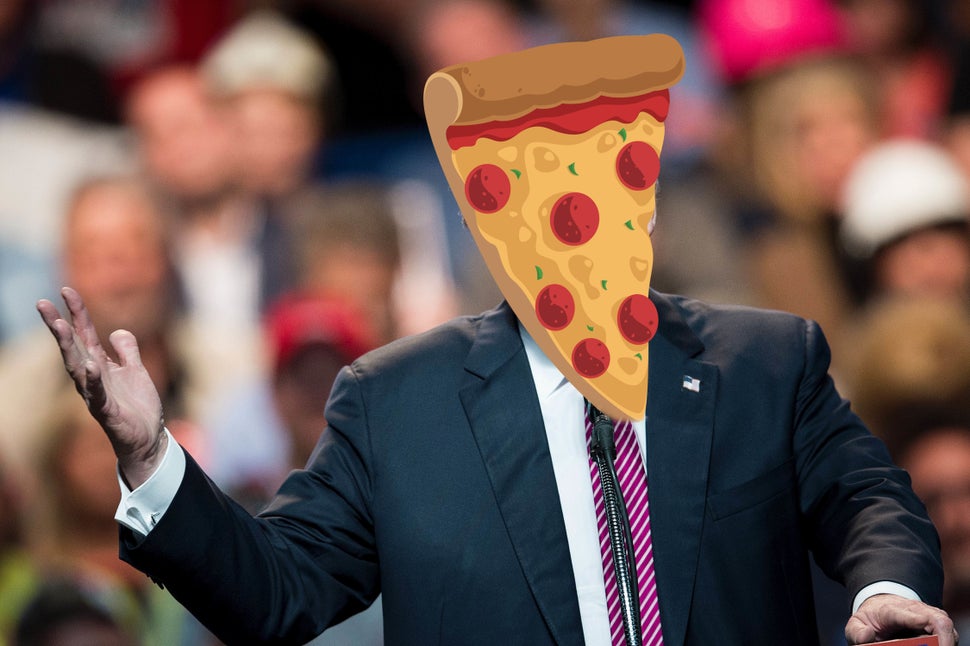 Support Trump on your dating profile? Then you might have a hard time getting those right swipes.
For almost two months, dating app Bumble has been letting users put special election filters onto their profile to let potential matches know where they stand on the political spectrum. Aside from Hillary Clinton, Bernie Sanders, Donald Trump and Ted Cruz (who has since dropped out of the race), as well as the overarching Democratic or Republican filters, the options also include fictional candidates like Frank Underwood from "House of Cards," Kanye West and, naturally, pizza. For users who couldn't care less about the election, there was also a #IDGAF filter.
Bumble offered its 5 million users the option to choose from these 10 filters, and though using them was not required, the company told The Huffington Post that 1.8 million filters were swiped on daily. When collecting data, the company found that men were twice as likely to throw a political filter on their pictures than women. (Also, keep in mind that Bumble is most popular in places like New York City, Los Angeles, San Francisco and Chicago.) 
(See what all the filters look like below.)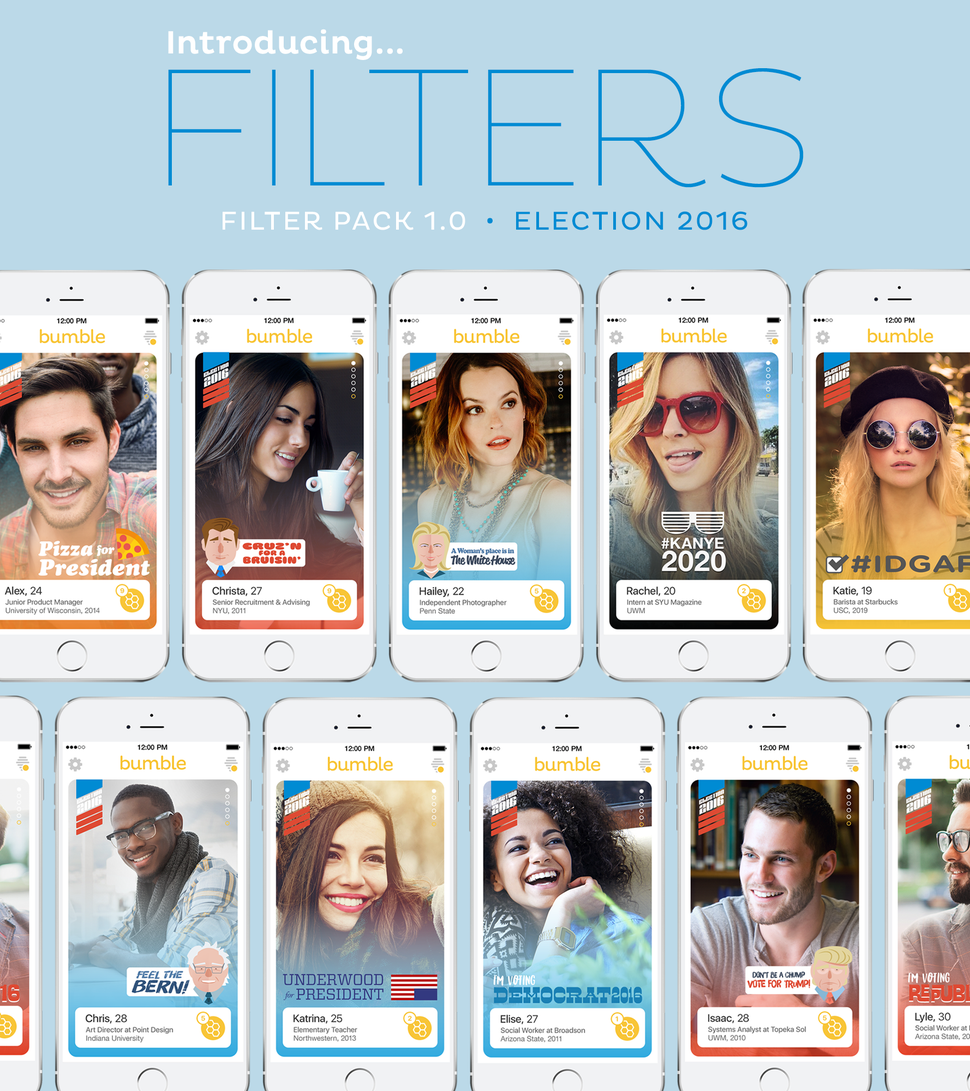 Bumble kept track of how many users chose to use the filters as well as how often users swiped left or right on them. Here are some of the most interesting findings:
The "Pizza for President" filter received more right swipes than the Trump filter. Pizza > The Donald. (Duh.)

Trump was also the candidate most likely to make other people swipe left -- 66 percent more likely to be exact.

However, the Trump filter "won" (meaning, the greatest number of users put that filter on their own profile) in eight states, including Colorado and South Dakota. So, there were a decent number of people eager to identify with Trump, but far fewer who wanted to date those people.

Clinton dominated in five states, including California, which has yet to vote in the Democratic primary, while Sanders took home two (Maine and Nevada).

Women over 30 aren't super into Kanye -- at least as a political figure. The #Kanye2020 filter was the least popular filter among that demographic group.
But who really won the Bumble election? It turns out online daters are more into fictional presidents than potential real ones. The "Underwood for President" filter, which is a nod to Kevin Spacey's character Frank Underwood in Netflix's "House of Cards," was both the most used filter as well as the one that got the most right swipes. As Bumble put it, "Underwood trumps Trump." (And also... every other real-life presidential candidate.) 
Netflix: coming soon to a campaign trail near you.
Check out the most frequently used filters overall as well as the most frequently used candidate filters in each state below. (If the most used filter was a candidate filter, only that filter is noted.)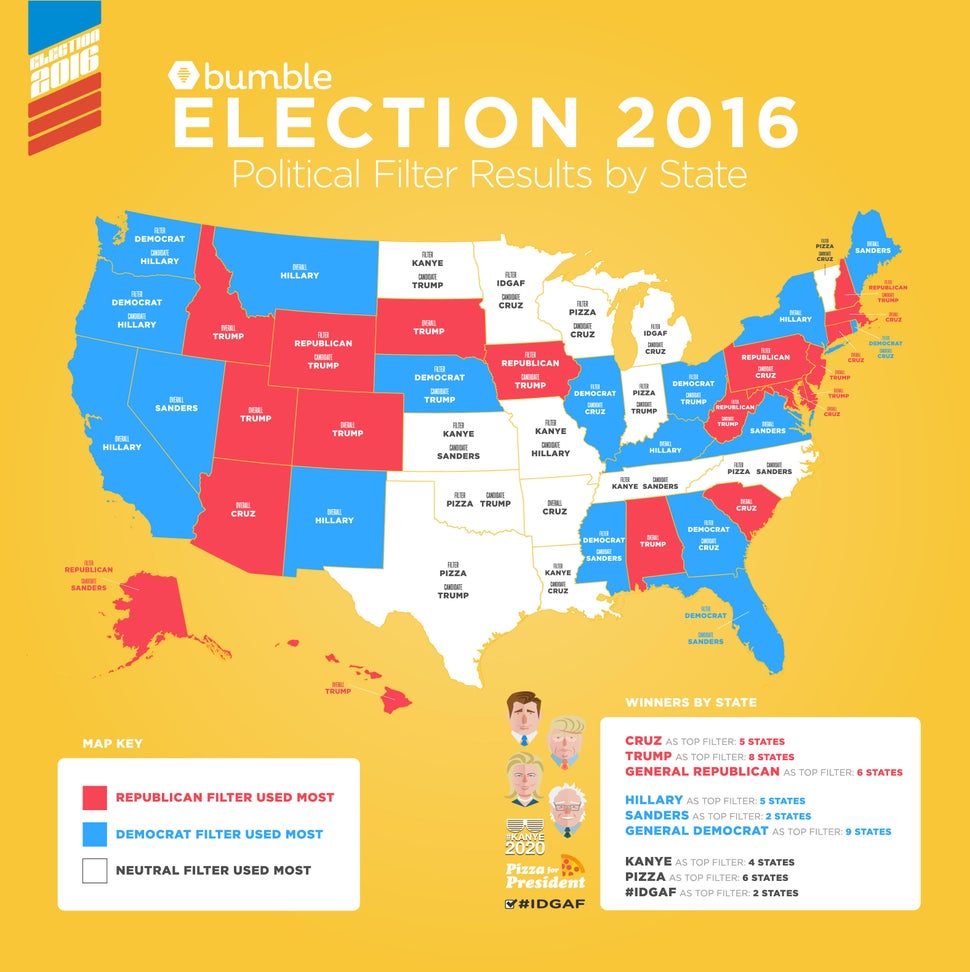 Calling all HuffPost superfans!
Sign up for membership to become a founding member and help shape HuffPost's next chapter
BEFORE YOU GO
PHOTO GALLERY
11 Women Blazing A New Trail In American Politics