Milwaukee's acting sheriff sparked outrage this week over comments he made on a religious podcast urging spouses to stay in abusive relationships and "submit" to their violent spouses.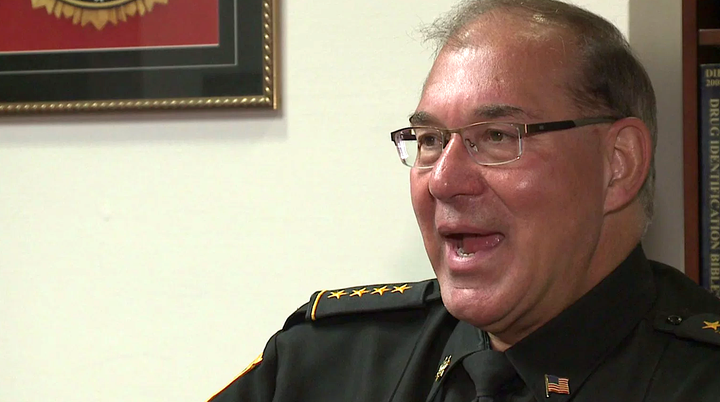 Schmidt, a 32-year veteran of the Milwaukee County Sheriff's Office and the evangelical founder of Prophecy Focus Ministries, has been acting sheriff since Clarke resigned a year ago following a string of controversies, including a death in a jail under Clarke's authority and accusations of plagiarism in his master's degree thesis. Clarke also urged people to take up "pitchforks and torches" to fight a "rigged" voting system ahead of the presidential election.
New criticism against Schmidt surfaced early this week over comments he made late last year on The Word For Life podcast telling domestic violence victims to submit to the Holy Spirit and let God "bless that marriage."
In the podcast last October (recording above), Schmidt and host Baptist minister Greg Huffman traded biblical passages as they discussed troubled marriages. Huffman referred to "fights and fusses ... caused by hedonism," adding: "Quit trying to change your spouse; change yourself."
Schmidt then discussed a marriage in which "maybe it was a bad night [with] some cross words ... maybe even up to physical violence." Suddenly, a spouse's "life is on the precipice of destruction," he added.
"If someone is struggling, and their marriage is just a disaster ... get off God's throne, submit yourself to that person and love that person," Schmidt said. "If we're Christian we submit ourselves to the Holy Spirit ... get off the prideful ladder, [and] God can bless that marriage and restore those relationships."
Schmidt accused critics of twisting his words and trying to "politicize my religious beliefs," the Milwaukee Journal Sentinel reported. He said it's common sense to leave a violent relationship.
"If someone does do a domestic violence act, they need to be arrested. That's the law," Schmidt told Wisconsin Public Radio. "They need to go to jail, no ifs, ands or buts about it."
Popular in the Community