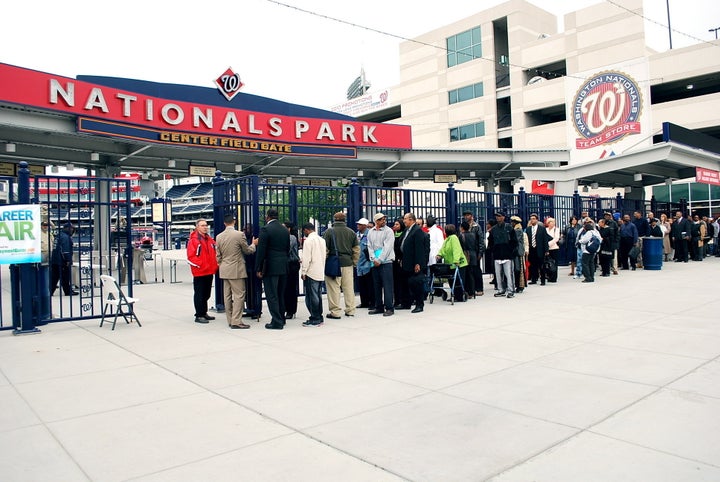 A long line of people in business suits snaked around Nationals Park Stadium in D.C. Tuesday morning, where a career fair was being held for older workers.
"The fair is on the third floor, to the right," an elevator attendant announced to the crowd. "Let me know if you have any questions."
"I got a question," snapped a middle-aged woman with a pile of resumés tucked under her arm. "Why can't I get a job?"
Over 3,000 people showed up to the "Promoting Yourself at 50+" career fair in D.C., which was hosted by EmploymentGuide.com and WiserWorker.com with a special partnership with the AARP. The fair offered resumé workshops, career counseling and booths set up by employers with job openings -- and while it was aimed at helping older workers reboot their careers, younger workers still showed up by the thousands.
"The vendors knew we were doing a tremendous amount of outreach to older folks, and they were willing to look at older folks for their value rather than their age," said Phyllis Cohn, project manager for AARP. "But we can't discriminate. These career fairs are open to all ages, and the turnout for this one was about 50/50."
One young jobseeker, Damian Lewis, stood in line at the Montgomery County Police booth to sign his name on its officer recruitment list.
"I heard this was a career fair for people over 50," said Lewis, 24, of College Park, Maryland. "Honestly, I don't care if it's a career fair for aliens. I got a kid to support. If there's jobs, I'll be there."
In April, the number of unemployed persons was 15.3 million, and the unemployment rate grew from 9.7 to 9.9 percent, the U.S. Bureau of Labor Statistics reported. The average duration of unemployment for people 55 and older was 42.9 weeks in April, well over 10 months.
The older jobseekers at the fair who said they had been unemployed for more than a year were particularly grateful for the specialized attention. Deborah Johnson, 59, says she has been unable to find anything but temp work since she was laid of from her job as a retail operations auditor at Hecht's in 2003.
"I've been to three or four career fairs," she said. "They always tell me what I already knew: 'Go to our website.' I've tried that. I was up 'til midnight last night sending out resumés. No interviews so far."
Johnson, who lives by herself, says she wouldn't want to retire even if she could. She just wants a full-time job.
"Oh, I'll work until I'm 70 if I can," she said. "I like working, I'm a hard worker. And I don't feel like I should be knocked out of the loop just because I don't have a college degree. I know how to talk to people, I know how to manage people with respect and I still have a lot to give."
George Turner, 48, and his wife Reneé, 50, appeared fairly new to the job fair scene as they sat in line together waiting for their turn to see one of the 13 career counselors on staff. Reneé said she was laid off from her job as a patent assistant at a law firm in January, and George was laid off from his management position only two days prior to the career fair.
"We're looking for anything, anything at all," said George, who has four children with his wife, two of whom live at home. "We were okay on one salary for a couple months -- at least we had health benefits. But now we got nothing."
The Turners said they hoped to have their resumés critiqued, maybe learn a thing or two about how to network online. When their names were called, they stood up.
"Wish us luck," George said. "We could sure use some."

Support HuffPost
The Stakes Have Never Been Higher
Related
Popular in the Community