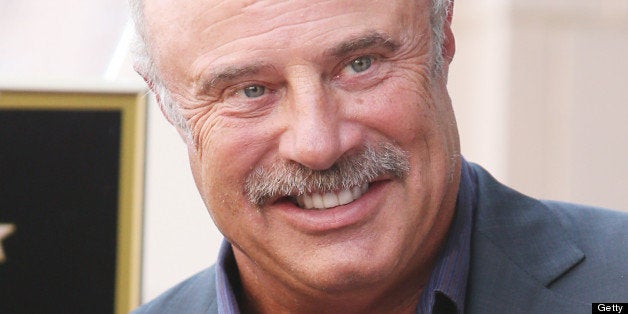 I am writing in response to your show the other day that has thankfully become headline news and to express my gratitude to you, our dear colleague Pete Earley and USA Today News for opening up this very important conversation. (For readers who haven't heard of the controversy, Dr. Phil said on his show "insane people suck on rocks and howl at the moon.")
At the Flawless Foundation our tagline is "Seeing the perfection in every child" which also translates to seeing the perfection in every human being. Yes, Dr. Phil we see the perfection in everyone, whether it be a child struggling to pay attention and behave in school or one of our Flawless youth who has ended up in a juvenile detention center -- we acknowledge and embrace both the light and dark in everyone. And, Dr Phil, we see the perfection in you and your recent communication about people with mental illness. Together we can take this spotlight and transform it into a beacon of hope and healing for all.
In our society, the wide use of discriminatory language to describe people with mental illness has blurred our minds, hearts and souls. Changing our language and taking this conversation out of the shadows can save lives. Just last night my son and I had a poignant exchange with his coach, Ryan, after his practice was over. Being a mental health advocate, I am able to pick up pretty quickly on the buried "secrets" of mental illness that people hold within themselves and yet often have the need to share. In our conversation, Ryan hinted at something being awry in his family. Open communication about these issues is important in the healing process so I directed our discussion so that Ryan was able to tell us about his 20-year-old nephew who recently died by suicide. In addition to the devastating loss of this young life, listening to him share about the generational legacy of denial, shame and secrecy about the mental health challenges in his family was truly tragic.
Ryan was hesitant to talk about this in front of my son who will be 13 in a few months. When I explained to him that we are open about these issues in our family a beautiful, educational discussion occurred where we held space for his pain and were able to offer some helpful resources that the family had not been aware of. At one point in the almost whispering conversation, my son said, "Mom, I don't understand what is happening here, why is this all so "hush hush"? My son knows that brain health is no different than the health of any other part of our bodies. We are genetically loaded with mental illness on both sides of our family, which he is aware of in the same way that he knows about our family history of any other medical conditions such as cancer or heart disease.
Dr. Phil, this is how good it can get. Our children can grow up without any stigma or shame around mental health issues, understanding that the brain is an organ just like any other organ in our bodies. They can accept brain differences and variations in behavior which will result in everyone being treated with respect and dignity. If we could start this pro active approach to understanding and acceptance while children are still in their formative years we would be able to prevent much human suffering.
While I am proud of my son's keen understanding about mental illness, it is unfortunate that media and culture have impacted him and as much as I try, he uses slang and discriminatory language regarding people with mental illness more than he should. We must address this last frontier of civil rights issues by changing the pejorative language, stopping the harsh judgment, listening and choosing love over fear.
I have one wish here Dr. Phil, and one which I know from your long history of helping others that you have it within your power to grant. If you could use your high profile stage and voice to help us in our campaign to open minds and hearts and eliminate the discrimination then this discussion can take on serious dimension and will have the shiniest, most vibrant silver lining. Come join us in seeing the perfection in every human being and creating a world where everyone is embraced by society and feels flawless.
Janine Francolini
Founder, Flawless Foundation
To learn more about our Flawless conversations, please watch this video with Mental Health Scholar, Elyn Saks.

" target="_hplink">http://
Related
Popular in the Community