It is with a heavy heart that I write this letter. I know you share both my love for the oceans and the deep concern that our oceans are in trouble. But while we seem to be in full agreement about the need for urgent action to protect our oceans, I feel you're holding back from making a real commitment on the high seas.
It saddens me, that despite your considerable influence in the government, the United States continues to oppose an international agreement under the Law of the Sea Convention. This agreement would ensure global cooperation to protect marine life in international waters; without it, our oceans remain defenseless.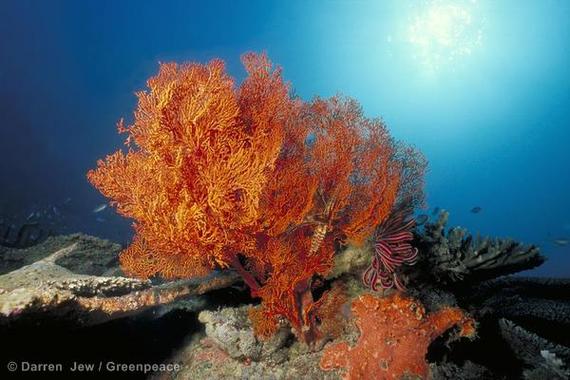 Throughout your time in the Senate I have watched with admiration as you fought for healthy oceans, and I cheer at your continuing, as Secretary of State, to list it as a major priority. Your government has been fighting on the front line for ocean protection, and the conference you are convening demonstrates that 'Our Oceans' are high on the US government's political agenda. You said recently, "Of course we need to have a global framework of some kind... by which people sign up and agree to cooperate," and that "the United Nations is the obvious one within which to try to arrive at an understanding of how we're going to preserve this." But something, somewhere, is going wrong: I cannot understand why the US government continues to oppose the development of a global framework to ensure high seas protection at the United Nations.
I am sure you are aware that at the same time as the "Our Ocean" conference is happening in Washington DC, delegates from many of the world's governments will be meeting at the United Nations in New York to discuss the development of an international agreement under the Law of the Sea Convention. The large majority of the world's governments support a decision by the UN General Assembly to launch negotiations, with the notable exception of your own, as well as Russia and Japan to name a couple more. This lack of support seems entirely disconnected from what you've been saying about our oceans being too important to ignore.
With more than half of our oceans lying beyond the authority of any one country, a global protection framework is essential, as you've said, to safeguard the health of the oceans and enable the implementation of important tools such as environmental impact assessments and marine reserves. A network of marine reserves, that are areas strictly protected from extractive activities such as fishing and mining is recognized as one of the most powerful solutions to protecting the underwater world from multiple impacts, as well as building resilience against the impacts of ever-worsening climate change. I am sure you'll agree that improved implementation of the existing rules and agreements is simply not enough. Only through a global agreement and joint action will we be able to tackle the multiple threats facing the high seas today and in the future.
"Our Ocean," your own conference, would be the perfect opportunity for you to signal the United States' leadership on oceans issues: by supporting the launch of a high seas biodiversity agreement by the UN General Assembly. This is well in line with the position your government has taken with respect to other UN agreements and a logical extension of your continued efforts to put in place effective protection for high seas areas in the Antarctic and the Arctic.
As you and I both know, our journey towards proper ocean protection is going to be a choppy one. We will need to involve a wide range of players from the business world, fishermen, consumers, governments, local communities and civil society. But like you, I am also optimistic that with the right solutions in place we can make a difference. I strongly hope that support for this agreement will be one of the many successes to come out of the "Our Ocean" conference. A new high seas agreement could really help us turn the corner, and secure a better future... for "Our Oceans."
With great hope and in solidarity for the ocean,
Calling all HuffPost superfans!
Sign up for membership to become a founding member and help shape HuffPost's next chapter