When it comes to the second season of Syfy's "Defiance," you ain't seen nothing yet.
At a "Defiance" panel at San Diego Comic-Con on Saturday, Syfy unleashed a lengthy trailer with lots of clues about where the second season of the drama is headed; HuffPost TV can exclusively share the "Defiance" Comic-Con trailer with fans. (The trailer and this story contain spoilers about where Season 2 is going, so look away if you don't want to know!)
One big revelation from the "Defiance" panel at Comic-Con? Kenya (Mia Kirshner) is returning! Yep, the proprietor of the Need/Want saloon, who disappeared under mysterious (and seemingly murderous) circumstances at the end of Season 1, will make a comeback in the Aug. 7 episode. Elsewhere in that episode, Nolan (Grant Bowler) will interrogate a suspected spy in a desperate effort to prevent a terrorist attack in New York City.
Before Kenya's return, expect the saga of Datak Tarr (Tony Curran) to take a few more twists and turns. In the July 31 episode of "Defiance," Datak is framed for murder. As seen in the trailer, Datak and Stahma (Jaime Murray) may have to help each other out, despite all the Tarr family drama that has transpired this season. (As much fun as their family drama has been, did we really think those two could ever quit each other?)
"They've come to this planet together. They've been through so much together. I can't imagine them without each other, really," Jaime Murray said in a recent interview with HuffPost TV, also suggesting that, despite all the turmoil they've been through, the Castithan power couple can't quite let go of each other.
"I think there's always going to be friction there, and it's always going to be delightful to watch them and they're always going to be competing," Murray said of Season 2's power struggle.
"That's really fun to watch and it's new territory for both of them -- you see both of them trying to assert themselves, but with both of them you also see their vulnerability, and you also see how much they need each other," Murray said. "They haven't really got much, and they don't really have anyone they can trust or rely on when the shit hits the fan. But they're also incredibly hurt by each other and very suspicious of each other."
All things considered, however, Stahma "wouldn't mind making Datak pay a little bit more," Murray said, with a laugh. The way this season is going, she'll probably get a few chances to do that. Additionally, it was announced that Linda Hamilton will arrive as Rafe's long-estranged wife Pilar in the Aug. 21 episode.
One final note on "Defiance": The airing pattern for the end of the season has been altered and Syfy will air two episodes per night at the end of the season. Look for Episodes 10 and 11 of Season 2 on Aug. 21, and Episode 12 and the season finale on Aug. 28.
"Defiance" airs Thursday at 8 p.m. ET on Syfy.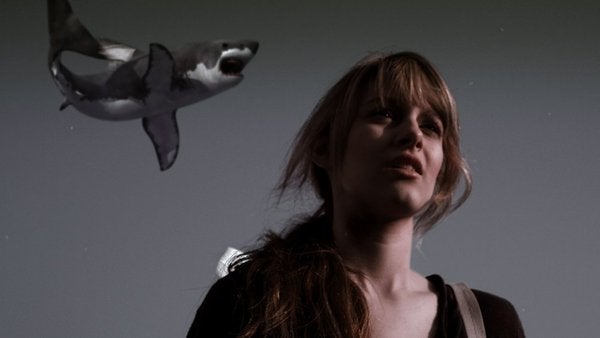 Sharknado
Popular in the Community