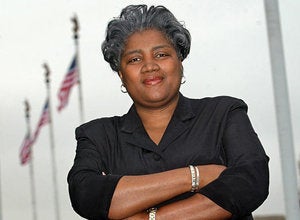 A leading Democratic consultant who serves in an official capacity with the Democratic National Committee has come out in favor of primary challenges to Democratic lawmakers who help kill the president's health care bill.
Donna Brazile, who is the Vice Chair of Voter Registration and Participation at the DNC and a top-ranking strategist within the party, said on Monday that Democrats who "decide to defeat" the health care bill "deserve to get a primary challenge" in future elections.
The one-time Al Gore presidential campaign manager told the Huffington Post that while at home in Louisiana she had "decided to stop pretending that I will go back to support anyone not backing health reform."
Brazile declined to elaborate, but made her view clear in a tweet she wrote shortly after President Barack Obama made an impassioned health care speech in Ohio on Monday.
DNC spokesman Hari Sevugan said that Brazile's call to support primary candidates for Democrats who vote against health care was not committee policy. Indeed, as former DNC Chair Howard Dean noted to the Huffington Post, the committee is prohibited under its bylaws from "being involved in a primary challenge."
Nevertheless it is a telling illustration of just how high emotions are running in this crucial late-stage portion of the health care reform debate. Until now, the main voices calling for primaries for Democrats who withhold their support for reform have been progressive organization and union groups.
Brazile doesn't carry the same type of threat as these institutions, both of which can rally supporters or funnel donations behind candidates. But to the extent that her remarks illustrate reluctance among those with close ties to the party to support candidates who oppose reform, they are foreboding. Though for Dean, they are no different than how emotions run in any big legislative battle.
"I don't see a war within the Democratic Party except the usual push and pulling that always happens over the issues that the core groups cares about," Dean said.

Popular in the Community