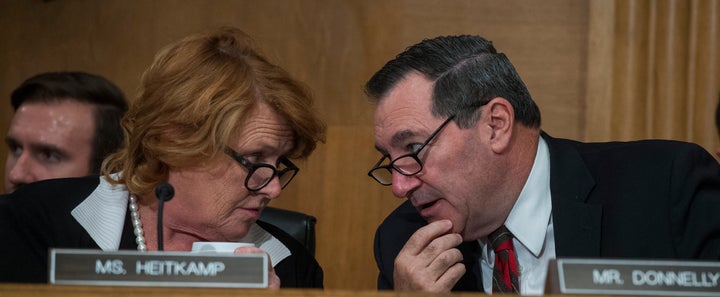 President Donald Trump has signed two major pieces of legislation during his time in office: a tax cut favoring the very wealthy and a slate of perks for the banking industry. He owes the second achievement to a handful of Democrats, many of whom lost their jobs last Tuesday night.
Publicly, the Democrats who wrote and co-sponsored the bank bill insisted it was a great way to help the vulnerable. It would "provide needed relief for community banks and credit unions so they can support consumers in rural areas," according to Sen. Heidi Heitkamp (D-N.D.). It included "common sense fixes to assist small banks and give them the flexibility they need to lend," according to Sen. Claire McCaskill (D-Mo.).
In the president's words, it was "a very, very important bill from the standpoint of people, and jobs and loans."
Few members of Washington officialdom put much stock in any of this. There was no shortage of money to lend in the spring of 2018. Banks large and small were and are doing very well. In the first quarter of the year alone, the banking industry booked a combined profit of $56 billion, up from $43.9 billion the year before and nearly double its level from 2011, according to the FDIC. Not a single bank in the country has failed in all of 2018.
Privately, other Democrats on Capitol Hill offered a more plausible explanation for the vote. The bank bill could help Democrats in red states raise money for the November election. Most voters don't pay close attention to legislative fights over bank regulation, but bankers do, and they aren't shy about contributing to political campaigns. Ultimately, 16 Democratic senators and Angus King, an independent who caucuses with the Democrats, voted for the bill.
And indeed, the top four recipients of campaign cash from commercial banks in 2018 were authors or co-sponsors of the bank bill: Heitkamp received over $320,000 from the sector, followed by Sen. Jon Tester of Montana at nearly $275,000, McCaskill at $236,743 and Sen. Joe Donnelly of Indiana at $232,966, according to data from the Center for Responsive Politics. During election season, the Credit Union National Association advertised on behalf of all four. The American Bankers Association hit the airwaves for Tester starting in April.
It would be nice if doing the right thing were always good politics. But the reality is often more complex, and so it is with Democrats beholden to the financial sector. Some lost badly on Tuesday night; most survived. The lesson from the bank bill is not that selling out never pays off; it's that corporate money can't save senators who have nothing else to run on.
We can start with the midterm results that had bank lobbyists clinking Champagne glasses. Tester won by a respectable margin of 15,000 votes, about 3 percentage points. Sen. Joe Manchin (D-W.Va.) won by 19,000 votes, good for 4 points. Kyrsten Sinema, the most reliable pro-bank vote among House Democrats, appears to have won the party its first Senate seat in Arizona in 24 years. In Virginia ― where Sen. Mark Warner barely escaped with a win in 2014, bank bill backer Tim Kaine trounced neo-Confederate Corey Stewart. Sen. Debbie Stabenow walloped her Republican challenger in Michigan by over a quarter of a million votes, and King took 14 of Maine's 16 counties en route to a nearly 20-point win. We don't yet know whether Sen. Bill Nelson (D-Fla.), another co-sponsor of the bank bill, will squeak out a victory or not, but it's going to be very close.
All of these Democrats voted for the bank bill. But it's also true that on Tuesday night, senators who voted their values did better than senators who voted with the American Bankers Association. Heitkamp, Donnelly and McCaskill were crushed, while Sens. Sherrod Brown (D-Ohio), Tammy Baldwin (D-Wis.) and Bob Casey (D-Pa.) ― all representing states Trump won in 2016 ― coasted to re-election after voting against the bank bill, with both Baldwin and Brown outperforming other Democrats running for governor in their states.
In the vast majority of races, the bank bill seemed to have been electorally irrelevant. Kaine, Stabenow and King didn't need the bank money to win, and neither did Brown, Baldwin and Casey. McCaskill, Donnelly and Heitkamp weren't close in their losses. That leaves Tester, Sinema and Nelson as still-undecided races where, perhaps, advertising support from the financial sector played a meaningful role.
Was it worth it? Democrats in Washington still debate exactly how bad the bank bill was, but it's hard to argue that it didn't do active harm. The new law makes it cheaper and easier for large banks to merge (so long as they don't break a $250 billion threshold) and, according to the Congressional Budget Office, increases the risk of a financial crisis by reducing regulatory oversight of large regional banks.
Republicans didn't have the votes to enact these big projects without Democratic support, and instead of asking for offsetting liberal items, red-state Democrats demanded additional GOP-friendly provisions in exchange for their votes. One provision authored by Donnelly benefits billionaire Warren Buffett by eliminating consumer protections in the mobile home industry. Heitkamp secured an item attacking the Consumer Financial Protection Bureau's ability to police racial discrimination in the mortgage market.
Heitkamp and Donnelly have typically voted the party line on major bills when party leadership has demanded it. These votes send important signals to constituents, but they rarely matter for legislative outcomes. Supreme Court Justice Brett Kavanaugh was confirmed without their support; Trump's tax bill passed despite their opposition. The bank bill was a rare opportunity to exercise real power, in which both Heitkamp and Donnelly had real leverage. And they couldn't think any bigger than a few corporate handouts.
In 2016, EMILY's List, a PAC that funds Democratic women who back abortion rights, released a video highlighting Democratic women in the Senate, giving each lawmaker some camera time to highlight a signature issue. Sen. Patty Murray (D-Wash.) talked about women's access to health care. Sen. Dianne Feinstein (D-Calif.) highlighted gun violence. Then-Sen. Barbara Boxer (D-Calif.) talked about climate change, Stabenow called for action on clean drinking water, then-Sen. Barbara Mikulski (D-Md.) spoke out for a new equal pay law, Sen. Jeanne Shaheen (D-N.H.) emphasized the opioid crisis, Amy Klobuchar (D-Minn.) talked about emergency relief funds and infrastructure, and Tammy Baldwin (D-Wis.) said she'd "hold Wall Street accountable."
McCaskill, by contrast, had no cause to champion. "When we're on a mission, we get things done," she said to the camera. "We're here to do what needs doing. Period."
That's the story of her career in Washington. McCaskill styles herself as a moderate, but over the course of 12 years in office, she hasn't offered voters many indications that she believes in much of anything at all. In 2013, she championed reforms to the way the military handles sexual assault cases only to break with her party and help Republicans block a reform bill from Sen. Kirsten Gillibrand (D-N.Y.). In 2017, McCaskill became the ranking member on the Senate Homeland Security and Governmental Affairs Committee, a major oversight post where the top Democrat ― even in the minority party ― gets a budget for staff and investigations. Faced with the most transparently corrupt administration in at least a century, McCaskill capitalized on her new job by doing a lot of "Morning Joe" hits and issuing loads of press releases.
A few days before the election, McCaskill arranged an interview with Fox News in which, among other things, she offered fulsome praise for Trump's unhinged anti-immigration efforts. She had been running radio ads in Missouri distancing herself from "those crazy Democrats," and when Fox News asked for some specifics, McCaskill cited her support for "tooling back some of the regulations for small banks and credit unions."
If there were millions of small bankers in Missouri, this might be a good item to stake a campaign on. But when the sellout itself is the selling point, Democrats are in trouble.
UPDATE: Nov. 14 ― After publication, HuffPost received a note from the office of Mark Warner, who is mentioned in passing in the article above. Warner spokeswoman Rachel Cohen informed HuffPost she strongly disapproves of HuffPost reporter Zach Carter's coverage, and highlighted elements of the story Warner's office found troubling. The email is reproduced below. For HuffPost's prior coverage of Warner's work on the Senate Banking Committee, see this and this. Asked to comment on sending the note, Cohen told HuffPost, "The email speaks for itself."

Popular in the Community