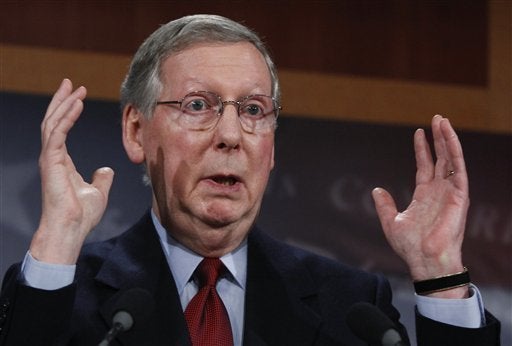 Sen. Chris Dodd (D-Conn.) entered a political memo written by GOP strategist Frank Luntz into the official Congressional Record on Wednesday, arguing that it belonged there because Minority Leader Mitch McConnell (R-Ky.) and other Republicans were repeating it verbatim in their effort to block Wall Street reform.
On Tuesday, McConnell came out against the Democratic reform plan, arguing that it would enshrine the system where some banks are too big to fail. The plan, which passed through Dodd's Banking Committee on a party-line vote, uses a tax on banks to create a $50 billion fund to wind down and liquidate major failing financial institutions.
McConnell, under attack for meeting with some two dozen top Wall Street executives before coming out against banking reform, shielded himself behind Kentucky community banks on Tuesday.
"We've had a number of conversations not only in the past couple of weeks, but over the past few months with people who are affected by this," McConnell said when asked about the meeting he and Sen. John Cornyn (R-Texas) held in New York City last week.
"But the most influential people I've heard from have been the community bankers in Kentucky," said McConnell, who represents the state. He cited community banks again on the Senate floor Wednesday.
"And as far as people's advice about it, we're happy to get it from all sources. I've certainly been visited by a number of community bankers in Kentucky on the subject," he said.
Luntz penned a memo outlining what he saw as the most effective Republican rebuttal to health care reform, which the party followed nearly to the letter. Time Magazine compared the Luntz memo to McConnell's statements:
Luntz: "The single best way to kill any legislation is to link it to the Big Bank Bailout."

McConnell: "We cannot allow endless taxpayer-funded bailouts for big Wall Street banks. And that's why we must not pass the financial reform bill that's about to hit the floor."

Luntz: "Taxpayers should not be held responsible for the failure of big business any longer. If a business is going to fail, not matter how big, let it fail."

McConnell: "[The Dodd bill] gives the government a new backdoor mechanism for propping up failing or failed institutions.... We won't solve this problem until the biggest banks are allowed to fail."

Luntz: "Government policies caused the bubble and its ultimate crash. Fannie Mae, Freddie Mac, the Federal Reserve, and the Community Reinvestment Act all had a role in the catastrophe. The government inflated economic bubbles with easy credit policies."

McConnell: "It also directs the Fed to oversee 35 to 50 of the biggest firms, replicating on an even larger scale the same distortions that plagued the housing market and helped trigger a massive bubble we'll be suffering from for years. If you thought Fannie and Freddie were dangerous, how about 35 to 50 of them?"
Though the GOP is following Luntz's advice on rhetoric regarding Wall Street, several Republicans are still working in a bipartisan way with Democrats -- including Sens. Olympia Snowe (R-Maine), Susan Collins (R-Maine), Bob Corker (R-Tenn.), Saxby Chambliss (R-Ga.) and Richard Shelby (R-Ala.) -- muddying McConnell's message of opposition.
McConnell was asked how unified he could keep his party in opposition at a press conference Tuesday and ducked the question. "I think the financial regulatory debate is just beginning with the larger community -- the public is just beginning to focus on it. I had thought, I gather somewhat naively, that this is going to go forward on a relatively bipartisan basis," he said. "Now all indications are that the White House is pulling people back from bipartisan negotiations. Their goal is to have the most far-left proposal they can. That's the proposal that came out of the Banking Committee in the Senate. And it institutionalizes and sets up in perpetuity taxpayer funding of bailouts. That's not something Republicans are likely to agree to."
He was asked a follow up.
"Well, as we go forward, we'll keep you posted," said McConnell.
President Obama met with congressional leaders at the White House on Wednesday and insisted that he did not value bipartisanship over a good, effective bill. He "made clear that bipartisanship should not be equated with an openness to lobbyists loopholes and special interest carve outs and that he would be unwilling to negotiate on some key issues. And that he could not accept bad policy in pursuit of bipartisanship," said Obama spokesman Robert Gibbs after the meeting.
Obama was asked by a reporter directly about McConnell's charge that the bill institutionalizes bailouts.
"I am absolutely confident that the bill that emerges is going to be a bill that prevent bailouts -- that's the goal," Mr. Obama said. The New York Times described McConnell as "sitting impassively nearby."
In coming out so early against reform, and doing so just after meeting with Wall Street executives and without the full support of his party, McConnnell has given Democrats an opportunity to tie the GOP to the financial industry and isolate elements of the Senate GOP.
Sens. Jeff Merkley (D-Oregon) and Jack Reed (D-R.I.), both members of the Banking Committee, along with Sen. Sheldon Whitehouse (D-R.I.), went after McConnell at a press event Wednesday afternoon. And Dodd attacked McConnell on the Senate floor earlier Wednesday after the Republican leader repeated his opposition to the reform proposal.

Watch Dodd's statement:
Sen. Mark Warner (D-Va.), who negotiated the resolution piece of the legislation that McConnell calls a bailout, said in an interview with the Washington Post's Ezra Klein that Republicans who think the bill would institutionalize bailouts "don't understand or they choose not to understand."
"Resolution will be so painful for any company. No rational management team would ever choose resolution. It means shareholders wiped out. Management wiped out. Your firm is going away," he said. "At least in bankruptcy, there was some chance that some of your equity would've been retained and you could come out in some form on the other side of the process. The resolution that Corker and I have tried to create means the death of the company. The institution is gone."
Warner said that no matter what Democrats did, McConnell would say that it encouraged bailouts, as the Luntz memo advises.
"And here's the hypocrisy of the Republican leader's comments," said Warner. "I can guarantee you that if there had not been some pre-funding, the critique would've been: 'Look at these guys! They've left the taxpayers exposed! What's going to keep the lights on for these few days? It's going to be Treasury funds or Federal Reserve funds. The taxpayer will be exposed!'"
Jack Reed, in an afternoon press conference, said that McConnell's bailout rhetoric "would be a shock" to Sen. Bob Corker, the Tennessee Republican who negotiated the provision with Warner
Corker himself pushed his colleagues to back off the rhetoric on Wednesday. "This is like in the health care debate [with] death panels," Corker said Wednesday, according to CongressDaily. "In the end of the day, there are not going to be death panels. ...The rhetoric around this, an issue that could be dealt with literally in about five minutes, is overheated."
Sen. Ted Kaufman (D-Del.) also took to the well of the Senate to challenge McConnell:
I was interested to hear Senator McConnell on the floor yesterday say we must never use taxpayer money again to bail-out too big to fail institutions. But no one wants to do that. The question is what is the solution to prevent these institutions from failing in the first place? The other party has put forward no solution, and doing nothing is by far the worst solution of all.

The Minority Leader came to the floor today and said that the bill before the Senate is good for Wall Street and bad for Main Street. That is simply an astounding statement to make, Mr. President. Main Street wants Congress to act! Main Street wants Congress to ensure that Wall Street never engages in reckless behavior again. And yet what solution does the Minority Leader offer?

Despite the experience of Lehman Brothers, the Minority Leader apparently believes we should do nothing and simply stand back in the future and let these megabanks fail when they take risks that go wrong. The Minority Leader said yesterday, and I quote: "The way to solve this problem is to let the people who make the mistakes pay for them. We won't solve this problem until the biggest banks are allowed to fail." His answer is that resolution of "too-big-to-fail" banks needs to be dealt with through the bankruptcy process. In my view, that approach is dangerous and irresponsible.

If we do nothing, and wait for another crisis, future presidents - whether Republican or Democrat - will face the same choices as President Bush: whether to let spiraling, interconnected too-big-to-fail institutions, like AIG, Citigroup and others, collapse in a contagion, sending the economy into a depression, or step in ahead of bankruptcy and save them with taxpayer money. If that happens, the choice of allowing bankruptcy will mean tremendous economic pain for Main Street America. And so some Congress of the future will similarly be faced with another TARP-like decision, which in the fall of 2008 many in both parties believed they had no choice but to support, including the Minority Leader.
UPDATE: Rep. Chris Van Hollen (D-Md.), head of the Democratic Congressional Campaign Committee, tells Greg Sargent that the party plans to make derivatives reform specifically, and Wall Street reform in general, a "defining issue."
"This is a defining issue that tells people which side you're on," he said. "Derivatives and other exotic financial instruments are part of the story of what got us into this mess. It's absolutely essential that we have transparency and accountability when it comes to the derivatives market. This is a defining issue."
Calling all HuffPost superfans!
Sign up for membership to become a founding member and help shape HuffPost's next chapter