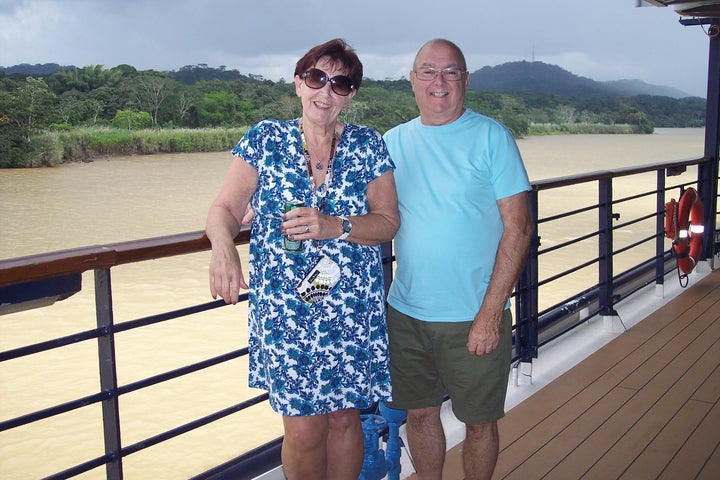 People in kidney failure sometimes feel as if their lives are literally tethered to a kidney dialysis machine -- because, they are. A typical dialysis treatment program requires that they have their blood laundered of impurities three times a week for about four hours each session.
While many have lived with this dialysis regimen for years -- and have seemingly come to peace with their new normal -- there is one area that has remained elusive: Travel. In order to travel, patients must arrange to get dialysis wherever in the world they are. It's not a simple feat, and as a result, many with kidney failure who are receiving dialysis treatments just don't travel.
"It's a shame," said Steve Debroux, owner of Dialysis At Sea, a company that arranges for cruise ship passengers to be able to get their dialysis while on board. It is the largest such company in the world; Dialysis-Cruise, a German cruise company, has a smaller program that operates in Northern Europe. 
Debroux's business formed in 1977 and has since made it possible for thousands of dialysis patients and their families to scratch the travel itch. Count Wilson and Carol Lanclos of Illinois  among them.
According to Carol, her now 69-year-old retired military-officer husband began renal dialysis in January of 2012. Until his need for dialysis, they had been world travelers. But the logistics of travel when he began getting dialysis three times a week felt mind-boggling, she said.
"But it's not -- at all," she said. They are about to take their fourth annual cruise with Dialysis At Sea. This time they will go to Alaska in August. They also spend two weeks every September in North Carolina on the beach after the crowds thin out. And they move to Florida for two months to sidestep Chicago winters.
Wilson's dialysis case manager arranges his dialysis to be delivered wherever he is. "It just takes some pre-planning, but it's absolutely do-able," said his wife, Carol. DialysisFinder.com can also help locate facilities.
But their favorite trips are their cruises with Dialysis At Sea -- a program that Wilson's nephrologist told them about. Wilson's doctor volunteers and works on two cruises a year. Each DAS cruise is accompanied by a board eligible/certified nephrologist and two or more experienced dialysis nurses, based on the number of dialysis cruise patients. There is a maximum of 16 patients per cruise. The dialysis onboard the ship takes place in the infirmary with two beds/chairs per room. Patients can summon the shipboard dialysis staff 24/7, and if necessary, they can reach stateside medical support personnel around the clock. Before sailing, patients must provide detailed medical records so the onboard staff is familiar with their history. 
Debroux said dialysis is delivered using the newest generation Fresenius 2008K for treatment and that all bio-medical technicians are Fresenius 2008K factory-certified. The service is available on select Royal Caribbean, Celebrity Cruise Lines and Holland America cruises.
"We offer our dialysis patients freedom," said Debroux. 
But freedom may not come inexpensively. Medicare and Medicaid do not cover dialysis on board a cruise ship, but there are supplemental insurance companies that will reimburse a percentage. The dialysis treatment cost is a flat rate determined by the length of the cruise, and is billed separately. It must be paid before departure and upon return, DAS will provide an itemized statement for reimbursement claims. 
REAL LIFE. REAL NEWS. REAL VOICES.
Help us tell more of the stories that matter from voices that too often remain unheard.
BEFORE YOU GO
PHOTO GALLERY
19 Healthy Reasons To Help Others