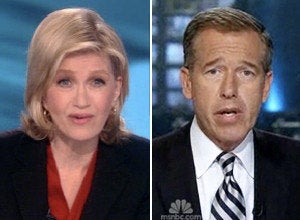 Katie Couric's fellow evening news anchors reacted on Tuesday to the news that she is officially stepping down as the host of the "CBS Evening News."
Both Diane Sawyer and Brian Williams noted the news on their broadcasts. Sawyer called Couric a "colleague and friend," and wished her well on her next "adventure." Williams called her "our friend and fellow NBC News alum," and noted that she is seeking a daily talk show.
Intriguingly, one possibility that has been gaining more and more traction lately is that Couric could wind up doing a syndication deal with ABC that includes a presence on all of the network's news shows--meaning that she and Sawyer, who have long competed in the same timeslot on differing networks, would suddenly be working together.
Watch Sawyer's farewell:
Watch Williams' farewell:
Related
Popular in the Community