Sen. Dianne Feinstein (D-Calif.) said Monday that she will not seek a leadership position in any of the chamber's committees next year, including the coveted Senate Judiciary Committee where she currently serves as the ranking Democrat.
"California is a huge state confronting two existential threats — wildfire and drought — that are only getting worse with climate change," Feinstein wrote in a statement. "In the next Congress, I plan to increase my attention on those two crucial issues. I also believe that defeating COVID-19, combating climate change and protecting access to health care are critical national priorities that require even more concentration."
The 87-year-old is the second-oldest lawmaker in Congress and has served in the Senate since 1992, making her one of the Democratic Party's most seasoned legislators. Feinstein wrote the first federal assault weapons ban — which expired in 2004 — and fought the Obama-era CIA and Republicans to release unclassified sections of a massive government investigation into the nation's use of torture.
The California senator has served as the lead Democrat on the Senate Judiciary for four years and had been in line to become the committee's first female chair in the event that Democrats take control of the Senate — at least until recently.
Feinstein received widespread backlash from her party, particularly from progressives, about how she handled the rushed Senate confirmation hearings as ranking Democrat for conservative Supreme Court Justice Amy Coney Barrett in October.
"It's very hard to watch a colleague in decline. That this is occurring publicly is even harder," one Democratic senator who spoke on the condition of anonymity told HuffPost at the time.
"I disagree strongly with Sen. Feinstein that that set of hearings was one of the best or was even acceptable," progressive Rep. Katie Porter (D-Calif.) said in an interview at the time with HuffPost. "We got many fewer direct answers than we have out of most Supreme Court hearings. ... I thought it was a very poor set of hearings."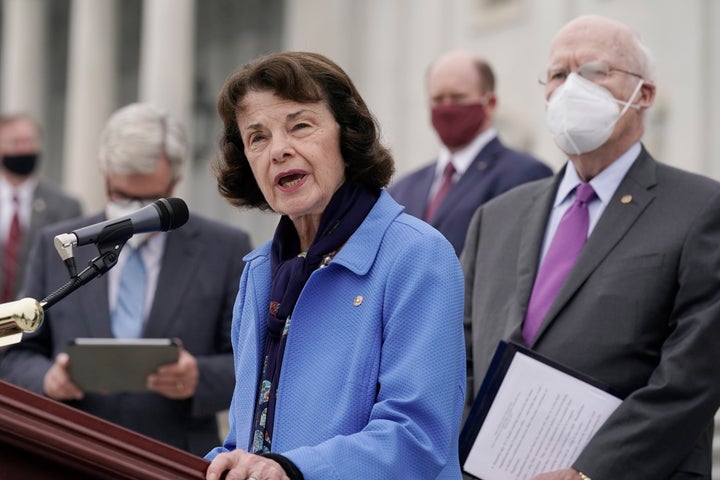 Democrats were already concerned that Feinstein would not be up to the task of leading her party in the fight for the Supreme Court, but her performance during the hearings symbolized to progressives the Democratic establishment's inability to play hardball on extremely important court nominations.
"She has undercut Democrats' position at every step of this process, from undermining calls for filibuster and court reform straight through to thanking Republicans for the most egregious partisan power grab in the modern history of the Supreme Court," Brian Fallon, founder of progressive judicial advocacy group Demand Justice, said at the time of the hearings.
When asked if he planned to make any changes to the Judiciary Committee, Senate Minority Leader Chuck Schumer (D-N.Y.) told reporters in October that he's "had a long and serious talk with Sen. Feinstein." The leader did not provide more context about what that talk entailed.
Schumer said in a statement Monday that he is "deeply grateful for Senator Feinstein's leadership and contributions" as the Judiciary Committee's top Democrat. He added that Feinstein's "experience, decades-long relationship with President-elect [Joe] Biden, and leadership on so many issues will continue to be an asset for our caucus, California, and the country as we begin a new term with the new president."
Sen. Dick Durbin (D-Ill.), who is also a senior member of the Judiciary Committee, said soon after Feinstein's announcement that he intends to seek her role as the panel's top Democrat. The senator said in a statement that "we have to roll up our sleeves and get to work on undoing the damage of the last four years and protecting fundamental civil and human rights."
"While President Trump assaulted the Constitution, the Judiciary Committee abdicated its oversight responsibilities and became little more than a conveyor belt to rubberstamp ideological and largely underqualified judicial nominees," he continued. "The to-do list for the Senate Judiciary Committee is long, and of critical importance to the future progress of our country."
Feinstein said that she will continue to serve as a senior Democrat on the Senate Judiciary, Appropriations and Rules committees "as we work with the Biden administration on priorities like gun safety, immigration reform and addressing inequities in criminal justice."