Dozens of national progressive groups on Wednesday urged Senate Judiciary Committee chairman Dick Durbin (D-Ill.) to stop honoring a committee courtesy known as the blue slip rule, which Republicans have been abusing to block President Joe Biden's court picks.
"We are concerned that Republican obstruction is slowing the Judiciary Committee's efforts," reads a letter to Durbin signed by 33 organizations, including Demand Justice, Lambda Legal and the League of Conservation Voters. "We are concerned that the current blue slip practice, which has always been based on the Chair's prerogative, is contributing to this obstruction by giving home state senators more power than they have had through much of modern history, and if unchanged, it will prevent President Biden from filling dozens of judicial vacancies."
They added, "The blue slip policy should be reformed or discontinued to ensure a fair process and stop Republicans from blocking highly-qualified Biden judicial nominees."
The groups on the letter include pro-democracy, environmental and civil rights organizations, most of whom are taking a position on blue slips for the first time. End Citizens United and the League of Conservation Voters are among those new to the cause.
"The use of blue slips by Senate Republicans to block highly-qualified judges is essentially another filibuster. It's purely political and a power grab," Tiffany Muller, executive director of End Citizens United, told HuffPost in a statement. "We fully support reforms to the blue slip custom or a discontinuation of it to ensure a fair and democratic process. Senate Democrats must not acquiesce to GOP obstructionism."
Doug Lindner, senior director of Judiciary & Democracy at the League of Conservation Voters, said Biden and Senate Democrats have built "an incredible record" of picking and confirming diverse judges. But there are still roughly 100 federal court vacancies that need to be filled in the face of GOP obstruction.
"In their current iteration, blue slips are too often used in bad faith to block people of color and women from becoming judges or hold lifetime judgeships open for a different president to fill," said Lindner. "The White House and Senate must fill every Circuit and District Court vacancy by the end of 2024, and cannot allow obstructionists to thwart this progress."
Here's a copy of the group's letter:

The committee's blue slip rule is not an official Senate rule. Instead, it's a courtesy unique to the Judiciary Committee, where senators simply turn in a blue slip of paper signaling their support for giving a hearing to a judicial nominee from that senator's state. If both of a nominee's home-state senators turn in their blue slips, the nominee gets a hearing. If only one turns in a blue slip, or neither turns them in, the nominee doesn't get a hearing.
Republicans haven't been signing blue slips for many of Biden's court picks, effectively tanking their nominations in the committee as Durbin continues to uphold the tradition. He doesn't want to get rid of the courtesy ― at least, not yet ― so his response to the GOP's obstruction has been to ask them to please turn in their blue slips repeatedly.
During a hearing last week, Durbin pointed out that Democratic senators had turned in 110 blue slips during the Trump administration. By contrast, Republicans have signed 17 blue slips so far in the Biden administration.
"I plead with my colleagues to make a good faith effort to sit down and see if they can reach an agreement with the White House on nominees," he said to GOP senators.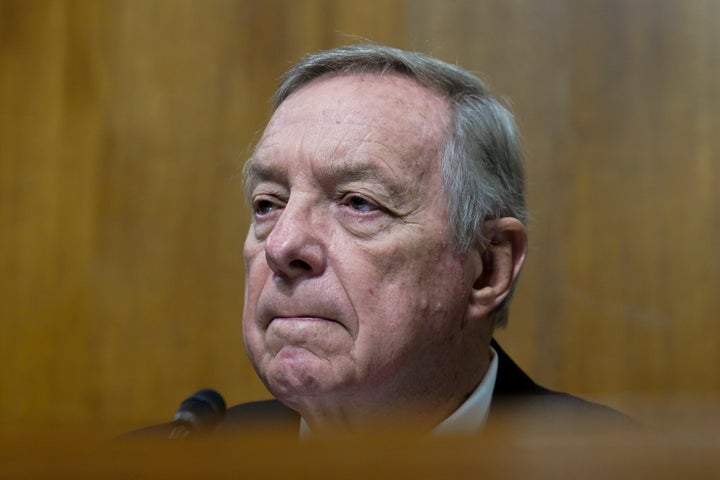 HuffPost asked Durbin last month if he's frustrated by Republicans not turning in blue slips for Biden's court picks, effectively tanking their nominations.
"Of course I'm frustrated!" he said.
But asked if he's frustrated enough to stop honoring the blue slip courtesy, Durbin said, "We're not at that point yet."
The new letter from progressive groups notes that in addition to Republicans blocking Biden's judicial picks by withholding blue slips, some also refuse to work with the White House to pick nominees for vacancies in their states. Of the 45 current district court vacancies subject to GOP blue slips, 41 don't have nominees in the queue.
"This is, to our knowledge, in spite of your efforts to work in good faith with your Republican colleagues for more than two years," said the groups in their letter.
They urge Durbin to take one of two paths forward: Either treat blue slips the way that Biden did when he was the committee chairman when they were considered a factor in advancing a judicial nominee but could not be used to block a nominee or institute a deadline for senators to return blue slips. The groups also call on Durbin to make the status of every blue slip public information. It's currently kept private by the committee.
"Republican abuse of the blue slip courtesy is creating a two-tiered system of justice and civil rights in our country and exacerbating the backlog cases, especially in districts designated as judicial emergencies," the groups said. "As Republicans delay and block highly-qualified, diverse Biden judicial nominees, we are counting on you to act to limit their bad faith and to implement the necessary reforms to ensure that President Biden can fill every judicial vacancy with highly qualified, fair-minded jurists whose personal and professional backgrounds reflect the country they serve."
Durbin spokeswoman Emily Hampsten said the committee has been hugely productive in advancing Biden's judicial nominees ― without changing the panel's blue slip tradition.
"Thanks to Chair Durbin's leadership, a narrowly-divided Senate has confirmed 125 highly qualified federal judges under the Biden administration. There are 20 more nominees out of Committee and ready for floor votes," Hampsten said in a statement.
She noted that already this year, the committee has held hearings for several nominees to courts in states led by Republican senators who turned in blue slips. Those states include Indiana, Idaho and Louisiana.
"The effort to bring balance to the courts has been one of this Senate's great successes, in large part due to Chair Durbin's leadership," said Hampsten.
The Illinois Democrat has been feeling the heat to change the blue slip rule from groups beyond those on the letter. Last week, members of the Congressional Black Caucus met with Durbin to lobby him to drop it, too.
Popular in the Community