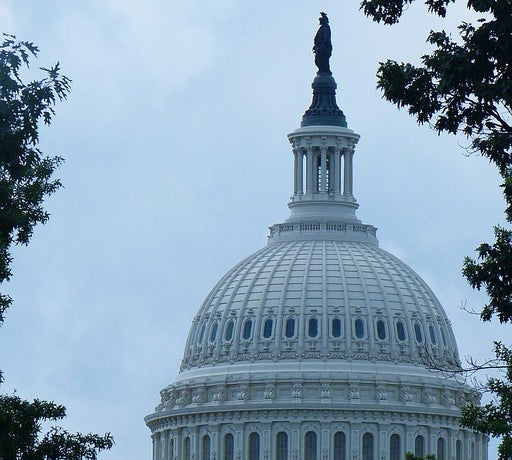 A lot of uncertainty looms in the disability community as Congress considers a bill that could have far reaching implications with its cuts and caps to Medicaid funding and services. One thing that is not uncertain: disability advocates will do everything in their power to keep this bill from becoming law and they will not let Medicaid's dismantling occur quietly.
Advocacy groups across the country have been arranging call-ins, mass letter writing efforts and making public statements condemning the proposed bill and cuts. The Arc of the United States CEO Peter Berns claimed the bill would undo 65 years of progress for people with disabilities. He went on to say in emotional testimony before Congress that "we cannot turn our back on the commitments we made as a society to all other people with intellectual and developmental disabilities and their families." (The Arc CEO Statement)

The Autism Self Advocacy Network condemned the repeal as well and provided a script for autistic individuals to use when contacting their elected officials and advocating for themselves. The ASAN's call to action laid out what it called "horrifying" changes for persons with disabilities and adamantly proclaimed, "A plan that takes away coverage from 24 million people is not a replacement for the ACA." (ASAN Statement)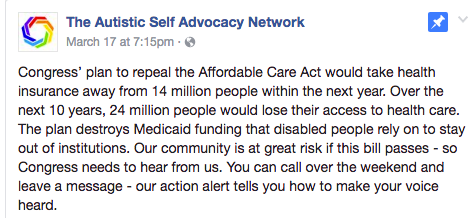 The Autism Society of America came out with a similarly harsh condemnation of the proposed changes to Medicaid in the American Healthcare Act. "Slashing federal support for Medicaid by an estimated $880 billion, according to the Congressional Budget Office, over 10 years would force states to reduce eligibility and services, placing the health and well-being of people with disabilities at risk. Our grassroots network of nearly 100 affiliates will not stand by and allow these cuts to happen. They could lead to unintended consequences affecting millions of people with disabilities who seek to live as independently as possible in their communities." In the same statement the ASA pledged to send a scorecard to all of the Congress members' constituents affected by autism so constituents would know exactly what policies members voted for and against with regard to autism services. (Autism Society Statement)

One DC area autism father has not only condemned the proposed cuts and outlined ways disability advocates can contact their representatives, but has offered to hand deliver others' letters to representatives at the Capitol with his autistic son in tow. Andrew Gibbs wants his son to gain experience in advocating for himself and will take letters written by himself, self-advocates and other parent advocates to Congress on March 30th. "I think it's important to confront lawmakers with the true cost of their decisions. If they can understand that their actions will hurt 'this disabled child' rather than an abstract population of 'Medicaid recipients' they have a more accurate understanding of the effects of their bill." Gibbs encourages the autism and disability communities to not only write, but to also call their representatives, daily if that's what it takes. (Spectral Zone Call for Action)
Other advocates have pointed out that it is not only Medicaid recipients that will be affected by Medicaid cuts and caps, but also disabled children whose families use Medicaid waiver programs; many of whom have waited for years on waitlists to receive services and help. According to Tricare for Kids, both veteran families and disabled military children will face loss of services and insurance under the proposed American Healthcare Act. In addition to military children that could lose coverage and/or wait longer for waiver services, Tricare for Kids claims that for approximately 200,000 military children Medicaid is required for complex medical care not covered by Tricare or private insurance. (Tricare for Kids Letter to Congress)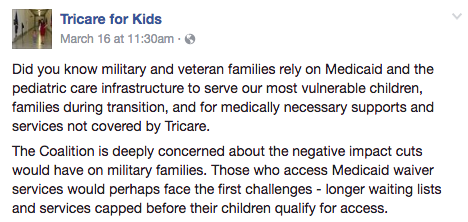 Along with disability advocates, the American Medical Association has expressed great concern over the proposed Medicaid changes and many other aspects of the American Healthcare Act. "More than 20 million Americans currently have health care coverage due to the Affordable Care Act (ACA) and among the AMA's highest priorities for on-going health system reform efforts is to ensure that these individuals maintain that coverage. While we agree that there are problems with the ACA that must be addressed, we cannot support the AHCA as drafted because of the expected decline in health insurance coverage and the potential harm it would cause to vulnerable patient populations." (AMA Letter to Congress)
A number of Republican lawmakers have also expressed their inability to support the American Healthcare Act in its current form knowing how many of their constituents would lose coverage as a result. (NY Times) Some on the Hill have even joked that nobody wants their name tied to a bill with such far reaching consequences. With medical professionals, advocates, insurers and a number of legislators not supporting the American Healthcare Act, it begs the question "Who thinks this is a good idea?" Constituents on both sides of the aisle that would be negatively impacted by these changes are watching Congress' next move very carefully. And there is no doubt that they will keep this vote in mind the next time they head to the polls.
Calling all HuffPost superfans!
Sign up for membership to become a founding member and help shape HuffPost's next chapter