As a long-standing member of both the scientific community and museum sector, I have worked to better understand the world and to share this understanding with the public. Faced with the climate crisis, the gravest threat humanity has ever faced, I am deeply concerned that leading science museums are linked with the very fossil fuel companies that profit from perpetuating climate change.
Following the call from the scientific community, The Natural History Museum and 350.org launched a campaign calling on museums of science and natural history to not only act as leaders on climate research and education, but also to champion a safe and sustainable future for all. In the last year, several institutions have responded, including the California Academy of Sciences, the Australian Academy of Sciences, Phipps Conservatory and Botanical Gardens, and the Field Museum.
Conspicuously, yet glaringly, absent from this list is our nation's oldest natural history museum: New York's American Museum of Natural History.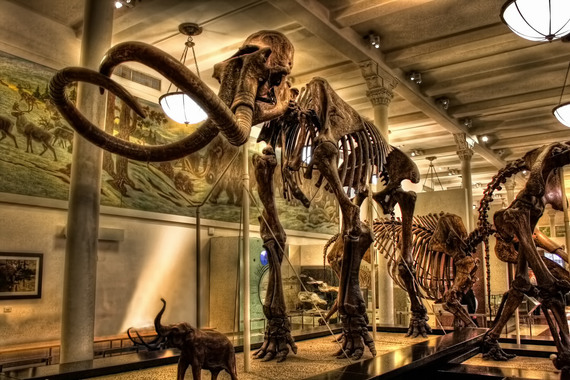 '"Why should one of our most trusted museums divest?," you may ask. As a former museum director, the main issue for me is that owning stock in fossil fuel companies is neither neutral nor solely a financial matter -- it makes the shareholder part-owner of a company. When a museum invests part of its endowment in ExxonMobil, for example, it gambles in the hope that ExxonMobil's share price and profits will rise. But we know that Exxon's business practice depends on sending pollutants into the atmosphere, causing climate change and endangering humanity irreversibly. Not only that, but we know that ExxonMobil and other fossil fuel companies have spent decades orchestrating a campaign of deception and doubt about climate change. Such actions are plainly at odds with the educational mandates of our nation's museums.
When an iconic institution like the American Museum of Natural History has ties to fossil fuels, the contradiction is self-evident, and the message it sends to its audience is reprehensible.
As California Academy of Sciences Executive Director Dr. Jonathan Foley explains: "It seems difficult to reconcile the mission of a public science museum focused on ecology, evolution, and sustainability and the practice of investing in fossil fuels...[Divestment] is the right thing to do morally, and the right thing to do institutionally."
Plainly stated, investing in fossil fuels makes no sense for a scientific institution like the American Museum of Natural History. After months of pressure from scientists and climate activists, the AMNH and board member and oil mogul David Koch parted ways. This move was a step in the right direction and I applaud it, but it's not enough.
As one of the most influential museums in the world, what the AMNH does sets an example for all other institutions of science. Divesting would demonstrate the museum's commitment to a world that prioritizes our climate and our communities -- as evidenced by its "Museums and Climate Change" initiative, its exhibits -- and its investments.
Calling all HuffPost superfans!
Sign up for membership to become a founding member and help shape HuffPost's next chapter