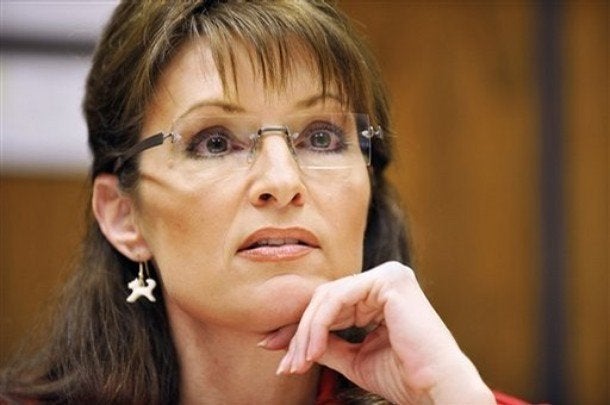 Alaska Gov. Sarah Palin said on Thursday that she will accept just 69 percent of the estimated $930 million in federal stimulus funds that could flow to the state.
Palin's originally announced that she was accepting just over half the stimulus package funds, but that figure did not include $128 million in Medicaid stimulus money she is accepting.
Still, as the Anchorage Daily News reported:
The biggest single chunk of stimulus money that Palin is turning down is $160 million for education. There's also $17 million in Department of Labor funds (vocational rehabilitation services, unemployment services, etc.), about $9 million for Health and Social Services and about $7 million for Public Safety.
The newly-aggressive Democratic National Committee released a statement within hours, hammering Palin's move as "political posturing."
"After soliciting and accepting more federal dollars per capita than any other governor in the union, Sarah Palin's decision today to deny the state of Alaska over half a billion dollars in recovery and reinvestment funds - including millions for schools, energy and public safety - appears to be nothing more than political posturing," communications director Brad Woodhouse said. "At a time when her state is suffering, Alaska's working families cannot afford a governor that puts her political future ahead of the needs of the state and its families."
Another DNC email -- subject line "HYPOCRISY WATCH: Palin's Conversion on Federal Money" -- declared that "Palin's Never Seen a Federal Dollar She Didn't Want... Until Now." It noted that under Palin, Alaska has "solicited and received more federal dollars per capita than any other state in the union."
The former vice presidential candidate says she will accept only money without strings that will bind the state later. It's up to the Legislature to weigh in on the rest of the package.
Some GOP governors, including Mark Sanford of South Carolina and Bobby Jindal of Louisiana, also have rejected some stimulus money. Others, including Arnold Schwarzenegger of California and Charlie Crist of Florida, have welcomed it.
With additional reporting by the Associated Press