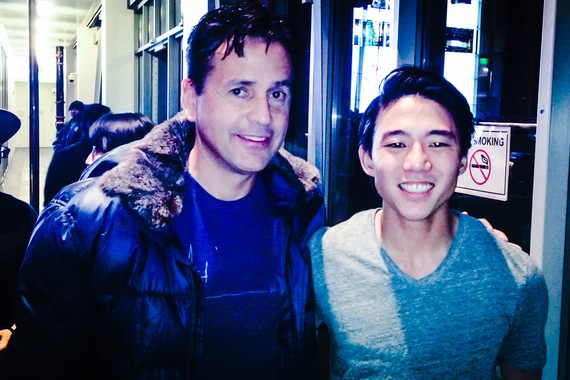 I had a rather remarkable night here in the City of Angels. Better said, I saw a documentary about one guy's remarkable journey to find his birth parents. Notice I didn't say real parents. And neither did Dan Mathews during the exclusive screening of his documentary, AKA Dan, at YouTubeLA's studios. That's Dan and me in the pic above.
In fact, he didn't say it during the revealing Q&A afterwards. You could see in his face, the words he carefully chose and the wheels spinning in his mind that he is still trying to download the experience into some compartmentalized, identifiable experience. That will probably not happen for a while. And that's not a bad thing. What am I talking about?
Take a quick peek at the trailer and you'll see:
For anyone who has been adopted, adopted or had friends and family who were adopted, this film is incredibly resonant.
But, I haven't been adopted and the film still hit a number of touchstones with me, not the least of which are the many, incredible definitions of love.
Love lost. Love gained. Painful love. Joyous love. Deep love. New love. Awkward love. Nervous love and that wild card, unknown love. All of these and more are felt by Dan as he arrives in Korea and meets his dad, mom, sister and twin brother.
But before you think this is one big, serious emotional journey, I should tell you it's a helluva lot of fun, too. It's funny. Laugh out loud funny at times. There is some serious partying and clubbing as Dan gets to know other adoptees who are in Korea on the same journey. Dan is a hip-hop artist as well, so there are scenes of him performing in a club where his newfound brother and sister are watching him for the first time. Hello world! (Dan's new album/single can be found here. )
In fact, music connects Dan and his twin. There's a nice scene where they're getting to know each other and start chatting about music and who they like. His brother is an Eminem fan and they soon find out their favorite Eminem song is the same.
Overall, the film is a nice effort. It's heart is in the right place. It's honest in every way. There is an incredible scene at the airport when Dan has to leave Korea and his biological family is there saying goodbye. I won't give away the reason why Dan's bio-mother had to give him up for adoption, but I can tell you it all comes to a crushing, emotional point at the airport.
On the flip-side, the film is a bit uneven. There are entire scenes that don't add much value. Others which could have been shortened and combined with later scenes, shortened as well, to give the film a better flow. In addition, until the airport scene, Dan's bio-parents didn't want to be on camera. That could have been a huge problem, but to Dan and his crews' credit, they turned it into an asset.
But look, this was a passion project boosted by a kickass Kickstarter campaign. The ask was for $25,000 and Dan received nearly $35,000 in donations. Not $350,000 like many documentaries. $35,000 for EVERYTHING.
And to that end, the look of the film has that new media, Kickstarted kinda feel. Dan starts off 'hosting' the film, turning to the camera to tell us what's happening and then by the end we are watching through his eyes. The hosting is pretty much gone by the end. I like that it has both.
Also, the setting for the special cast and crew and friends screening lent itself to the new media feel of the night. YouTubeLA is a great space.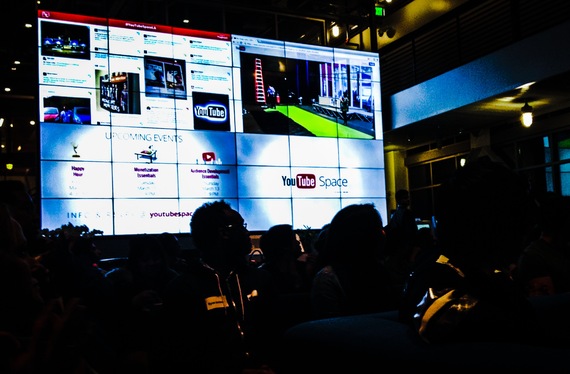 I can't remember when I was at a screening (and I've been to hundreds) where I was handed a beer the moment I walked in and asked to play ping-pong until the festivities were set to begin. Ping-pong and beer would seem to go together. They don't. At least not for me.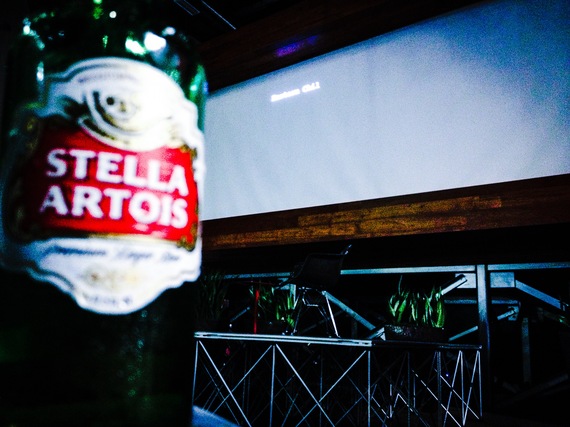 A great start. A good movie and a nice scene after it ended. I looked around the room as the credits rolled and noticed not a single person was leaving.
As Dan took the stage to answer questions, you could feel a ton of respect, admiration and love in the room. It wasn't a new media or an old media thing. It was a human thing.
However, to watch it, you'll have to do the new media thing and watch it on YouTube. Here is part one AND part two. Enjoy.

All images are author's own, and embedded videos are courtesy of Dan Mathews.
Calling all HuffPost superfans!
Sign up for membership to become a founding member and help shape HuffPost's next chapter