Cronut™ inventor Dominque Ansel has done it again. In an Instagram posted earlier today, the famed pastry chef revealed his newest creation: Chocolate Chip Cookie Milk Shots. In one dessert, he's managed to capture everything comforting about childhood and adulthood all at once. It's cookies and milk -- that classic combo that can bring us back to youth on any day -- and shots -- those stress-relieving/debauchery-inducing devices we know all too well as adults (minus the alcohol).
However sick you may be of the infamous Cronut™, Ansel's Chocolate Chip Cookie Milk Shots may make you crack a smile. Ansel told Eater that he came up with the idea when he ate his first Oreo, which was only a few weeks ago. (Apparently cookies and milk is not "a natural combination in French culture," so he has been deprived of this winning combination until recently.)
Ansel's lightbulb moment was something so obvious it was basically hidden in plain sight from the rest of us so accustomed to dunking cookies into milk. "If everyone was drinking milk with cookies, you might as well make a dessert that allows them both to be combined," Ansel told Eater.
Thus the Chocolate Chip Cookie Milk Shot was born, with a chocolate chip cookie that gets formed into a shot container that holds milk without leaking. According to Grubstreet, the cookie dough is "extra-aerated" and baked in a cylindrical mold.
The only question we have is, since you have to drink the milk first, what happens when you finish your cookie and don't have any milk left? We're all about the milk-soaked cookie, but we think we would need another glass of milk to wash it down.
The shots will be available on Sunday, March 9 at South By Southwest in Austin.
Before You Go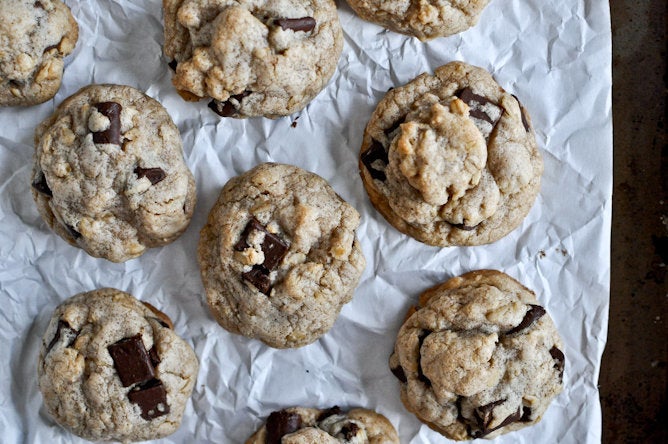 Chocolate Chip Cookies