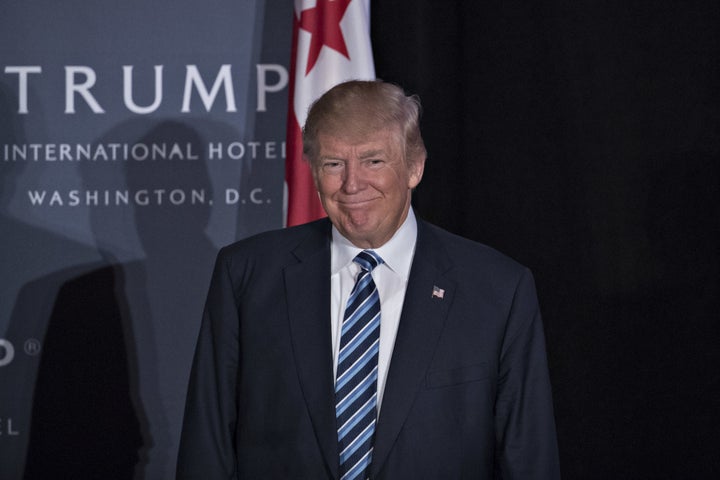 WASHINGTON ― The Embassy of Bahrain plans to host its annual National Day celebration at President-elect Donald Trump's lavish Trump International Hotel in Washington, D.C.
Last year, the Embassy of Bahrain hosted its National Day party at the Ritz Carlton, a swanky hotel located about a mile from Trump's new space.
The embassy did not respond to a request for comment on why it opted to change locations or how much it had paid host a private event at Trump's hotel. The Trump International Hotel's sales team declined to comment.
"They know that they will be currying favor with Donald Trump," said Laurence Tribe, a constitutional law professor at Harvard Law School. "Around the world it's regarded as an ordinary way of business that you favor the enterprises and businesses of the head of the government in order to get ahead of everybody else."
"They'll say I have a conflict because we just opened a beautiful hotel on Pennsylvania Avenue, so every time somebody stays at that hotel, if they stay because I'm president, I guess you could say it's a conflict of interest," he told the publication.
But Trump also said he believed he will be immune from conflicts of interest once he enters the White House.
"The law is totally on my side, meaning, the president can't have a conflict of interest," he told the Times.
In some respects, Trump is correct. Federal conflict-of-interest laws requiring government officials to place their assets into a blind trust do not apply to the president. However, previous presidents have placed their assets into the hands of independent trustees to ensure no real or perceived conflict could be alleged.
Trump has done no such thing. Despite promising to cut ties to his global business empire if he won the election, he has made little progress in disassociating himself from his vast holdings.
He named three of his adult children ― Ivanka, Donald Jr. and Eric Trump ― as heads of the business. But he also placed them on his presidential transition team, thus negating any separation of business and state. Ivanka has participated in at least three discussions with world leaders while in her joint role as a temporary Trump Organization head and presidential transition adviser. Trump has also continued to meet with his international business partners and praised them in phone calls with foreign leaders.
Although federal conflict-of-interest laws do not apply to the president, the Constitution does. In particular, its Emoluments Clause forbids government officials from receiving beneficial payment from a foreign government, a foreign government official or a business owned by a foreign government. The Kingdom of Bahrain paying to host its annual gala at the Trump hotel in D.C. could very well qualify as such a payment.
Norm Eisen, former ethics adviser to President Barack Obama, previously told The Huffington Post that foreign governments and their embassies paying to use the Trump hotel could violate the Emoluments Clause.
"Do we really think all these embassies would have shown up before he ran for office or before he was elected?" Eisen asked rhetorically. "Is it a coincidence that they had that meeting now after he was elected?"
"Do we really think all these embassies would have shown up before he ran for office or before he was elected?"
Trump's transition team did not respond to a request for comment.
Throughout the presidential campaign, Trump repeatedly tried to portray his opponent, former Secretary of State Hillary Clinton, as corrupt for meeting with foreign leaders who had also given money to the Clinton Foundation. One example he cited was a meeting she held with Bahraini Crown Prince Salman bin Hamad al-Khalifa in 2009, when she was the top U.S. diplomat. State Department emails suggest Clinton was initially hesitant to commit to a meeting, but that she eventually agreed after being contacted by a Bill Clinton aide who helped set up the Clinton Foundation. Bahrain, a country with a poor human rights record, has donated between $50,000 and $100,000 to the Clinton family's nonprofit organization.
As a key Gulf ally, Bahrain is a top purchaser of U.S.-made weapons. The U.S. placed a hold on the sale of some heavy weaponry to the kingdom after a brutal crackdown on protesters in 2011, but the restrictions have since been lifted.
The suggestion that Clinton was influenced to meet with al-Khalifa because of his country's generosity to the Clinton Foundation always rang a bit hollow. Bahrain is a major non-NATO ally and home to the U.S. Navy's Fifth Fleet. It is one of the key countries in the U.S.-led fight against ISIS. High-level meetings between officials from the two countries are commonplace.
But that didn't stop Trump and his surrogates from latching onto the story.
"They should give the money back to a lot of countries … countries that influenced her totally and also countries that discriminated against women and gays and everybody else," he said.
A pro-Trump super PAC accused Clinton of selling access to the U.S. government while serving as secretary of state, citing the Bahrain incident.
One of Trump's sons also tweeted an article about the incident.
Sign up for the HuffPost Must Reads newsletter. Each Sunday, we will bring you the best original reporting, longform writing and breaking news from The Huffington Post and around the web, plus behind-the-scenes looks at how it's all made. Click here to sign up!
Popular in the Community