"The world is a better place because of him and his belief that good can triumph over evil!" Trump tweeted Sunday evening.
He was roundly lambasted the day before after tweeting an image of a smiling Clinton on top of $100 bills and next to a Star of David reading "Most Corrupt Candidate Ever!" He later tweeted a new image that replaced the star with a circle and deleted the first tweet.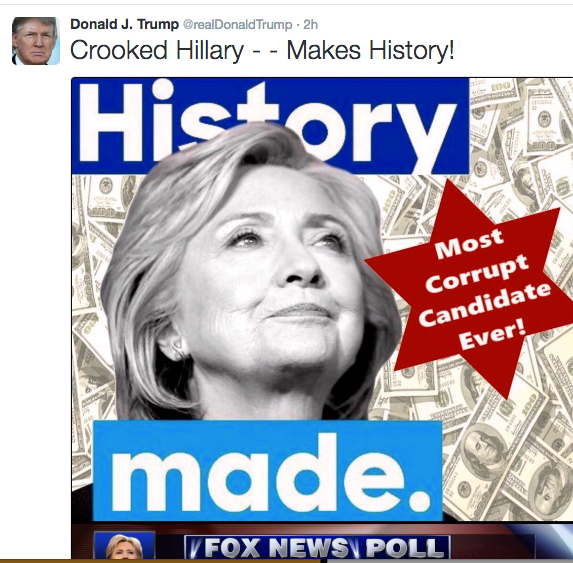 Wiesel, who survived the Auschwitz concentration camp and went on to win the Nobel Peace Prize, authored more than 50 books, including "Night," based on his experiences during the Holocaust. He was an "eloquent witness for the six million Jews slaughtered in World War II," The New York Times wrote in an obituary. The Nobel committee dubbed him "a messenger to mankind."
"He raised his voice, not just against anti-Semitism, but against hatred, bigotry and intolerance in all its forms," the president wrote. "As a writer, a speaker, an activist, and a thinker, he was one of those people who changed the world more as a citizen of the world than those who hold office or traditional positions of power. His life, and the power of his example, urges us to be better."
On Sunday, the Anti-Defamation League called on Trump to disavow the anti-Semitic acts by some of his supporters.
"It's been concerning that [Donald Trump] hasn't spoken out forcefully against these people. It is outrageous to think that the candidate is sourcing material from some of the worst elements in our society," Jonathan Greenblatt, CEO and national director of the league, told The Hill.
"We would like to see [Trump] speak out consistently and clearly and reject not only this kind of prejudice, but the people behind it. And make it clear that they have no please [sic] in the public conversation, and no place in a political campaign, and that they have nothing to do with making America great again."
The Trump campaign could not immediately be reached for comment.
Popular in the Community