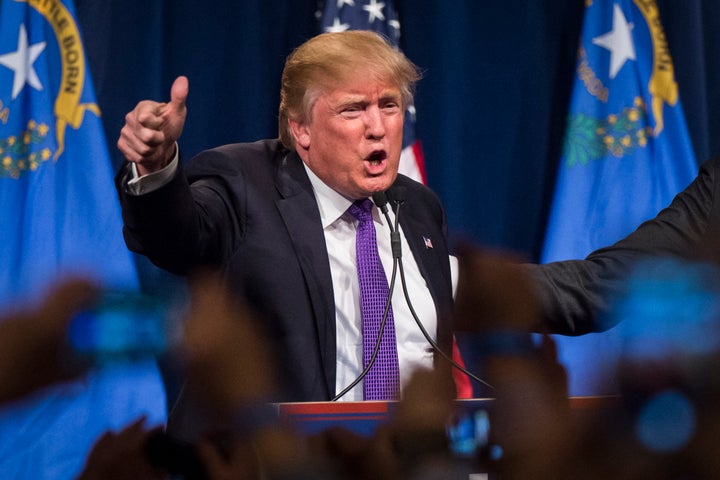 Reps. Chris Collins (R-N.Y.) and Duncan Hunter (R-Calif.) on Wednesday became the first sitting members of Congress to endorse the presidential bid of real estate mogul Donald Trump.
"Donald Trump has clearly demonstrated that he has both the guts and the fortitude to return our nation's jobs stolen by China, take on our enemies like ISIS, Iran, North Korea and Russia, and most importantly, reestablish the opportunity for our children and grandchildren to attain the American Dream," Collins said in a statement obtained by The Buffalo News. "That is why I am proud to endorse him as the next President of the United States."
Collins, who'd previously endorsed former Florida Gov. Jeb Bush in the GOP race, represents one of the most conservative districts in New York, one that encompasses suburban and rural areas around Buffalo where it's not uncommon to see anti-Obama signs and the occasional Confederate flag.
Hunter, meanwhile, told Politico on Wednesday that he is in favor of Trump because "we don't need a policy wonk as president. We need a leader as president." He also said he's "liked Trump since the beginning."
Hunter represents a district in San Diego, and like Trump has spoken about the need for tighter border control. His father, Duncan Hunter Sr., who once represented the district where his son now serves and who ran for president in 2008, made building a border fence one of his signature issues.
The nods from Collins and Hunter come in the wake of Trump's resounding victory in the Nevada caucuses, where the businessman trounced rivals Sen. Marco Rubio of Florida and Sen. Ted Cruz of Texas by double digits Tuesday. Rubio still maintains an overwhelming lead in congressional endorsements, reflecting his status as the establishment favorite, but the backing of many of the party's elders has yet to translate into any primary-season victories.
Collins' endorsement may signal an opening of the floodgates for Trump, who prior to Wednesday hadn't received a single endorsement from any members of Congress or state GOP officials.
PHOTO GALLERY
Declared 2016 Presidential Candidates
Calling all HuffPost superfans!
Sign up for membership to become a founding member and help shape HuffPost's next chapter