WASHINGTON ― Instead of spending his morning in a hotly contested battleground state like Florida ― where Democratic presidential nominee Hillary Clinton held an event encouraging people to vote early ― Donald Trump on Wednesday decided to promote his sagging brand at his glitzy new Pennsylvania Avenue hotel, just blocks from the White House.
Trump has made many unusual decisions this year, including campaigning in traditionally blue states like Connecticut, but this press conference was perhaps his most bizarre move. Over 200 journalists descended on the property at the Old Post Office, where they were handed promotional pamphlets about the hotel's luxurious amenities before the GOP nominee and company executives launched into speeches about its perks. 
"Today is a metaphor for what we can accomplish for this country, the same kind of thing," Trump said as the ballroom's massive crystal chandeliers glittered overhead. He said his successful real estate background shows he knows "how to work with government and get things done," adding that his hotel ran "under budget" and "ahead of schedule."
After touting the new hotel, Trump briefly turned to topics of the day, including veteran care, infrastructure spending, education, the tax code and recent news of Affordable Care Act premium hikes.
"Obamacare is in a free-fall," he said, then took a jab at Clinton. "It was called Hillarycare before it was called Obamacare."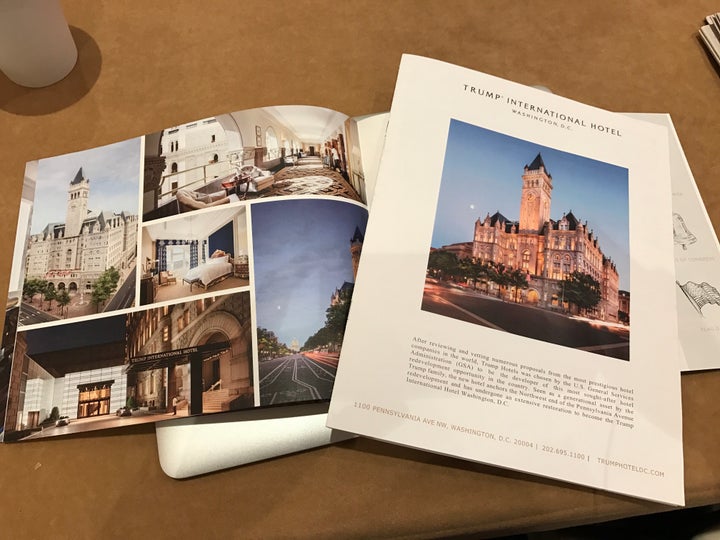 A contingent of Trump supporters sat in the audience, but there was little evidence that many were swing-state voters, who Trump badly needs to sway to his side. Instead, the crowd in and around the hotel consisted of a mix of curious onlookers, tourists and labor union picketers who staged a boycott outside the hotel.
Anna Bryson, a California Republican who flew in to see the nominee, shrugged off the unusual nature of the event.
"He should be here for today, but if you looked at his schedule, I was flabbergasted," she told The Huffington Post in the hotel lobby, expressing surprise that Trump's schedule included visits to North Carolina and Ohio later in the day.
Another Trump supporter, who identified himself only as Andrew from Washington, D.C., warned about the consequences of sending Bill and Hillary Clinton back to the White House.
"She and her husband are despicable creatures. He rapes women. I'm sorry I had to say that. He raped them," he said of the former president, while standing less than 10 feet from where Trump's sons, Eric and Donald Jr., were waiting to help their father with a ribbon-cutting ceremony.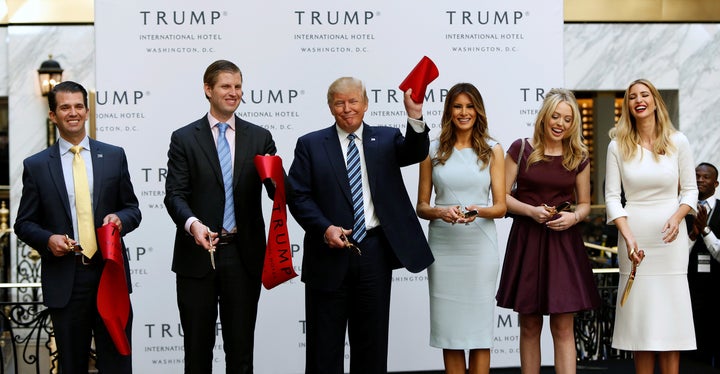 Trump embarked on a similar promotional tour Tuesday, when he visited his golf course and resort in Doral, Florida. There, too, the GOP nominee touted his property as several employees spoke of their admiration for their high-flying boss.
His campaign responded to criticism about the event by saying Trump's visit to the resort highlighted his ability to create jobs.
Trump dismissed an inquiry about why he wasn't campaigning in a battleground state Wednesday during an interview with CNN, saying it was "a very rude question" and that he worked hard on the trail every day. Indeed, he is scheduled to attend seven events across three states between Wednesday and Friday. 
Teresa Hill, a self-employed voter from Florida, sat on a planter outside the new hotel hoping to get a glimpse of the real estate mogul. She said she saw nothing wrong with Trump touting his businesses on the campaign trail because most people have already made up their minds about who they are supporting in November.
"He should be here. This is a wonderful event here, it's happening in Washington, D.C., right where he is going to be living when he wins the election on Nov. 8," she said. "He should be proud of his business accomplishments, this being one of them. And besides, I think that people have already decided."
Democrat Joel Rutstein from northern Virginia marveled at the sight as he stood in a nearby crowd. He, too, dismissed Trump's visit to Washington ― admonishing the media for the level of coverage it had received.
"He does what he does. What difference does it make? It's covered. Whatever he did and said, they covered it," he said of the press.
"That didn't used to be the case," Rutstein added. 
Calling all HuffPost superfans!
Sign up for membership to become a founding member and help shape HuffPost's next chapter