I know Rosie O'Donnell. Rosie is a friend of mine. And you, Donald Trump, are no Rosie O'Donnell.
We all think we know Rosie O'Donnell. She is a Mom, a comic genius, a gifted actress and hosted one of the most successful shows in the history of television. And she can be grumpy. I am sure she will be grumpy at me for writing this. But watching Donald Trump disparage her once again during the Republican debate make me sick to my stomach. And so, I am going to spill the beans and tell you about a very private part of Rosie O'Donnell, a part that she steadfastly refuses to share.
I had occasion to work closely with Rosie for a few years. I am a lawyer and had just come off running the Human Rights Campaign for a decade. Rosie wanted some overall guidance and advice on her philanthropy and her career, and so I signed on.
Her first stint on the View took place during my time with her and so I experienced first hand the over-the-top, unleashing of rage from Donald Trump. All Rosie did was suggest he was perhaps not the correct person to sit in moral judgment of a young who had won a beauty pageant he owned. Donald the pit bull exploded into action using school yard tactics of a common bully to tear O'Donnell apart. He took to every network sometimes appearing on two at once. He was relentless in his attacks on her in public and behind the scenes.
To fully understand Rosie it is necessary to understand an aspect of her character she largely keeps private. A core element of what defines her: her good works. When I met Rosie, I had only seen her TV talk show a few times. She was both gay and the friendly girl next door. But she would stick up for the underdog on-air and never back down from a fight. The public loved -- and related to -- this outspoken woman who would fight for the weak and vulnerable, especially children.
When I came to work with her, I could not have imagined all she had quietly done in her then short career to help people in need. By 2005, she had already contributed well over $60,000,000 to charities focused on the health and well being of children. Through her own charity, the For All Kids Foundation, she contributed millions in capital grants to hundreds of day care centers all of the country serving low income children. This was not someone else's money nor leveraging her celebrity. This was investing her own hard earned cash. And her generosity began well before she hit pay dirt on the Rosie O'Donnell Show.
She had also started Rosie's Broadway (now Theater) Kids, a program that teaches leadership and values to 5th graders in the poorest schools in New York City through the guise of musical theater. It bothered her that so many children grew up in the shadow of Broadway but might never experience this uniquely American art form. Superbly run by Director Lori Klinger, the program selects the children with the most leadership potential and they are invited to participate in an after school program and then a summer institute. Unlike many Band-Aid programs for youth, Rosie's Broadway Kids continues to invest in the child through high school.
Rosie bought a large old circa 1920s building on West 45th street, gutted it and created a haven for this children in the middle of the theater district. The program provides clothes, dance shows, healthy food and a place to study and be tutored. It large dance and music studios are a safe place for these kids to take a break from the storm of a sometimes chaotic young life. Rosie named the building for a teacher that had been particularly kind to her after her mother died when Roseanne was still a child.
When Katrina hit New Orleans and the surrounding area, Rosie went into action. She dispatched our team to come up with an innovative solution to serve the needs of the poorest of the poor. We established a plan to build a colorful temporary township at the edge of the largest trailer part in Baker, L.A. The township was built like a Lego set using materials and components that could all be repurposed after the crisis. From the air one could see a sea of trailers sitting in the mud and then a burst of color where we built the new facilities. All social services were brought to this population of thousands. Our township featured Early Head Start, Head Start, Day Care, a job center, a social services center, counseling and medical care. We installed playground and spray grounds for the children to cool off in the blistering heat.
These were the poorest of the poor --- people that could not make it to Houston or other major metropolitan areas.
We flew in art therapists, and under the leadership of Karla Leopold the team kept coming back to work with the children. At first, all they drew was trailers. Why? It was because those were the rooftops from which they were rescued. Some drew their pets drowning and boats at chimney level. As time went on they drew little brown boxes, one after the other, representing the trailer park. Slowly over a period of years more color and hope emerged.
Rosie dispatched us to find out where every kid would be attending school so we could buy the right uniforms and backpacks. She did not want them to stick out. One week we took single Moms who were in college to pick out new cars with long warranties so they could complete their studies to support their kids. We flew in hundreds of dresses for women had a sat one Sunday too many in makeshift church wearing the same dress with no facilities to wash them. We brought in showers and cleaning facilities. We brought in clothes for men, women and children. And Rosie paid for every major celebration and holiday for almost three years. Every kid got a Christmas present. No kid left an Easter Egg hunt empty handed.
Within days of arriving , we hosted a huge picnic for the community including every character ever created by Nickelodeon, thanks to Rosie's then wife Kelli Carpenter, who had been a Nickelodeon executive and had grown up in the area. When the homophobic white evangelical church turned down money for their rescue operation, Rosie was more than happy to support the black churches of the area.
We moved some of the elderly into apartments. One was a 93-year-old woman who had plowed through 40 blocks of water up to her neck and survived to tell the tale. Rosie's foundation took care of her until the end of her life.
This is just a slice of what I saw and experienced during my time with Rosie.
My inside view of Rosie was an extraordinary experience. Yes, there were times of enormous frustration as she foiled one business plan after another, but mostly because things were presented to her by entertainment industry executives with just their profit potential. And she cared about more than just profit.
I spent many an hour trying to convince her that sharing more of what she did in her philanthropy would balance out her overall image. It would explain her more completely to the public. She would have nothing of it.
After our work post Katrina, I thought we had a lot of lessons to share with FEMA and the Red Cross. Basic lessons about the consolidation of services and implementation of children's programming soon after a disaster to lift some of the pressure from dazed parents. On the eve of the briefing and press conference, Rosie cancelled. Once again she could not take credit publically.
And so today, I am breaking silence. Rosie at her core will always be that kid in the neighborhood that dawns a cape and takes on the bullies. I for one am happy that on a day long ago she took on the biggest bully of them all, Donald Trump. And as for Trump, he is so thin skinned and enraged by any form of accountability he is still lashing out at Rosie so many years later.
Rosie is not perfect. She is human and makes mistakes. But Donald Trump is not now, nor will he ever be, as generous in spirit, nor will he ever have the heart and character of Rosie O'Donnell.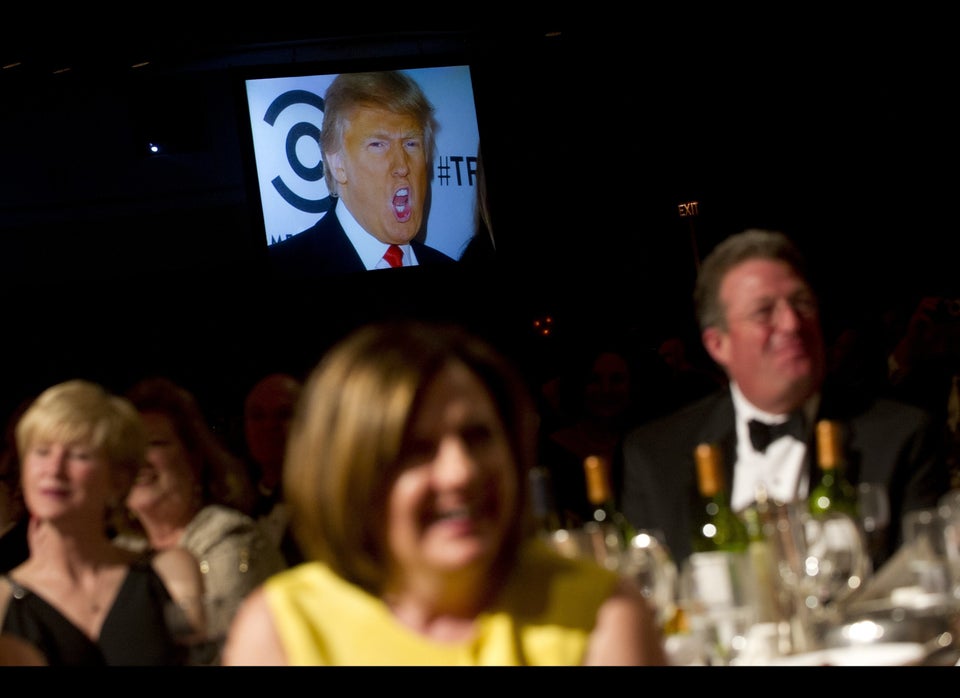 Donald Trump
Popular in the Community