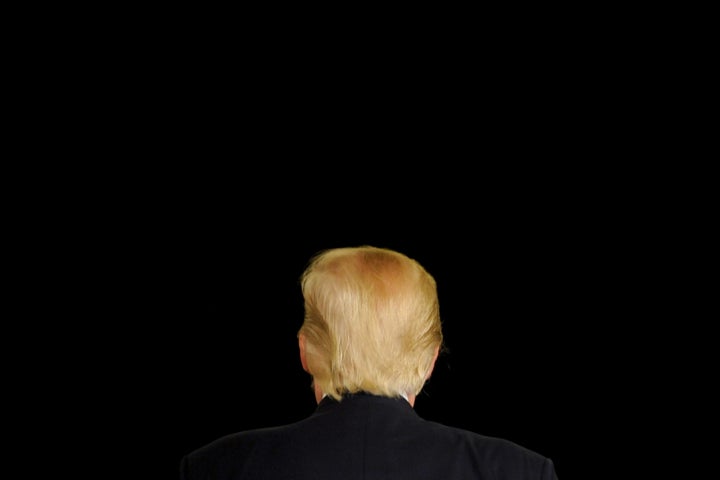 Give Donald Trump credit: his candidacy may be unifying the country over dislike for him.
"In terms of any domestic personality that we have measured, we've never seen an individual with a higher negative," Democratic pollster Peter Hart told The Washington Post, calling Trump's image "exceptionally rancid."
The American public's view of Trump, which improved briefly after he entered the race, seems to be worsening. HuffPost Pollster, which averages all publicly available polling, currently gives him a 63 percent unfavorable rating, up from 56 percent in January.
His decline has been especially steep among women, who have soured on him dramatically since the beginning of the year.
Conventional wisdom holds that there's little room for a well-known, disliked candidate to improve. But Trump has defied conventional wisdom before.
When he first announced his candidacy last June, Trump's image among Republicans was also inauspiciously, and historically, bad. An analysis from FiveThirtyEight, which declared that "Trump is the first candidate in modern presidential primary history to begin the campaign with a majority of his own party disliking him," put Trump's unfavorable rating among the GOP at about 57 percent -- close to his current numbers among the populace as a whole today.
Once it became clear, however, that Trump was intending a serious candidacy, his favorability among Republicans rose quickly and dramatically into positive territory. Although he remains considerably more divisive within his party than past front-runners, his ratings among the GOP have since remained generally stable.
And if Trump is chosen as the nominee, he may well see another boost as recalcitrant GOP voters ultimately decide to rally around him, giving him a version of the post-convention bounce candidates traditionally receive.
"Should Trump be the nominee, a lot of Republicans who have a hard time believing they would actually vote for him ... they may turn," GOP pollster Neil Newhouse told Politico.
As The Washington Post's Philip Rucker and Robert Costa wrote Thursday:
[Trump and his advisers] say he can reverse his favorability ratings over time by framing the fall contest around issues on which they believe Trump's positions resonate powerfully across traditional demographics: the economy, trade and national security.

Since Trump is not tethered to any particular ideology, his test may be convincing voters that he is not a hostile force and is fit to be president, rather than persuading them to buy into a sweeping conservative ideological project.
But for Trump to turn around his historically low ratings at this point would require a historically sized shift. One of the biggest general election improvements in modern history, according to Gallup's Andrew Dugan, belonged to Bill Clinton. During the 1992 election, Clinton managed to swing a staggering 18-point change in his net favorability rating in 1992, going from a -8 in July to +10 before his election.
A similar change would still leave Trump at a remarkably bad net -13.
That's likely a relief to Democratic candidate Hillary Clinton, whose campaign otherwise might be facing more painful questions about her own less-than-glowing ratings. Clinton's net favorability, which is at its lowest point since 2009, currently stands at -14, making her, if not as abhorred as Trump, still widely disliked.
While Trump is the most extreme example, he has company: in a shift from past elections, nearly the entire presidential field this cycle has been notably unpopular.
"I think everyone is getting painted with [a negative] brush because the political discourse is so unsatisfactory," Republican pollster David Winston told NPR last year. "That's the challenge to the candidates on both sides — how do they turn this discourse into something that is actually meaningful for the electorate."
Popular in the Community