A Florida middle school teacher was allegedly killed in a murder-suicide shooting by her husband just days before the start of the school year.
Maria Cruz, 51, was found dead on Friday after police responded to a shooting at her home, the Miami-Dade Police Department said in a statement to HuffPost.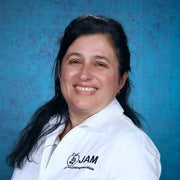 Police responded to reports of a shooting at the home in Miami's Palmetto Estates, where they found Cruz, her husband and another man with gunshot wounds. Another woman was also at the home, but she was uninjured, police said.
Cruz's husband was dead from an apparently self-inflicted gunshot wound to the head, according to police. Cruz and the other man, whom police called a "family acquaintance," were taken to a local hospital, where Cruz died shortly afterward from her injuries, police said. The family acquaintance, whose name has not been released, was in critical condition as of Friday.
The Miami-Dade Police Department told HuffPost that its homicide bureau is investigating the deaths and that "detectives have determined this is a murder/suicide."
Cruz was a teacher at Doral Academy Just Arts and Management Charter Middle School. According to her teacher profile, she taught middle school algebra, geometry and Spanish.
A GoFundMe organized by the school described her as "a beloved teacher who showed unwavering love and dedication."
Principal Eleonora Cuesta said in a statement to NBC Miami that the school is grieving the loss of Cruz, who has children of her own. "Her compassion, commitment, and love for her students have left an indelible mark on us all. In these difficult times, our thoughts and heartfelt prayers are with her daughters," Cuesta told the outlet.
According to an analysis by the advocacy group Everytown for Gun Safety, the number of women killed by intimate partners with a firearm has increased in recent years. Women make up 80% of the people killed by their intimate partners with guns in the United States.
Support HuffPost
The Stakes Have Never Been Higher
Popular in the Community