If you want a spectacular score to accompany your British drama series, then look no further than John Lunn, the maestro behind the music for Grantchester, Little Dorrit, The White Queen, Shetland and Downton Abbey for which he has won two Emmy Awards. And that's just scratching the surface of his credits. Classically trained, but contemporary in attitude, Lunn never seems to stop creating musical magic for television's finest British imports. He is currently scoring The Last Kingdom, an adaptation of Bernard Cornwell's best selling The Saxon Stories for BBC/BBC America.
A longtime fan of Lunn's work, I had the good fortune to ask him a few burning questions...
Xaque Gruber: When you were brought aboard to compose the score for a series like Downton Abbey, and you were absolutely at the beginning point - where did you begin in developing the main theme music? Was it inspired by a specific visual or character?
John Lunn: The very first episode of Downton did not have a title sequence. That didn't come in until Episode Two, but there were two cues at the very beginning of Episode One, which were clearly going to be very important. I had a feeling that if I cracked those two moments, I'd be well on the way to realizing the musical development that the series would require. Both sequences contain the material that would eventually become the title music. The first sequence starts with a telegram, it's carrying the news that the heir to Downton Abbey has been drowned on the Titanic - we cut to a train hurtling through the English countryside, hence the very fast repetitive, almost mechanical motion in the lower strings. We then see a lone man in the train carriage, Bates - a high lonely single note theme is picked out on the piano. He is looking out of the train at passing clouds - a more passionate violin theme emerges while they follow the telegram on the wires alongside the railway track. The theme builds until finally we arrive at a magnificent shot of Downton Abbey itself where the harmony broadens out almost majestically and comes to a halt in a grand cadence. The second sequence came immediately after where we follow the servants from room to room as they wake up the house and prepare it for their masters. The very same music worked just as well, the servants were like the train - a well-oiled machine. It's a masterpiece of directing, that first six minutes of Episode One. There is hardly any meaningful dialogue - it's all music, but we are introduced to most of the main characters and, with the help of the music, I like to think, there is astonishing clarity as to everyone's place within the drama.
The stunning Emmy winning Downton Abbey theme music by John Lunn, performed by the Chamber Orchestra of London...
XG: I have read that you work in both London and Los Angeles. Do the "night and day" differences in these two cities shape or influence the process of music making?
JL: I can't say I find it very different in terms of creativity. The pressures are still the same. At the moment I'm working mostly in London. However, my youngest child is about to go to University next year, so I'm expecting to have a new found freedom to work wherever I want, so I'd love to do more in Los Angeles. I love both places. In London I tend to walk a lot more, and that seems to be a bit weird in L.A.
XG: When you listen to the score of the earlier Downton Abbey seasons vs the latest season - what sound changes do you hear?
JL: That's a difficult question. I think we're all aware, that is, everyone who works on the series, that we try to give the audience the things they like about show while still evolving - and that's quite tricky. So there is always pressure to change but not change too much if that makes any sense. I tend to think of the music as charting the relationships between people. Consequently Mathew and Sybil have taken some of my best tunes to the grave for instance. Every episode requires some new storyline that will require its own musical interpretation.
XG: What challenges did you face in scoring Grantchester that you didn't have with Downton Abbey?
JL: Grantchester, although it has its lighter moments, is much darker than Downton. It's also a murder/mystery where most of the music is about what's going on inside Sydney's head - about his relationships, his war experience, his idea of religion, etc. So it's much more mono-dimensional than Downton. I've described it myself as ethereal thriller music where the notes come down from heaven to assist Sydney in his attempt to unravel the mystery.
XG: If I had to pick two instruments that best exemplify the sound of Downton Abbey, I would pick piano and maybe viola. Do you agree? And are there musical instruments that best exemplify Grantchester to you?
JL: I would have to agree with you on Downton. Piano again in Grantchester I'm afraid, but this time with clarinet and some strange electronics!
XG: Has rock music in any way influenced you when you are composing music for period dramas like Downton Abbey or Grantchester?
JL: Yes, but probably subliminally. I love all kinds of music. Now that I've been asked to analyze the Downton music so many times I've realized that it has the harmony of a pop song but with a contemporary classical orchestration. However, I wasn't conscious of trying to do that at the time. Composition is such an instinctual thing for me still - even despite my training.
John Lunn at work (Photo courtesy of Krakower Poling PR)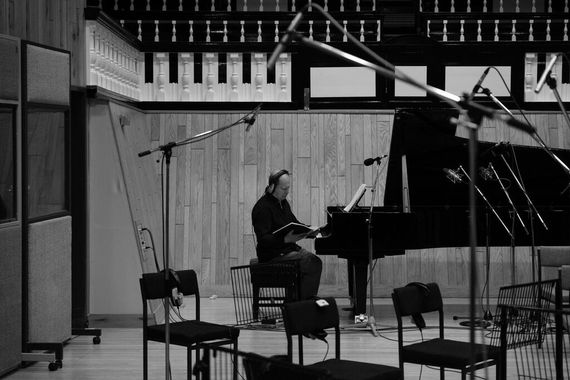 XG: Through the years of scoring
Downton Abbey
, have you become close friends with the cast? If so, which cast members have you gone out and had fun with?
JL: I've got to know most of the cast. They've all been very supportive of the music particularly Lord Grantham, Lady Mary and Mrs. Patmore! I did have a particularly nice time with Shirley MacLaine though. I had to teach her a song and accompany her on the piano in Season 2. Originally we were going to rehearse on set but it was just too noisy and disruptive so they put me up in her hotel near Highclere Castle. I would spend all day in the sauna and pool until she arrived from the set at 7.00pm, then we would have a couple of dry martinis while rehearsing, followed by dinner!
XG: In scoring The Last Kingdom about England in the 8th century, are you using musical ideas from the 8th Century? If so, has there been surprises in exploring music of the 8th Century?
JL: I'm not really using music from the 8th century. I'm not ignoring it but it's not really my job to conjure up the period. I'm there to help with the storytelling. I am however collaborating with a wonderful and unique singer/songwriter from the Faeroe Isles called Eivor Palsdottir, which I'm very excited about. The Last Kingdom is going to be very original.
XG: What do you most love about composing operas? And will you be composing any more operas or operettas in the future?
JL: I think I have another opera left in me. In many ways it's very similar to Film & TV - you are telling a story through music. I like writing songs, but you have a bigger say in how it turns out!
John Lunn (Photo courtesy of Krakower Poling PR)