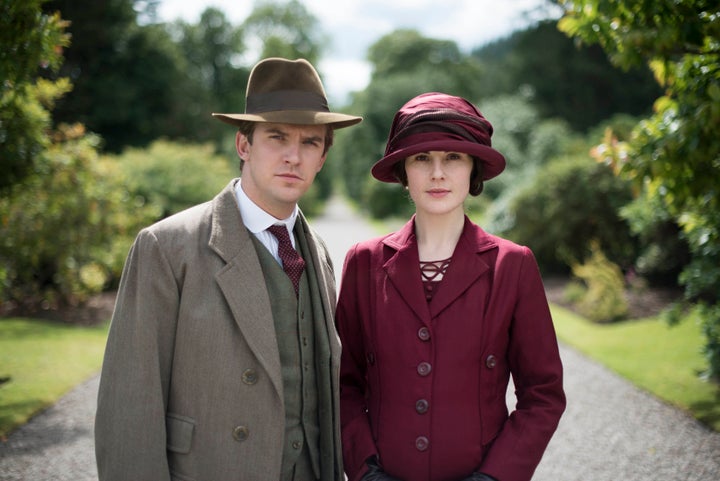 Across America, anticipation is running high for next month's U.S. release of Downton Abbey season three. To celebrate, we held a Downton-themed party on Thursday evening at the Ambassador's Residence in Washington. Guests included several members of the cast, some of the show's producers and executives from PBS, its American home, WETA, the station that airs it in the nation's capital, and Carnival Films.
The Residence, a grand building designed by Sir Edwin Lutyens, famous as the architect of many English country houses and of much of India's capital, New Delhi, was an appropriate setting. It's where Britain and America come together in DC, for politics, business, diplomacy, friendship and culture of every kind. Last week James Bond and wounded warriors, this week the world's best television drama. Not quite Downton -- Highclere in real life -- but the cast seemed to feel at home. Anna even promised to remain faithful to Mr Bates.
The Residence also, like Downton, inhabited by an Anglo-American couple -- my wife, Susie, being a native of Maryland. It's fitting that the show's protagonist, the fictional Earl of Grantham, should have a bride from this side of the Atlantic, for two reasons. Firstly, that's what happened in those days. At a time when the British aristocracy was somewhat down on its luck, it was not uncommon for noble but impoverished families to marry their sons to wealthy American heiresses. Indeed, no less a figure than Sir Winston Churchill was the product of such a match -- his statue on Massachusetts Avenue at the edge of the Residence grounds deliberately has one foot on British and the other on American soil.
Secondly, the Crawleys' transatlantic marriage is apt because Downton Abbey, as quintessentially English as its characters are, is in fact a joint U.S.-U.K. effort. It is a co-production of Carnival Films, a London-based company owned by NBCUniversal, and WGBH Boston, which produces drama under the Masterpiece brand.
Downton has clearly struck a nostalgic nerve on both sides of the Pond. Episodes of its third season have attracted British audiences of between 10 and 12 million -- about one in every six Brits. Here in the United States it also has a large and dedicated following -- Season Two was watched by 17 million viewers.

This is typical of the appeal that the best British shows, and British stars, have for American audiences. HBO's Game of Thrones, which features much British acting and production talent, is filmed at state-of-the-art facilities in Belfast and on location in the rugged surrounding countryside of Northern Ireland. Damien Lewis, who made a name for himself in the U.S. starring in Band of Brothers and won an Emmy this year for his portrayal of Homeland's Marine Sergeant Nicholas Brody, hails from St John's Wood in London. But it's a two-way street: we Brits became as addicted to The West Wing as we now are to Homeland.
Perhaps part of the appeal of Downton Abbey is that it deals with a period of uncertainty in which the structure of society was being recast, due to the tumultuous events of the First World War which served as the principal narrative background of season two. The centenary of that conflict, which began in August 1914, is now approaching. The Prime Minister recently set out Britain's plans to mark the occasion, including a $16 million revamp for London's remarkable Imperial War Museum.
It was a veteran of the Great War, John Reith, who in October 1922 -- 90 years ago this year--invented public broadcasting by creating the British Broadcasting Corporation (BBC). PBS and its affiliates are carrying on that tradition in the United States by distributing quality programming free of charge, including a number of British shows. I am proud of that, but also immensely grateful: Sunday viewing just wouldn't be the same without Downton.
Popular in the Community