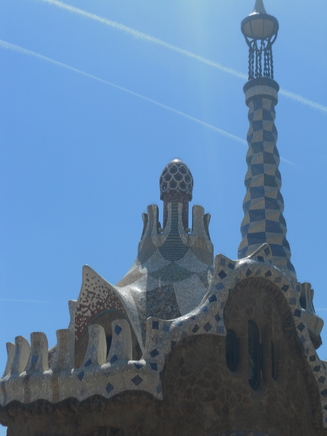 There's a fountain at the top of a lovely tree lined street called La Rambla that they say if you drink from, you will never leave Barcelona. I do not think they mean this as a threat, more as a promise.
Barcelona is special. Some cities need to be tackled like you're wrestling a bull (Rio), or mounting an ill-tempered crocodile (Lagos). Barcelona falls into your lap like an attention seeking puppy; long sandy beaches, bustling markets, outrageously designed architecture, topped off with a mesmerizing old town; narrow medieval alleys for which the sky is forever just a strip of blue above, sandwiched between ancient buildings made of weathered grey stone with high balconies, leading to picturesque squares, or yet another narrow, medieval alley. But every corner has a secret. Tapas.
In most places a bar is a destination in itself. Not so in Barcelona. You don't eat to soak up booze in preparation or expectation, you do not drink in isolation. You drink and eat tapas, and the Spanish really like doing both. Tapas bars are simple, crowded places; bar stools and wooden tables, a marble counter with a glass top displaying food aimed to tempt and destined to succeed, and always small; there's no need to make them big, if it's full people just go to the one opposite, or next door, or down the narrow, medieval alley. Everyone I met up with assured me they were taking me to the best tapas, and you know what? They were all right.
A night in Barcelona is spent flitting from one to the next, a little here, a little there; a drink, salty anchovies, a drink, tomato bread rubbed with olive-oil and salt, a drink, spicy chorizo, or pintxos -- bruschetta covered in sorcery. Food arrives in no particular order or timing, yet serves to keep the conversation going. Just as it flags another plate arrives providing another starting point for talk, most probably "look at the size of that f*****g prawn!"
By day the drink of choice is tangy Sangria, named for the Spanish word for bloodletting after it's deep, crimson color; red wine, chopped fruit -- orange, apple, peach, melon, a little brandy for strength and orange juice to sweeten, or more commonly in Barcelona orange soda or 7Up -- served in a pitcher with a spatula wedged in the top to hold back the ice as you pour it into your glass and sip it in the sunshine. By night its cold beer -- Alhambra, Estrella, Cruzcampo -- or Cava; beautiful, wonderful cava, a sparkling wine that until recently much of the world has possessed a rather contemptuous attitude toward, much like Country and Western music, only in this case the world was wrong. Dead wrong.
Perhaps because it's made in Catalonia itself, but Cava is ridiculously cheap in Barcelona, almost breathtakingly so. For two glasses in one bar they billed me just two euros for both ($2.70) representing the only time I have ever argued with a bartender about how little he's charging me.
Barcelona does have its faults. It suffers from a preponderance of Irish bars, but then where doesn't, and its pickpockets are almost supernaturally gifted. However a pitcher of cold Sangria by the Barceloneta or Port Vell waterfront, or a bottle of sparkling Cava with no buyers guilt in an old town tapas bar definitely falls into the category of finer things in life. And it has the word bar in the title, which is as close to ideal as it gets really, and it lives up to it, just not in the way you might expect.
So going back to that fountain, if you're in town drink from it, you could do a lot worse.
Do you have an opinion or story? Tell us about it below or via twitter @bezerkskhaus.