Las Vegas' first driverless shuttle hit the streets on Wednesday and was promptly hit by a truck.
The shuttle was performing a test ride with passengers downtown when it was grazed by a delivery truck around noon, the city said.
The human driver of the truck, who was backing out at the time, was cited by the Las Vegas Metropolitan Police Department for the crash, which KSNV-TV reported occurred within the first hour of the shuttle's operation.
"The shuttle did what it was supposed to do, in that it's sensors registered the truck and the shuttle stopped to avoid the accident," the city said in a statement. "Unfortunately the delivery truck did not stop and grazed the front fender of the shuttle. Had the truck had the same sensing equipment that the shuttle has the accident would have been avoided.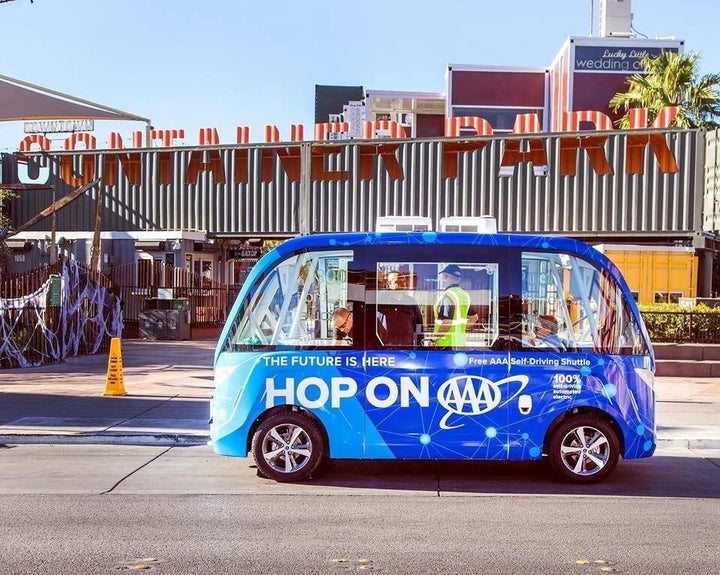 Passengers onboard the vehicle confirmed that the shuttle did stop ― but in the path of the truck.
"The shuttle just stayed still and we were like, 'Oh my gosh, it's gonna hit us, it's gonna hit us!' and then, it hit us!" passenger Jenny Wong told KSNV. "And the shuttle didn't have the ability to move back, either. Like, the shuttle just stayed still."
Fortunately, no humans were injured in the crash, the city said.
The eight-passenger shuttle is currently offering free rides to people along a half-mile loop in the city's Fremont East "Innovation District." The operation is part of a 12-month pilot program, the city said.
It's touted by Las Vegas as the country's first autonomous shuttle that's able to communicate with traffic signals and surrounding "smart" infrastructure.
Popular in the Community