Duck is one of those ingredients we tend to look at in the grocery store and then move on to the chicken section instead. Why? Because often we are not sure how to prepare it and this scares us! Cooking duck is easier than one might expect, and I highly recommend giving it a try, but if you'd rather simply indulge in it's fine flavor and smooth texture it's always a terrific dish to order when dining out.
More than it's "quacked" up to be, duck meat is extremely versatile and can hold it's own when paired with a myriad of seasonings. It can be confit, roasted, grilled, BBQ'd, or fried. It's good in soup with curry, shredded or stewed. Its preparations are as diverse as the flavors it imparts. With the Chinese New Year upon us, it's a ducky time to indulge in some lusciously crispy yet juicy Peking Duck. I love the one that is served at Chinatown Brasserie on Lafayette Street because it is perfectly seasoned and the pancakes are thin and moist -- there's nothing worse than a thick and dry pancake to ruin your Peking Duck experience. The pancake needs to be the vessel that holds together the crisped skin, meaty duck, scallions, cucumber sticks and the magical plum sauce. The perfect bite of duck heaven. I also love the way they prepare Peking Duck at Mr. Chow's but that will cost you a bit more. Other than Duck Confit and Peking Duck, there are a plethora of duck preparations to be tried right here in the big apple. Here are some of my more unique favorites.
A restaurant that I think houses one of New York's most original and tasty duck dishes is Ilili, a high-end Lebanese spot located in the heart of the Flatiron district. The owner, Philippe Massoud is a dear friend of mine and has made it his mission to bring the finest Lebanese delicacies, of which there are many, to his patrons. Ilili's Duck Shawarma is a must have for its sumptuous taste, and fun presentation. The exotic spice marinade includes cardamom, zaatar, nutmeg, mastic, coriander, oranges, and lemons. The combination of these earthy and exotic spices not only enhances the flavor but perfectly tenderizes the bird while addressing its potential gaminess. A fig infused garlic sauce, shredded scallions and pomegranate seeds further highlight the flavor of the tasty, rich meat. The end result is a very tender and juicy wrap, served rolled up in a flat bread pancake that delights and deeply satisfies the palate. It melts in your mouth while sparking layers of exotic essence.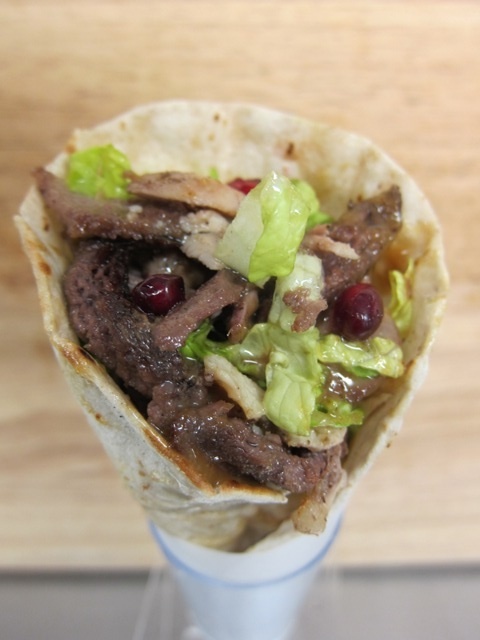 The must-have Duck Shawarma from Philippe Massoud's ilili
From Lebanese to French, Chef David Diaz of Beaumarchais in the Meatpacking district is cooking up one of my favorite duck dishes right now, utilizing cherries, chestnuts, and radicchio. The cherries lend a sweet tartness, the chestnuts give a nuttiness in both texture and flavor, and the radicchio pops with a fresh, bitter tang that helps cut through the sweetness of the cherries and gaminess of the duck. The cherries he uses are at first dried, then cooked with shallots and port wine until they are reconstituted and juicy. Delicious!
Master Chef Christian Delouvrier who marveled diners at Lespinasse and Les Celebrités, now helms the kitchen at La Mangeoire on 2nd Avenue which he has transformed and evolved into a French Country Bistro serving home cooked Gascony and other regional French country dishes. One, among several, of his destination dishes (people will travel cross country for this) is Delouvrier's signature cassoulet. This rich winter specialty from Delouvrier's hometown in Gascony features a slow braised duck leg confit, pork loin, lamb shoulder, homemade Toulouse Sausage, garlic sausages and lusciously creamy white Tarbais beans perfectly seasoned with thyme, parsley and shallots.
Tired of just plain turkey, ham or tuna on a sandwich, don't forget about duck to kick it up a notch for a delicious change. Try Chef Matthew Tropeano's, chef at the elegant and delightful restaurant La Silhouette, irresistible creation, aptly called the "Duck Duck Baguette" which is a rich combination of duck terrine and delicious house made duck rillettes, topped off with a red wine shallot compote, pickled carrots, and whole grain mustard. In short, it's a duck symphony in a sandwich!
The 'sweetest' duck dish I've had this year is from the new winter menu at Alain Allegretti's La Promenade des Anglais in Chelsea -- he honey glazes a duck breast and serves it with roasted winter vegetables, green lentils, and a vanilla infused brown butter. The honey glaze and vanilla brown butter give this dish an unexpected sweet kick that lingers throughout the day in your taste memory until you know you have to have it again.
So go for it and have yourselves a ducky day!

REAL LIFE. REAL NEWS. REAL VOICES.
Help us tell more of the stories that matter from voices that too often remain unheard.