The earthquake that devastated Nepal on April 25th claimed the lives of over 7,000 people (as of today), mostly in the remote villages northwest of Kathmandu. It is a striking reminder that human potential can manifest as heartening compassion or as disgraceful selfishness.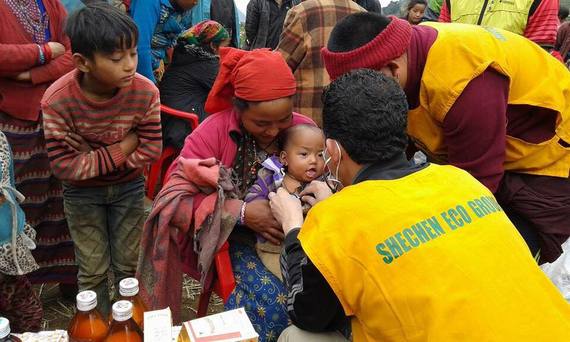 Witnesses testified that immediately following the frightening tremors, people began helping one another with calm and discipline. At Shechen Monastery, where I live most of the time, located on the outskirts of Kathmandu, over 5,000 people were gathered inside and outside the main temple to listen to Buddhist teachings given by an 85-year-old respected lama.
Fortunately, the large building did not collapse even though the quake caused it to sway like a tent in the wind and there is extensive damage to the building. Immediately after the first long tremor, the 500 monks of the monastery helped those inside the temple to leave orderly without panic, and calmed those who were gathered around the grounds.
The monks are continuing to provide comfort, drinkable water, shelter, and food to the few thousand people who still camp on the monastery's ground under a large tent.
Since the first days of the quake and continuing throughout the crisis, monks who are trained for emergency relief and about 15 other monks have traveled into remote areas of Nepal to help badly hit villages. They joined forces with the 50-strong medical team from Shechen Clinic, operated by Karuna-Shechen, the charitable organization founded by the abbot of Shechen Monastery, Rabjam Rinpoche, and myself 15 years ago.
A number of widespread myths perpetuate the belief that catastrophes are followed by general panic, lost of concern for others, a massive rise in selfish, even criminal, behavior, as well as by a feeling of powerlessness while waiting for help.[1] Studies have shown that the public, as well as members of emergency and public safety organizations, widely hold this grim image. This view often leads to inappropriate responses and an inefficient use of available resources.
The kind of behavior that was observed in Kathmandu and other affected areas is consistent with the conclusions of systematic studies conducted about the behavior or people during major catastrophes: altruism and pro-social behavior, community resilience, and unity usually prevail. Most disaster victims take the initiative to help themselves and others. A large part of the initial sheltering, feeding, relief, rescue, and transport of victims to hospitals is being carried out by relatives, neighbors, passersby, and other survivors.
Helplessness
Even though people do their very best to help each other and take rescue work in their own hands in the immediate aftermath of disasters, they become increasingly bitter and resentful as time goes by and governments do nothing to help. In hundreds of villages around Kathmandu, this is now happening. These villages are where most of the 7,000 victims died; many of them have been 90% destroyed by the quake as buildings and walls crumbled to the ground.
When the ambulance and truck carrying doctors, nurses, monks, and relief from Shechen Clinic and our monastery arrive in one of those villages, some people say that if they had been government officials they would have thrown stones at them! The same is true in Kathmandu and, if the government inaction goes on, there might indeed be some social unrest.
Institutionalized Selfishness
It is extremely disturbing to see that far from helping its own people and the organizations that are mobilizing themselves to help the victims, the Nepalese government is, in fact, creating obstacles for delivering much needed assistance.
Tons of tents, medicines, and other reliefs materials are stuck in the notoriously slow Nepalese customs buildings near the airport, instead of going straight from the cargo planes into the trucks that could carry them without delay to where they are needed. UN humanitarian chief Valerie Amos clearly said Nepal had a duty to provide faster customs clearance for relief supplies.[2]
It seems paradoxical that some small NGOs like ours, Karuna-Shechen, have raised and are bringing in funds that are almost on the same scale as those promised by some nations! A few big nations have pledged funds that seem insignificant in proportion to their financial might. They don't seem to mind having spent up to a billion dollars a day during the Iraq or Afghanistan wars, but can only send a few millions dollars to an impoverished nation stricken by disaster. In addition, those funds have not actually been delivered yet.
As we can see, it seems that on an individual level, contrary to the idea that human beings are fundamentally selfish, the earthquake in Nepal has triggered an outpouring of solidarity, concern for others, and generosity, while government institutions are hampered by a lack of commitment, or, even worse, indifference and corruption.
Let's hope this this wonderful Himalayan country with its unique cultures and courageous people can survive and flourish in the future.
References
1. Disaster Research Center at the University of Delaware. See also E. A. Der Heide, "Common misconceptions about disasters: Panic, the 'disaster syndrome,' and looting," in The First, 72, 2004, 340-380.
Photo by Kelsang Namgyal, Shechen Archives
Calling all HuffPost superfans!
Sign up for membership to become a founding member and help shape HuffPost's next chapter