I'm all about keeping things simple.
And for those eating gluten-free, I imagine it can anything but simple thinking about ingredients, checking ingredients lists and introducing variety to the repertoire of meals you know you can safely eat.
Gluten is the protein found in wheat and some other grains and therefore means people eating gluten-free need to avoid pasta, egg noodles and anything made with wheat flour so most breads, pizza bases, cakes, pancakes and much more.
Wheat flour is also a regular thickening agent added to many pre-prepared or part-prepared meals, to sausages, salami and processed meats, sauces, soups, dressings and all sorts of unexpected foods.
It struck me recently that eating a Thai-style diet can be pretty much naturally gluten-free and therefore a simple way to find lots of gluten-free ideas.
Gin khao, in Thai, doesn't just refer - literally - to 'eating rice', but to eating anything at any time. Any meal, any time you ask someone if they want to eat, you're saying 'rice'. I love that showing of the importance of rice in the diet through language itself.
Thai, and other cuisines that are based on rice rather than wheat, is an ideal way to eat if you can't eat gluten.
You'll need to avoid just two main items:
However, these are much less common in Thai cooking than the more usual rice noodles - and rice noodles are gluten-free.
Gluten-free soy sauce is readily available in supermarkets, so this isn't a problem for cooking at home. Wherever you see 'soy sauce' in a recipe, please just use gluten-free soy sauce in its place.
If you're eating out, or getting a takeaway, it's probably best to avoid dishes with soy sauce - but that still leaves a huge choice, including curries, soups or a classic Pad Thai.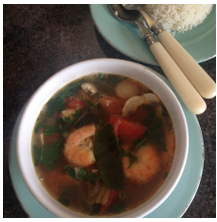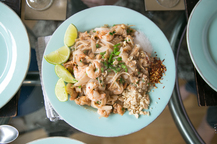 Oyster sauce usually has wheat and although there are gluten-free brands readily available online that sounds a little more difficult to me than just going to the supermarket, so - for now at least - I won't include recipes that use oyster sauce in my gluten-free recipe category. Oyster sauce is a Chinese condiment anyway so, whilst I love it, it's not necessary for the majority of Thai dishes.
And while Chinese spring rolls are made with wheat flour wrappers, Thai and Vietnamese spring rolls are usually made with rice wrappers. What's especially nice about a Thai-style way of eating if you need to eat gluten-free is that it is usually naturally this way, so instead of having to think of substitutes can generally just eat the food the way it's meant to be.
Rice and tapioca flours are often used in Thai cooking for thickening, instead of our usual wheat flour. I'm going to be experimenting with using rice flour for some pancakes soon - will post the recipe as soon as it's done.
Thai food is also full of flavour and quick to cook most dishes.
You don't need a cupboard full of exotic ingredients. I've pulled together the key 9 items I keep in stock that are the basis of many, many recipes so if you'd like it just sign up here.
(Sorry - it does include oyster sauce just because I like it, but there are plenty of recipes that don't include it!).
Please note: I am not a medical professional nor a qualified nutritionist. However, I have been cooking regularly since I was 12 and have researched nutrition, health and food over the years because it's something I enjoy. Since living for a while in Thailand over a decade ago I have eaten a predominantly Thai-style diet and have over 10 years of personal knowledge and understanding of the health benefits of eating this way.
Please do research my recommendations and check my recipes and ingredients carefully before cooking to make sure they're right for you. Consult your doctor first if you need to check your individual condition and circumstances before making any changes to your diet.
Please also note: The recipes I have listed as gluten free assume that you'll use gluten-free soy sauce and gluten-free stock cubes as the recipes aren't specific.