Do me a favor and flavor my salt
Infused with anything from pinot noir to fresh herbs, chile, citrus, Sriracha, Jack Daniels, dried mushrooms, coffee and much more. Garnish a piece of meat, add a surprising salt rim to your cocktail or make a few jars to give to mom for Christmas. Learn how here.
Eggs on eggs on eggs
Fried eggs might be the new bacon next year in the sense that they will be on everything. Pizza, burgers, ramen, salads, French fries...2015 will be the year of the chicken.
Ancient grains, growing up without growing old
Ancient grains have been around for as long as it sounds, but they can be used in so many different ways that they can be continually reinvented. From farro to quinoa, these super grains add an abundance of nutrients and variety to a meal.
Excuse me sir, there's an avocado in my cocktail
Culinary cocktails will continue to be big and we've only tapped the tip of the ice bin with ingredients like avocado purée, candied ginger, cucumber, fresh berries and herbs and beyond. Also, keep an eye out for more hand-crafted, non-alcoholic beverages. No alcohol, no problem.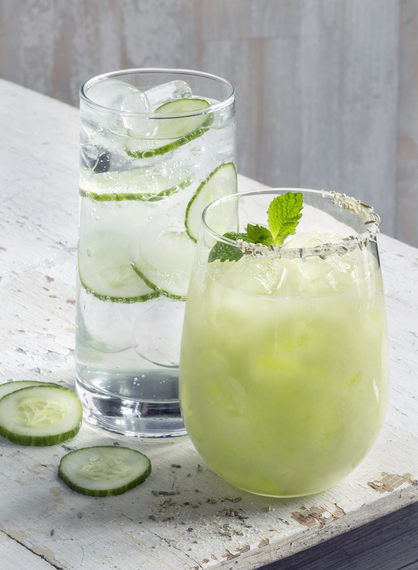 Cucumber Basil Soda (left) and California Roots (right), made with fresh avocado purée + fennel salt rim
You get more bees with infused honey
Infusions are the perfect example of how creative you can get by combining different but complimentary flavors in unexpected ways. From the bold, balanced spiciness of Chipotle or Serrano honeys to the delicate floral of lavender honey, the options here are sure to be sweet.
Where is my food coming from?
Local sourcing will continue its rise of relevance and importance, because the demand for real, fresh and healthful food has never been higher. Another important factor in sourcing is sustainability - for example, sourcing fish from areas that are not overfished or growing your own herbs.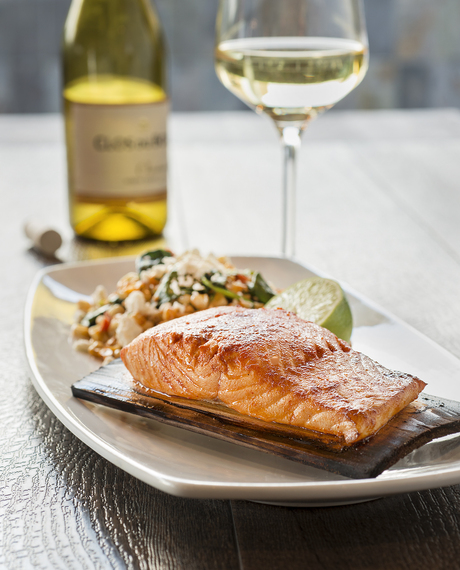 Cedar Plank Salmon, sourced from Lummi Island Wild
Produce, Produce, Produce
The more unexpected and rare, the better. Heirloom carrots of purple, yellow and pale white add a unique twist to an old favorite. Peppery red watercress or bitter greens totally amp up the flavor in a salad. And speaking of salad, baby kale has unseated its leafy big sister as the new organic star.
Veggies roasting in an open hearth (Jack Frost nipping at your nose)
How you cook something can be just as exciting as what you are cooking. Roasting veggies in an open hearth produces a wonderful caramelized texture and flavor. And it's not just veggies. Roasting fish and meat in a hearth, as opposed to grilling or searing, is a great way to achieve slow-building, intense flavor, without over-drying.