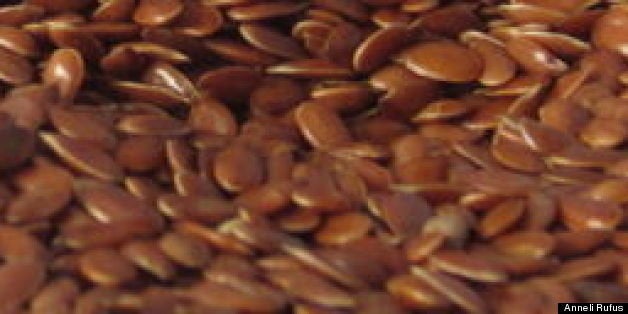 In a sense, eating seeds feels wrong.
It feels criminal. Sinful, physically and metaphysically -- because every seed holds the literal potential for not only the next generation of plants but the next and the next and the next: That is, for future plants in perpetuity, which is to say life on earth forever, including human life.
With every seed we eat, however tiny, how much health and sustainability do we deny our descendants? How much less beautiful will the earth be without all the golden flax and countless pumpkins whose existence we deny with every seed we crunch between our teeth? That cheap snack you devoured at the bus stop: How many future Vincent Van Goghs will now be denied their fields of glorious yellow sunflowers to paint?

Does anyone here remember that epiphanic Gilligan's Island episode in which the castaways plant a vegetable garden and the Professor says, "If these seeds die, we die?"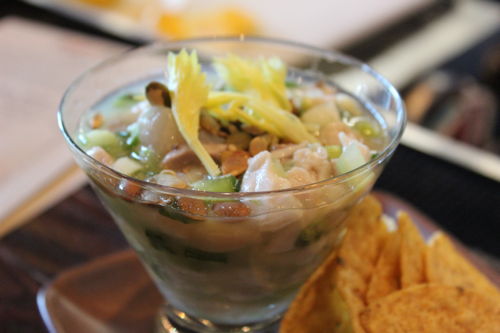 So now dishes featuring whole complete seeds are popping up in chic restaurants such as Caulfield's Bar and Dining Room in Beverly Hills, where Chef Stephen Kalt serves a roasted beet-avocado-arugula-pumpkin-seed salad. Chef Bryan Moscatello of Chicago's Storefront Company serves quail with egg, endive, apricot kernels and coupole. Chef Gonzalo Rivera at Sausalito's Copita Tequileria y Comida uses whole pumpkin seeds -- aka pipián -- in a ceviche (depicted above) that is fueled by Kümmel, the caraway-seed liqueur. At San Francisco's Baker & Banker, chefs Jeff Banker and Lori Baker serve sesame brittle with a new salad that incorporates avocado, farmers' cheese, sprouts, greens and Banyuls vinaigrette. Chef Matt Christianson of Portland, Oregon's Urban Farmer steakhouse serves pickled rhubarb and chia-seed crackers with his scallop crudo. At San Francisco's Michael Mina, executive chef Ron Siegel serves caviar and octopus alongside sesame-seed-topped farro crackers, as depicted below. This is just the start of something very seedy.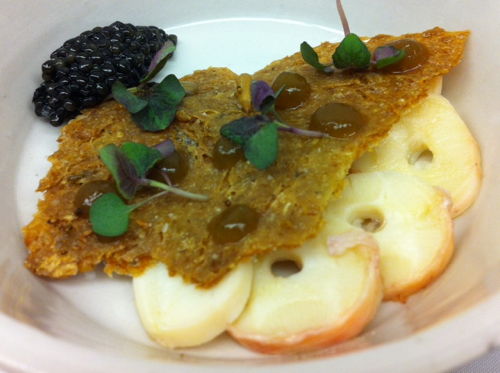 Seed dishes scatter the menu at San Francisco's Plant Café Organic: Executive Chef Sascha Weiss offers five-spice sesame-seed-crusted pan-seared tempeh; Meyer lemon sorbet with lemon poppyseed cookies; roasted baby carrots with Moroccan spices, sunflower seeds and sprouts; and spinach salad with goat cheese, toasted pumpkin seeds and Champagne vinaigrette.
"I'm always looking to different foods to bring crunch -- especially when toasted -- and texture and mouthfeel to my cooking," Weiss told me. "Whole seeds do this with the added benefit encompassing huge nutritional value."

Across the bay at Oakland's Picán, Chef Sophie Uong serves a benne-seed sauce -- and lima-bean/chickpea fritters, fried artichokes, pepper chow chow and hickory-smoked eggplant puree -- with arbol chile-grilled lamb chops. "Benne" derives from the Malinke word for the plant otherwise known as sesame; benne wafers were popular in the Colonial South.

"We are using benne seeds, aka unhulled sesame seeds, pounded together with water, lemon juice and garlic to make a tahini-type sauce," Uong said. "I'm waiting for a delivery of benne flour from Anson Mills to add to our temperamental fritters.

"We also use sprouted basil seeds for our fried green tomato, burrata, and basil pistou dish. I have chia seeds in-house as well, but they don't sprout as well as the basil seeds I grew up drinking. Basil seeds are pretty tasteless; however, we use them often to garnish a plate after they have been bloomed and turned into a vinaigrette.

"We use fennel seeds, fenugreek, cumin, and coriander to marinate our pork shanks overnight before we dust them with garbanzo flour and braise them in bourbon, molasses, and root beer. The fenugreek has an unusual bitterness that I like," Uong went on.

"We are working on a Southern-style pepitoria of benne seeds, pumpkin seeds, pecans, and roasted peanuts. I have used this before to garnish grilled gulf shrimp with collard green mojo. We also make a sweet version, candied, for dessert streusel."
Seed-studded artisanal chocolates and baked goods are now ubiquitous. Seeds pack the dense rye bread -- aka rugbrød -- that is the essential foundation of Danish open-faced sandwiches, aka smørrebrød, which are experiencing a renaissance of their own: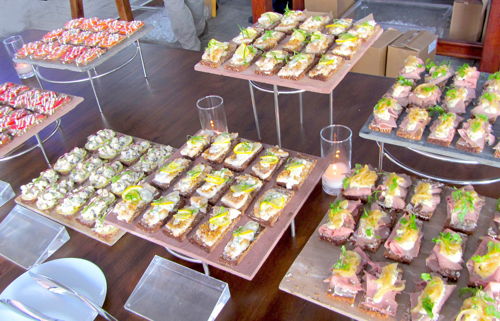 The idea of adding spoonsful of seeds to nearly everything -- salads, smoothies, French toast, cakes, even sandwiches (although you have to mush them into the mustard to keep them from falling out) first came to me recently at Food Fete, where I met the folks from hemp-seed company Manitoba Harvest and from One Degree Organic Foods. The former sells nutty-tasting shelled hemp seeds, as depicted above in the Hello Kitty spoon. The latter sells organic and "veganic" (that is, grown without the use of any animal by-products) seeds and tasty seed-studded breads.
"Farmers who grow organic seeds constantly battle birds for their carefully cultivated crops," One Degree's VP Danny Houghton said. The very purpose of scarecrows is "to try and keep birds from helping themselves to too many seeds from the farmer's crop."
A mature hemp crop "looks exactly like marijuana," because "hemp is a very close cousin to marijuana, minus the THC -- which, when smoked, gives marijuana users their high," Houghton explained. One of his Canadian hemp-seed suppliers told him this funny story:
"A bunch of the local high school kids had gone out into his field one night after the hemp-seed crop was rather mature and tried to smoke the hemp. Our farmer's son and daughter drove out after hearing some noise in the field and surprised the small group, who immediately made their getaway. It was rumored around school the next day that all they got for their efforts were headaches, much to the enjoyment of our farmer and his family. Hemp is really an incredibly nutritious seed. ... Better to eat it than try to smoke it!"
Farro-cracker photograph courtesy of Michael Mina. Ceviche photograph by Yasemin Sussman. Flax and hemp-seed photographs by Anneli Rufus. Smorrebrod photograph by Kristan Lawson. All images used with permission.