The "Save Our Schools March" that took place last Saturday and the two-day conference that preceded it on July 28- 29 might not have been large in terms of participants: 300 at the conference and 5,000 at the march. But more important was the enthusiasm and determination to change the direction in which public education is going as conveyed by those who attended, especially the large number of young people who showed up. The purposes of the conference and march were:
Equitable funding for all public school communities

• Equitable funding across all public schools and school systems
• Full public funding of family and community support services
• Full funding for 21st century school and neighborhood libraries
• An end to economically and racially re-segregated schools
An end to high stakes testing used for the purpose of student, teacher, and school evaluation
• The use of multiple and varied assessments to evaluate students, teachers, and schools
• An end to pay per test performance for teachers and administrators
• An end to public school closures based upon test performance
Teacher, family and community leadership in forming public education policies
• Educator and civic community leadership in drafting new ESEA legislation
• Federal support for local school programs free of punitive and competitive funding
• An end to political and corporate control of curriculum, instruction and assessment decisions for teachers and administrators
Curriculum developed for and by local school communities
• Support for teacher and student access to a wide-range of instructional programs and technologies
• Well-rounded education that develops every student's intellectual, creative, and physical potential
• Opportunities for multicultural/multilingual curriculum for all students
• Small class sizes that foster caring, democratic learning communities
The conference, hosted at American University, catered more to the older veteran teachers and academics who presented papers and conducted workshops. But the future for implementing these ideas rests with the young, and they were out in force on Saturday, having traveled from most all of the States, especially Wisconsin and Florida.
I have both observed and have had confirmed by e-mail that for the media, with a few exceptions, the conference and march were "non-events" that did not merit coverage by the New York Times although they were given mention in the Washington Post and CNN, especially because of the participation of a high-profile celebrity, the actor Matt Damon. But lack of more extensive coverage is not surprising: the "party line" on education is that the "reformers" are doing their best to address the "crisis in our schools," a crisis that Diane Ravitch has tirelessly pointed out, as she did at the march is a manufactured one: school achievement has generally remained the same over the last fifty years: it's the economy that has changed.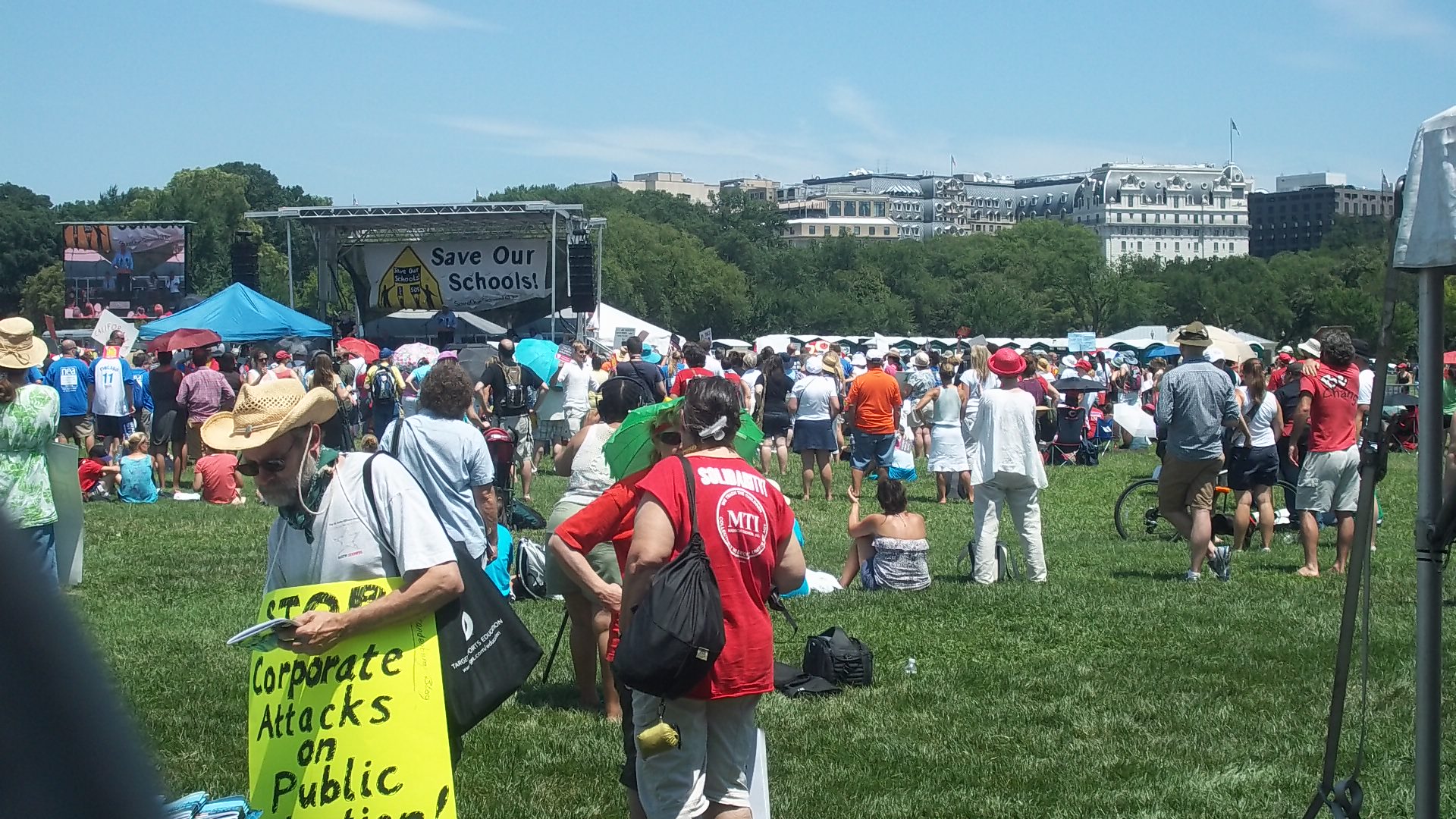 The real objectives of the "reformers" are to break the teachers' unions, de-skill the profession, and dumb down the curriculum so that the children of the elite and well-connected will be the only ones eligible to qualify for those ever-fewer high-paying jobs produced in an increasingly dysfunctional economic system. The other students, disproportionately minority and white working-class, will increasingly be victims of "industrial strength" education, with little opportunity to develop creative thinking and complex problem-solving skills.
But at the conference and march there was hope that the epidemic created by so-called school "reformers" who have been thriving under No Child Left Behind and Race to the Top will eventually run its course, and once again teachers will be able actually to teach their classes without being micromanaged like a squad of widget workers on an assembly line.
Alongside the dozens of workshops there were also many documentary films on education including the well-known Race to Nowhere and The Inconvenient Truth Behind Waiting for Superman. And among the presentations there were two of special interest since they addressed the issue of what is to be done to reverse the current destructive trend of high-stakes testing in education especially in high-poverty schools, that has become an obsession with politicians.
Sam Anderson, a prominent Black educator whose background includes both extensive academic experience as a teacher of mathematics in CUNY and militant activism as a founding member of the Black Panther Party, presented a program on "Building Black-Latino Parent-Student Power," which emphasized the importance of grass-roots involvement to make meaningful reforms in education. Ably assisted by Kihm Irby, a parent-activist, he outlined some of the needed strategies to make clear to the public that "education is a human right." "A new Black and Latino student-centered leadership is needed to eradicate the onslaught of privatization and control through high-stakes testing."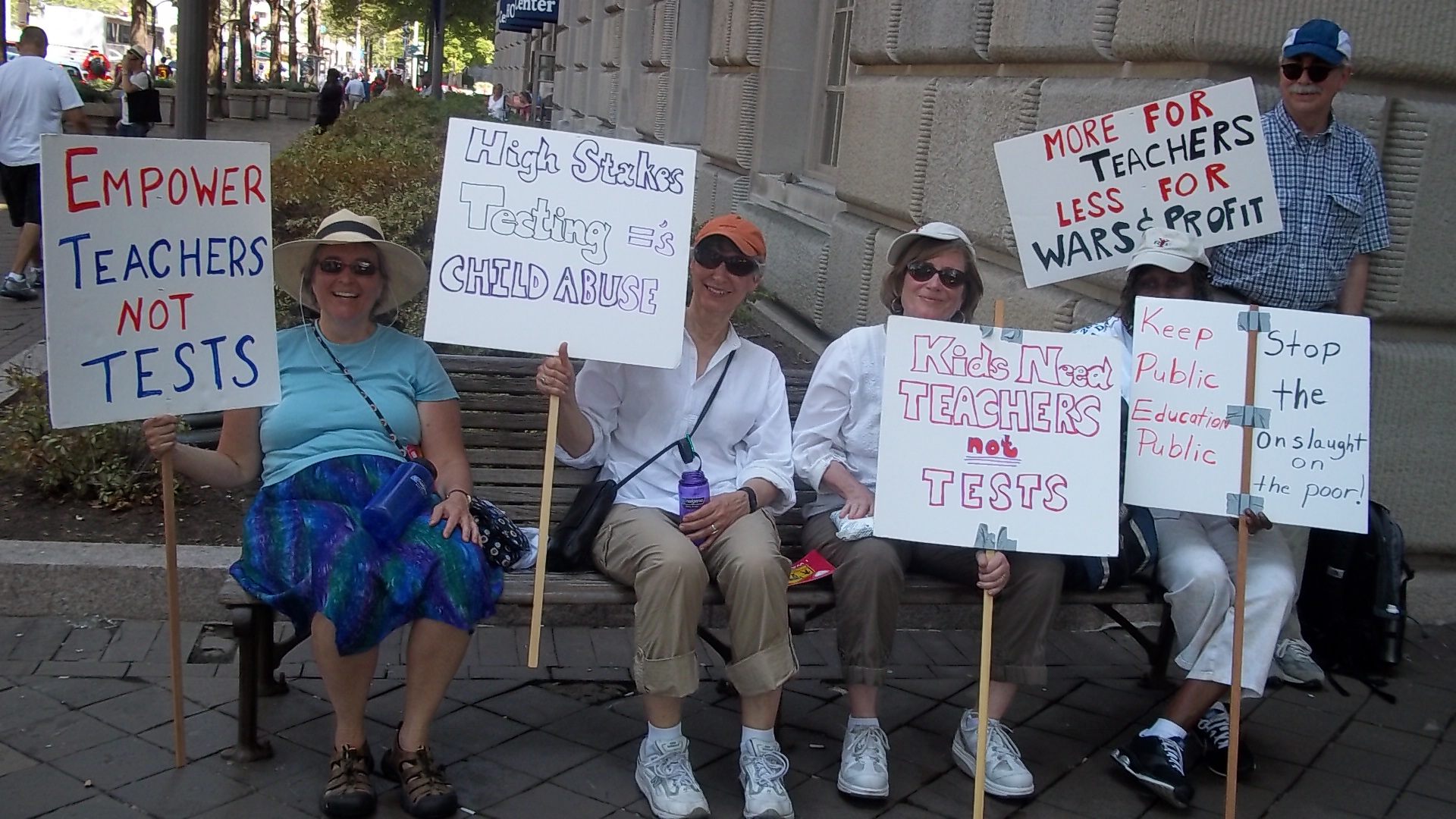 In another presentation, "Addressing Minority Communities' Issues in Public Education," Karran Harper Royal, a New Orleans educator, introduced an organization that is aiming to increase parent involvement in their children's education: "Parents Across America."
Another presenter, a teacher and union activist from Florida, Ceresta Smith, described what I believe is an important strategy in dealing with one virulent aspect of the "reform": standardized tests. Her proposal is quite straightforward: "Just say no to standardized tests." A group of parents and teachers are advancing the strategy that if a sufficient number of students with the support of their parents, refused to give credibility to standardized testing by not taking these tests, their effectiveness in driving the curriculum of the schools into testing factories would quickly diminish. The anti-testing project is called the "Bartleby Project."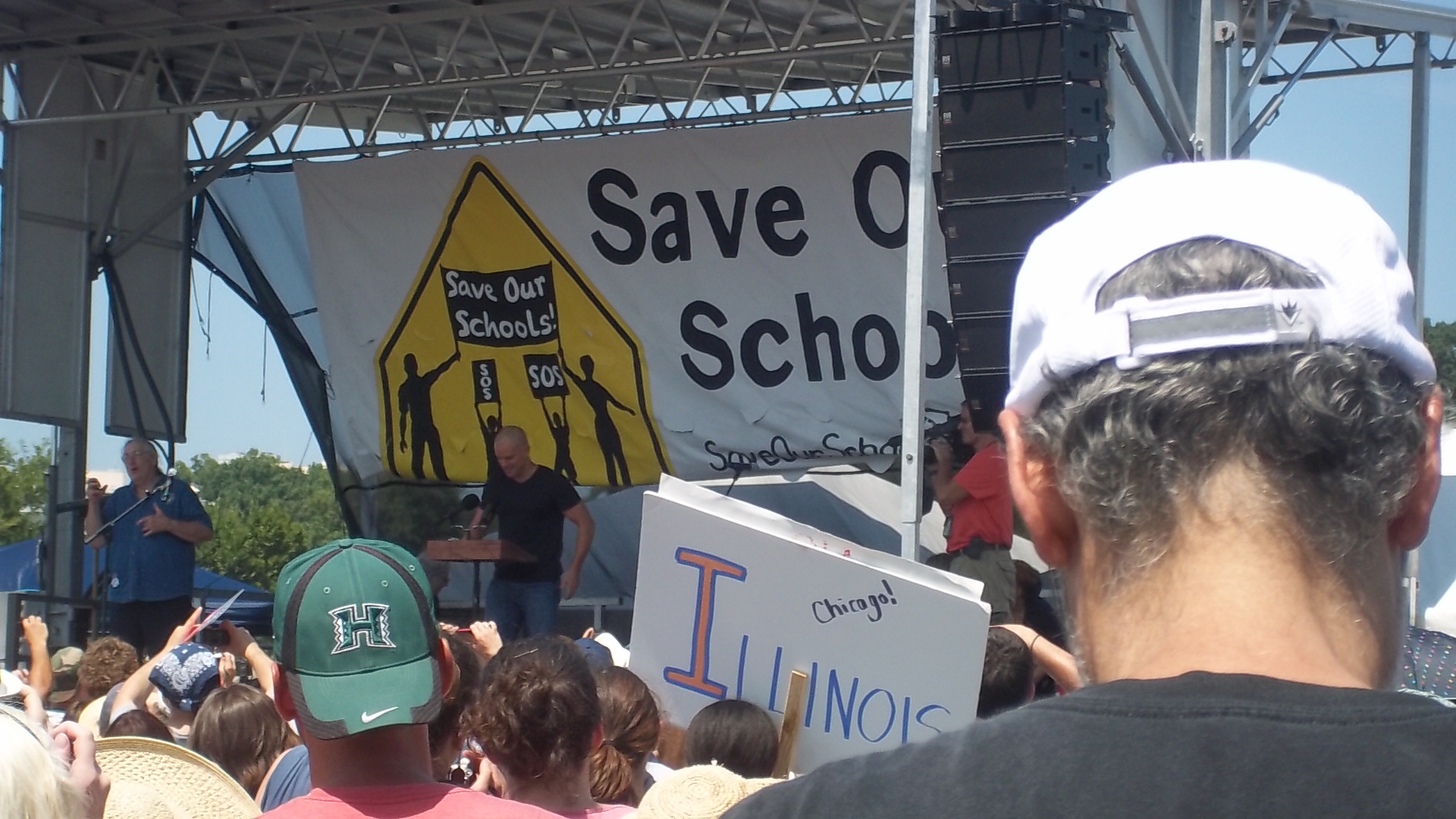 On Saturday July 30, about 5000 students, teachers, college educators, parents and supporters from Florida, California, Oregon, Wisconsin, Ohio, Connecticut, New York, New Orleans, and most other states assembled at the Mall near the White House for an afternoon of inspiring speeches by such well-known educators as Jonathan Kozol, Deborah Meier, Diane Ravitch, with a video-taped appearance by Jon Stewart and a rousing speech by actor Matt Damon, who was introduced by his mother, an educator. Damon expressed his support of the march by describing the positive influence teachers had on him and his belief that there are millions of former students whose lives were positively transformed by their teachers and who will support them.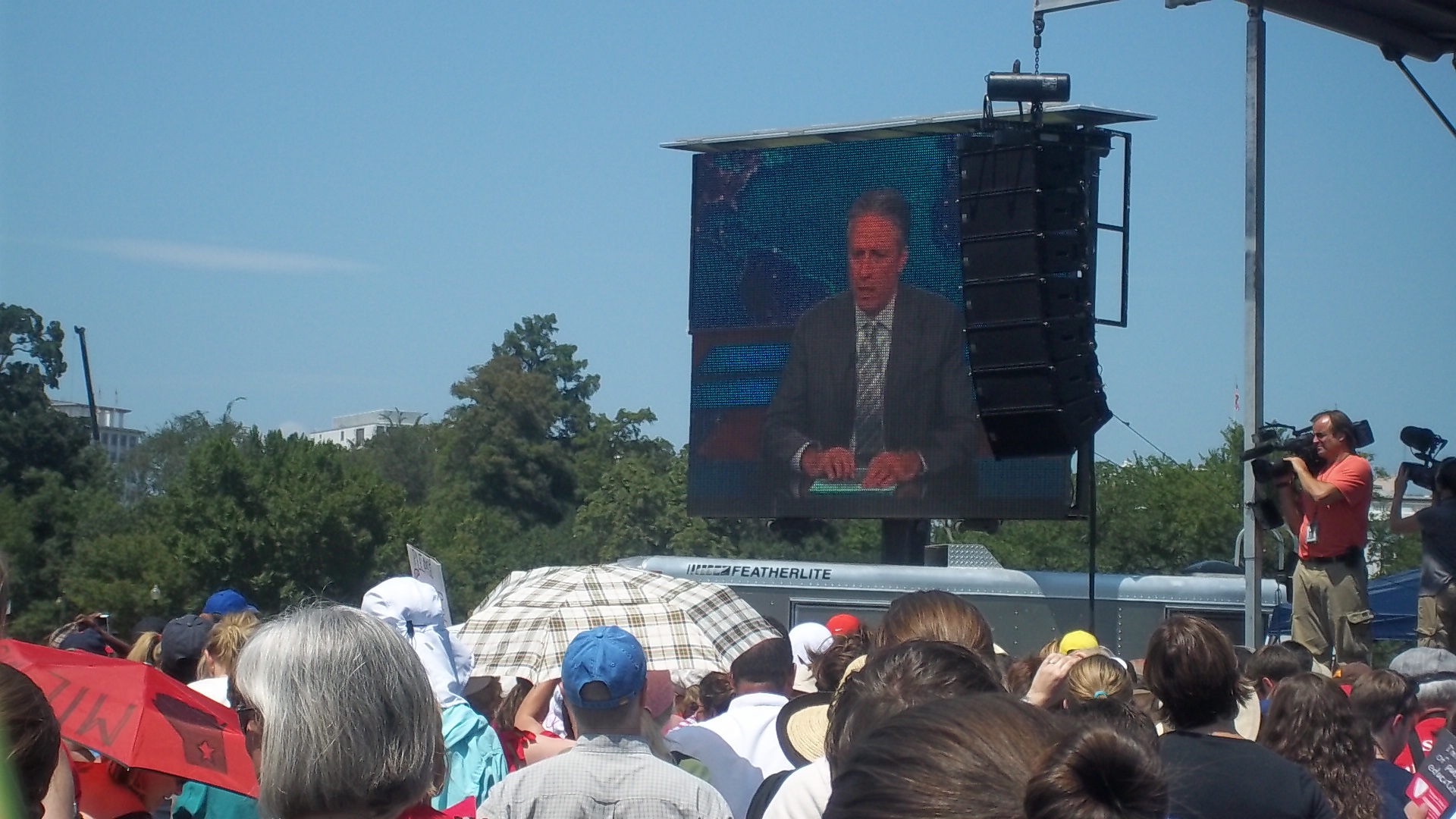 The most passionate speech, however, came from John Kuhn, superintendent of Perrin-Whitt Consolidated Independent School district in Texas. He recently made national news by his vehement opposition to standardized testing for his students, saying he was proud to be "unacceptable" in standing up for his students' right to have a decent education.
The one constant theme among the speakers was that poverty was the most serious problem that school children face as obstacles to their learning. As long as those distorting and controlling school policies through the acquiescence of Secretary of Education Arne Duncan --whether Bill Gates, Eli Broad, Michelle Rhee, or Mayor Bloomberg -- refuse to acknowledge that this most compelling problem is THE major obstacle to school improvement, no amount of standardized testing, charter school increases, vouchers, or core curricula will measurably improve the education of the poor.
From some of the stories I have personally heard, however, the seemingly endless supply of new teachers will begin to run out: fewer young people are willing to endure sub-standard teaching conditions in inner-city schools and threats to find ways to raise their students' scores on meaningless, mind-numbing tests or lose their jobs. The cheating scandal in Atlanta seems to be spreading to Pennsylvania where there is strong suspicion that standardized tests there were being manipulated so students would receive higher grades.
Any responsible educator knows that it often takes years for students to actually "digest" in later life what they have learned in childhood. The fundamental structure of this corrupt system of measuring the immeasurable and of asking impossible results from teachers who are threatened with their livelihoods will soon, I predict, collapse upon itself. More and more phony school test scores will come under the scrutiny of those conscientious reporters and professional investigators who really want to know what kind of education is being fostered in public schools.
A recently retired veteran teacher from New Jersey, one of the "old timers," many of them the most valuable members of a teaching staff that serve as mentors for the newer ones, revealed that he and other veterans were warned by Governor Christie to "retire early" since if they didn't they might find their pensions significantly reduced. Of course, this might well result in an increase to 30,000 instead of a few thousand veteran teachers taking early retirement with both their higher salaries and expertise leaving the system. So much for the governor's "values."
For some people who are willing to "manage the national debt" by destroying the social fabric of this country as is happening in Washington, this kind of strategy makes sense. But if and when computer programs are used to replace the teaching profession as seems to be happening in some parts of the country, we will have a society that would make even the ghost of George Orwell have nightmares. Fortunately, I have hopes from the conference and march that that is not going to happen. The wisdom infused by those older attendees and the enthusiasm and determination of the younger teachers give me hope that our public school system can be saved. In the meantime, I would second a suggestion I heard from a colleague as a way to get the media's and public's attention to what is happening: a nationwide teachers' strike, not in July, but during the school year.
Popular in the Community