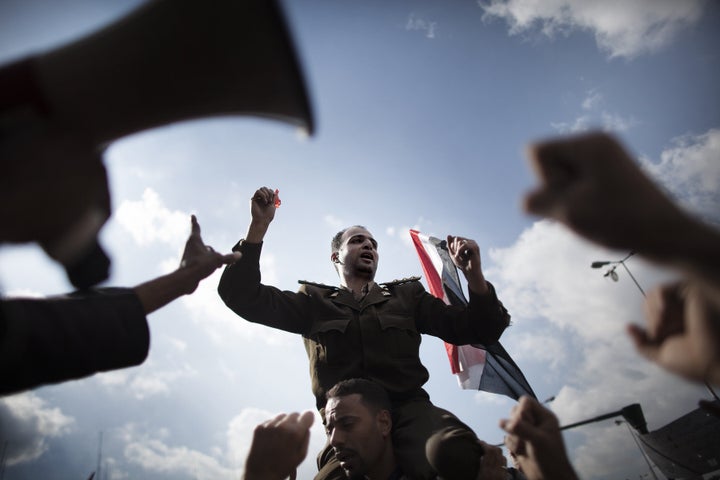 Why has the Noor Group, a smaller network provider that claims around 8% market share, continued to connect users to the Web while other Internet service providers, such as Etisalat Misr, Link Egypt, Telecom Egypt, and Raya have shut off connections? And how much longer can citizens count on it to stay online?
Finding the answer means following the money. Noor's ongoing service may be linked to the high-profile businesses and key Egyptian economic institutions that it services. Cutting web access to Noor's customers could cripple the country's financial services industry and impose major economic losses.
As Le Monde and NewsGrange have noted, Noor's clients include sizable multi-national corporations, such as FedEx, Pfizer, Novartis, Coca-Cola, Exxon, Mitsubishi, and Bristol-Myers Squibb, as well as Egypt Air. Perhaps most notably, Noor's network also hosts a cluster of key financial properties, such as the Egyptian stock exchange, Commercial International Bank of Egypt, the National Bank of Egypt, and, according to Renesys CTO Jim Cowie, the Egyptian credit bureau and the clearing house for trades that occur on the country's stock exchange.
"One scenario is that the government gave [Noor] special dispensation and allowed them to remain online to preserve some parts of the financial infrastructure," Cowie told The Huffington Post, noting that the company might also have elected to stay online, despite being ordered to shut down.
"At this point, it's beyond rationality," Cowie said. "It's hard for me to understand what thought process led them to decide to take the whole country offline in the first place. It's hard to use reason to explain why they left some things online."
Renesys, which focuses on providing "Internet intelligence," observed in a blog post that as of Friday, the Noor Group had "83 out of 83 live routes to its Egyptian customers, with inbound transit from Telecom Italia as usual."
Yet the ISP reportedly suffered brief downtime early Monday (EET) and there have been rumors, so far unconfirmed, circulating on Twitter that the Noor Group may be shutting down. @3arabawy, a self-described "socialist journalist" in Cairo, tweeted, "It appears that Noor DSL is blocking DNS now."
We have contacted the Noor Group for comment.
Unable to access the Internet, people in Egypt have turned to low-tech means of communication, including ham radio, dial-up, and fax machines. See how users can get online in Egypt here. Click here for the latest news from Egypt.
Related
Popular in the Community