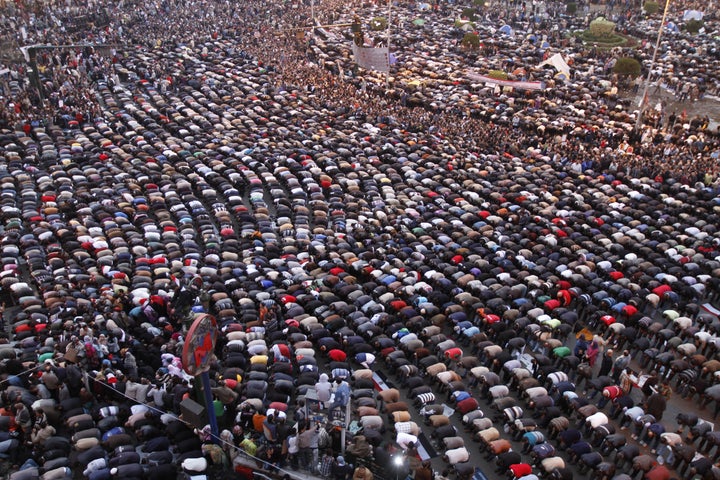 UPDATE: Mubarak announces he will not run for reelection. Scroll down for live updates.
CAIRO -- More than a quarter-million people flooded Cairo's main square Tuesday in a stunning and jubilant array of young and old, urban poor and middle class professionals, mounting by far the largest protest yet in a week of unrelenting demands for President Hosni Mubarak to leave after nearly 30 years in power.
(SCROLL DOWN FOR THE LATEST UPDATES)
According to The Guardian, one million protesters gathered at Tahrir Square. One Al Jazeera correspondent said two million attended the protests in the square and its surrounding areas.
The crowds - determined but peaceful - filled Tahrir, or Liberation, Square and spilled into nearby streets, among them people defying a government transportation shutdown to make their way from rural provinces. Protesters jammed in shoulder-to-shoulder, with schoolteachers, farmers, unemployed university graduates, women in conservative headscarves and women in high heels, men in suits and working-class men in scuffed shoes.
They sang nationalist songs, danced, beat drums and chanted the anti-Mubarak slogan "Leave! Leave! Leave!" as military helicopters buzzed overhead. Organizers said the aim was to intensify marches to get the president out of power by Friday, and similar demonstrations erupted in at least five other cities around Egypt.
Soldiers at checkpoints set up the entrances of the square did nothing to stop the crowds from entering.
The military promised on state TV Monday night that it would not fire on protesters answering a call for a million to demonstrate, a sign that army support for Mubarak may be unraveling as momentum builds for an extraordinary eruption of discontent and demands for democracy in the United States' most important Arab ally.
"This is the end for him. It's time," said Musab Galal, a 23-year-old unemployed university graduate who came by minibus with his friends from the Nile Delta city of Menoufiya.
Mubarak, 82, would be the second Arab leader pushed from office by a popular uprising in the history of the modern Middle East, following the ouster last month of Tunisia's president.
The movement to drive Mubarak out has been built on the work of on-line activists and fueled by deep frustration with an autocratic regime blamed for ignoring the needs of the poor and allowing corruption and official abuse to run rampant. After years of tight state control, protesters emboldened by the Tunisia unrest took to the streets on Jan. 25 and mounted a once-unimaginable series of protests across this nation of 80 million people - the region's most populous country.
Have a tip you want to share? You can leave a message for HuffPost at 00-1-315-636-0962. If you know someone there and have email access, send us an email at egypt@huffingtonpost.com. Our Skype account is HuffPostReports.
Scroll down for the latest updates.
Related
Popular in the Community