This week on Bloomberg EDU, Eli Broad, philanthropist and founder of two Fortune 500 companies, discusses his native Detroit public schools, blended learning, school leadership and a national system for education. Host Jane Williams also speaks with Terry Grier, superintendent of the Houston Independent School District, the winner of the 2013 Broad Prize for Urban Education, about improved student achievement, scholarship dollars for graduating seniors, and the need for partners in public education.
Meanwhile, on Wednesday, Secretary of Education Arne Duncan announced the winner of the Broad Prize in Urban Education. This "celebration of the nation's most improved public schools," recognized the Houston Independent School District (HISD) for its academic improvements in reducing the achievement gap, increasing high school graduation rates and improving college-readiness levels. The process and criteria in the Broad selection criteria are outlined here.
"There is no question that we still have a long way to go in this country until every student is prepared for a productive life after high school - even this year's winner and finalists would agree that they have more work to do. But today we are celebrating progress," said Gregory McGinity, managing director of policy for the Eli and Edythe Broad Foundation.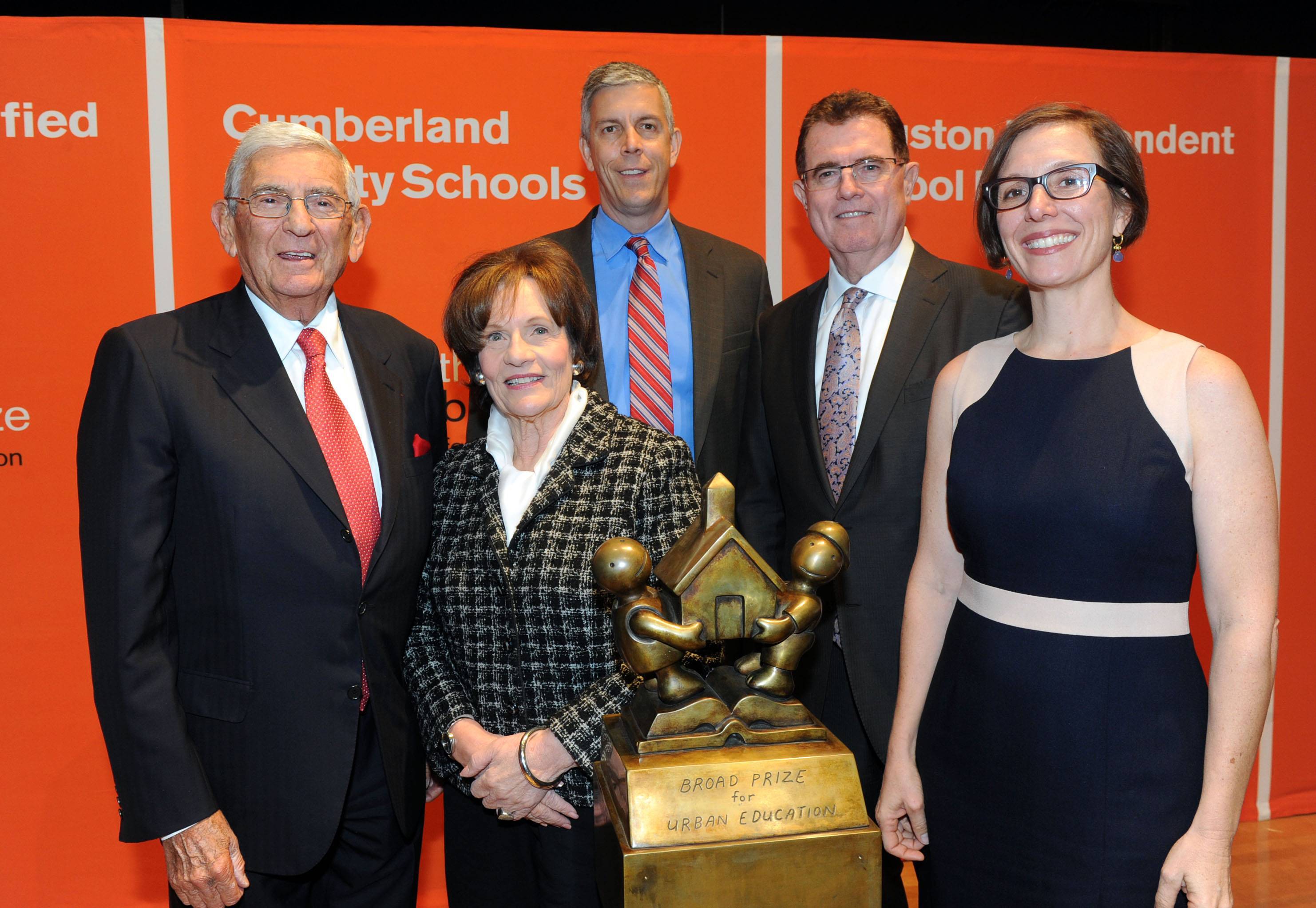 Houston Independent School District. Left to right: Eli Broad; Edythe Broad; U.S. Secretary of Education Arne Duncan; Terry Grier, superintendent, Houston Independent School District; Anna Eastman, board of education president, district 1. (Photo courtesy of The Eli and Edythe Broad Foundation)
--------------------------------------------------------------
Eli Broad and Terry Grier Bloomberg EDU Interview Highlights
ELI BROAD, co-founder of the Eli and Edythe Broad Foundation
On education philanthropy
"I have lived the American dream, and my fourth career is philanthropy whether it's education reform, scientific and medical research and the arts. I've been doing that now for 12 years fulltime. And you know what? I'm working harder now than when I ran a Fortune 500 company."
On Detroit public schools
"I think Detroit will come back. You know, we're involved in Michigan with something called the Michigan Education Achievement Authority. I was working with Governor Rick Snyder to create a recovery school district, which started about 15 months ago by taking over 15 of the worst schools in Detroit public schools...it has a 210-day school year, not 175, seven and a half hours a day. Every child has a tablet. They don't have grades. They have levels, and they're making great progress."
On efforts to improve urban education and the Broad Prize
"We started 12 years ago because I said, "Look, everyone's down on urban education. But I'm sure we could find districts that are doing better than others, and districts that we want to recognize." We wanted to share their best practices, and we want districts to compete for the prize. So this million dollar prize which as you point out, the winning district gets $550,000, and the three runners-up each get $150,000 - all for scholarships."
On the Broad Prize mechanics
"...we've got a jury and a review board, and they do extensive research. We look for improved, student achievement and we'll look for districts that are closing the gap between income and ethnic groups."
On school leadership
"Leadership does matter and for all too long, frankly, public education has been somewhat of a tired government monopoly. We've got to make it into a high-performing, public enterprise. In order to do that, you need better talent than they've had in the past. So the name of the game is how do we do everything necessary to get more money in a classroom, less out of the bureaucracy and do all we can to make teachers more successful?"
On mayoral control and a national system of education
"I don't think we can compete with national education ministries which have brilliant people ... So I'm a big believer in mayoral control such as you have in New York City, Chicago, Boston, Washington and elsewhere and governors getting more involved. I don't think we're going to have a national system."
"...the world has changed, and we've got to compete in a world. And we're not going to compete with 14,000 school boards."

On philanthropy's role and influence
"...we support governors. We support mayors. We support others involved, and we're not the decision makers. We try to help them any way we can so they can be more effective."
"...we create balance, frankly. Until we and others [Bill Gates] got involved as you mentioned, all the influence came from teachers unions, administrator unions and the like. So we think we're creating balance, which is badly needed."
On the arts in education
"I wish there was a greater connection. I wish we had more art in our schools than we have today."
On public charter and district school harmony
"I think you need a mixture of public charter schools and other public schools. I think competition is very good, like we have in higher education. That's made higher education as great as it is. But we've not had that in K through 12. But charter schools are helping that happen. And again, they're public schools. They're not-for-profit, and people accuse us of wanting to privatize education which is something we have no interest in doing whatsoever."
On unions
"I was once a union member. I was a member of UAW. I worked at Packard Motor Car Company for a while."

"...I think teacher unions are going to change, and they have to change."
"And I think we need the younger teachers, including Teach for America teachers that become union members, more involved in their unions."

On education as an imperfect field and metrics
"...it's imperfect, but you can measure education. I think we've made a lot of progress. No Child Left Behind was hardly perfect. But we finally had someone talking about measurement and accountability. The Race to the Top caused 30-some odd states to change their laws and regulations to allow greater flexibility and change. And now we've got blended learning which is the best of technology and teachers working together."

On measures of his philanthropic success: How Eli Broad grades himself
I wish it was an A. But I'd say a B. It's been 12 years and it's been tough because you've got a lot of people that want to maintain the status quo and are threatened by any change whatsoever. So I'd give ourselves a B. Maybe a B+.
TERRY GRIER, Superintendent, Houston Independent School District
On poverty in the district
"Kids can't help if they come from a poor background, or a poor family, or an impoverished family. And we can't control that either. But what we can control is what happens to them once they come through that schoolhouse door."
On increased high school graduation rates
"We have a fantastic board led by our board president [Anna] Eastman. Our board is very focused on student outcomes. We are a no excuses, do whatever it takes, work together type of organization. We teach equality, and our district has paid huge dividends towards the amount of attention we've paid to that over the last four to five years."
On partnerships beyond the district
"...we have some unusual partnerships in Houston with Ed Labs, and Dr. Roland Fryer with Rice University, with the New Teacher Project, and with a number of charter school networks that actually come to Houston and help train our teachers."
"There has to be a stronger partnership between the public schools and the cities themselves. Now, I'm not talking about a mayor having to come in and take over the school district. But I think that public school systems themselves have to reach out and find third-party partners."
"It can be multiple partners. And certainly the city itself plays a huge role in Houston. Annise Parker, our mayor, is very pro-education. We have a great partnership with our fire department there, who has this fantastic training program, for example, for our bus drivers."
On urban education
"...people have got to understand that as public education goes, so go the cities.
there's no question that equality and the type of education that's occurring in these schools today are gonna impact the quality of lives in those cities in the next five, ten, and 15 years."
Related
Popular in the Community