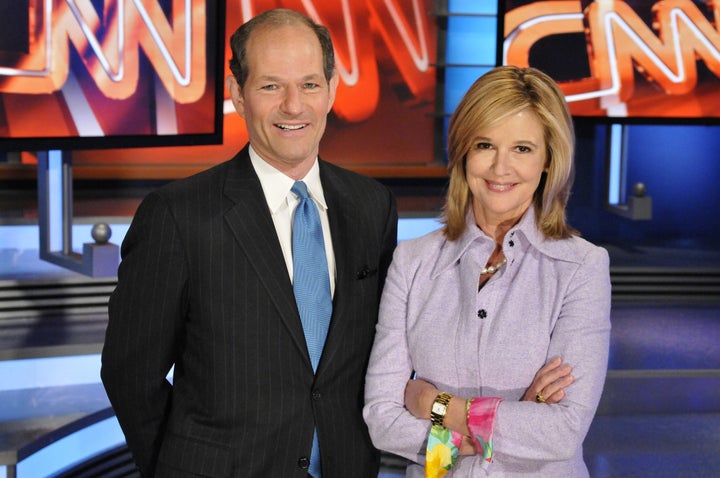 CNN's new 8PM show doesn't have a title yet, but rest assured it won't be "Crossfire 2."
In an interview with the Huffington Post shortly after they were announced as CNN's new hosts, Eliot Spitzer and Kathleen Parker said their show will take a different tone than the network's previous panel show.
"It will be much less artificial than Crossfire," Parker said. "We're going to be an organic talk show where we sit around the kitchen table -- not literally, but that's the idea -- and talk about what everybody talks about when they're in the kitchen."
"Big issues, little issues, coming at it from different perspective, same perspective, agree, disagree," Spitzer chimed in, "but in a way that people are going to be drawn into, to find it amusing and fun and informative."
The pair — he, the former Democratic governor of New York; she, a Pulitzer Prize-winning conservative columnist for the Washington Post — said they only met in the last few weeks, but as the exchange below indicates they have already found a comedic rhythm with one another:
Parker: We just met a few weeks ago, completely around this. We were both called and invited to consider it. So I met Eliot in his office, we had coffee and ate fruit and talked.

Spitzer: The essential components of the show, what we were seeing if we could make work, was to be thoughtful, smart, funny, not boring, not predictable...

Parker: ...and we decided I could be all those things!

Spitzer: That's right, Kathleen carrying the water and you put my name there and people will watch one night. I'm expendable.
"Actually, I think that we complement each other very well, and bring completely different perspectives and life experiences, which is what this country is all about," Parker said. "So we are the conversation that America needs to have."
They both stressed that their show will not be a simply "left vs. right," partisan shout-fest.
"I think what we have in common is a pragmatic approach to problem solving and to talking about the issues," Parker said. "I don't really care if a Democrat or a Republican comes up with the right answer, I just want the one that works. And I think Eliot comes from that same place."
"Take BP," Spitzer said. "We all agree: BP is bad. That's the easy part. Then you say OK, so what do you do? How do you actually solve the problem? How do you plug the hole? How do you prevent it from happening next time? What were the structural issues at a regulatory level, corporate level, that really created this? And that's where the conversation gets more interesting and more important. The superficial stuff is easy."
"We get bogged down in whose fault things are, and we really need to re-focus towards what can we do to prevent this?" Parker said. "How do we live in the future?"
But how do they plan to do what their predecessor, Campbell Brown, could not: break-through against Bill O'Reilly and Keith Olbermann at 8PM?
"It's a big challenge," Parker admits. "They're both amazing. They're giants in their field and they have a huge following, but we will be offering an alternative to them."
"There's still a lot of people who are not watching either one of them," Spitzer points out. "So somehow we're figuring there's still a little reservoir there, we'll put our fishing rods in and see what we can come out with. Because we're going to craft something different. The way I look at it: if you want to be validated in your underlying world view, you go to their shows and you feel good and they're great shows. If you want to see something different, be challenged, be pushed, then we're trying to create something that will be exciting for you...
"We will do something different," he continued. "If people are chattering about our show and saying, 'Yeah that was an interesting perspective, Kathleen really had a critique there that I wouldn't have thought of but now I agree with it,' that in our mind is a success. And we think there are a lot of people out there who will come to that point of view."
As for ideal guests, Parker says they'd have General Stanley McChrystal on the show tonight if they were on air and otherwise plan to draw from "people that we've interacted with in our personal lives and our work." She described the booking plan as "a sort of blog approach to programming in that it would be very eclectic just based on what we're interested in that day."
When it comes to Gen. McChrystal, incidentally, the pair is in complete agreement, and their conversation on the subject offers a glimpse into the kind of dialogue they'll bring to their new show, which will debut in the fall:
Parker: My immediate reaction is you don't ever disrespect the commander-in-chief. That's Basic Training 101. I feel very sad for McChrystal. He should've known better and I'm sorry that this is probably not going to go well for him.

Spitzer: I agree entirely with that and I would then take it to the next level which is the real tragedy right now is, I think, the tension we see between General McChrystal and the White House reflects a strategy right now that is not working. And that is the real crisis. Our troops are over there fighting valiantly and I'm not sure any of us is persuaded it's working.

Parker: On the other hand, a perspective that I haven't heard anybody talk about — and I come at this from a military background, all the men in my family have been in the military and fought in every war since the American Revolution, so I'm kind of from that warrior culture — and what I suspect is that McChrystal's comments are not unique to him. I'm worried that it reflects a wider-spread feeling towards our President and Vice President...and that's a problem, and that's something we ought to talk about.

Spitzer: A different dimension on this: I just found out Kathleen's from a warrior culture and now I'm beginning to worry.

Parker: Listen, sweetie, all you need to know is the Marine Corps is on my side.
Related
Popular in the Community