The Israeli military has the right to attack Palestinian hospitals and schools in self defense if Hamas has put rocket launchers next to them, Sen. Elizabeth Warren (D-Mass.) said last week at a local town hall, according to the Cape Cod Times.
Warren, in defending her vote to send funds to Israel in the middle of its war with Hamas, said she thinks civilian casualties are the "last thing Israel wants."
"But when Hamas puts its rocket launchers next to hospitals, next to schools, they're using their civilian population to protect their military assets. And I believe Israel has a right, at that point, to defend itself," she said.
Israeli tanks shelled schools and hospitals during the most recent conflict in Gaza. The Israeli government claimed at the time that rockets and militants had been located nearby. The United Nations Relief and Works Agency condemned militants for hiding rockets in two schools, and also sharply criticized Israeli attacks on other schools as.
The Geneva Convention relative to the Protection of Civilian Persons in Time of War prohibits attacks on hospitals, "unless they are used to commit, outside their humanitarian duties, acts harmful to the enemy." Even under those circumstances, civilian hospitals can only be attacked "after due warning has been given, naming, in all appropriate cases, a reasonable time limit and after such warning has remained unheeded."
Warren argued that Israel's use of force was justified by the violence in the region. "America has a very special relationship with Israel," she said. "Israel lives in a very dangerous part of the world, and a part of the world where there aren't many liberal democracies and democracies that are controlled by the rule of law. And we very much need an ally in that part of the world."
She also questioned whether to condition future U.S. funding for Israel on the halting of Israeli settlements in the West Bank. "I think there's a question of whether we should go that far," Warren said.
Israel is indeed a democracy. The nation's Prime Minister Benjamin Netanyahu is a member of the Likud Party, whose founding charter calls for the destruction of any Palestinian state; Hamas' founding document calls for the same for Israel, though it recently joined a unity government that says it will recognize Israel's right to exist.
Warren has been on the receiving end of sporadic criticism over the years from progressives for a hawkish if hesitant approach to foreign policy, which she appears to prefer to avoid in favor of domestic economic policy.
Sen. Bernie Sanders (I-Vt.), another favorite of progressives, has also come under fire from his base for his defense of Israel. A recent town hall got testy, with constituents and the senator exchanging harsh words, and Sanders ending on a note of resignation. "This is a very depressing and difficult issue. This has gone on for 60 bloody years," he said. "If you're asking me, do I have a magical solution? I don't. And you know what, I doubt very much that you do."
UPDATE: 8/29 -- Shahar Azani, spokesman for the Consulate General of Israel In New York, responded in a statement:
Israel's government and its Prime Minister, Benjamin Netanyahu have repeatedly accepted the calls for a two state solution, saying in his "Bar Ilan Speech" that "We are ready to agree to a real peace agreement, a demilitarized Palestinian state side by side with the Jewish state." Needless to say this government is led by the Likud party, whose leader is Prime Minister Netanyahu. There have been countless recent reaffirmations of the Israeli government's belief in "two states for two peoples" as the end result of a negotiated deal.

Hamas has not changed their ideology or practices since they were founded in 1987. They are still one of the region's most dangerous Islamic terrorist organizations who celebrate the kidnapping and murder of innocent children, perpetrated numerous suicide bombing attacks on Israeli buses and only recently launched thousands of rockets indiscriminately with the goal to kill as many Israelis, Jews and non-Jews, as possible.

It is highly inappropriate to insinuate that Hamas now somehow recognizes Israel's right to exist just days after a recent conflict ended with a senior Hamas spokesperson saying that "The time has come for us to say that the true war is not aimed at opening border crossings. Our true war is aimed at the liberation of Jerusalem, Allah willing." Hamas has never once claimed that it would live side by side with the State of Israel.
In July, Netanyahu told the Times of Israel, "I think the Israeli people understand now what I always say: that there cannot be a situation, under any agreement, in which we relinquish security control of the territory west of the River Jordan," a remark widely viewed as a rejection of a two-state solution.
Before You Go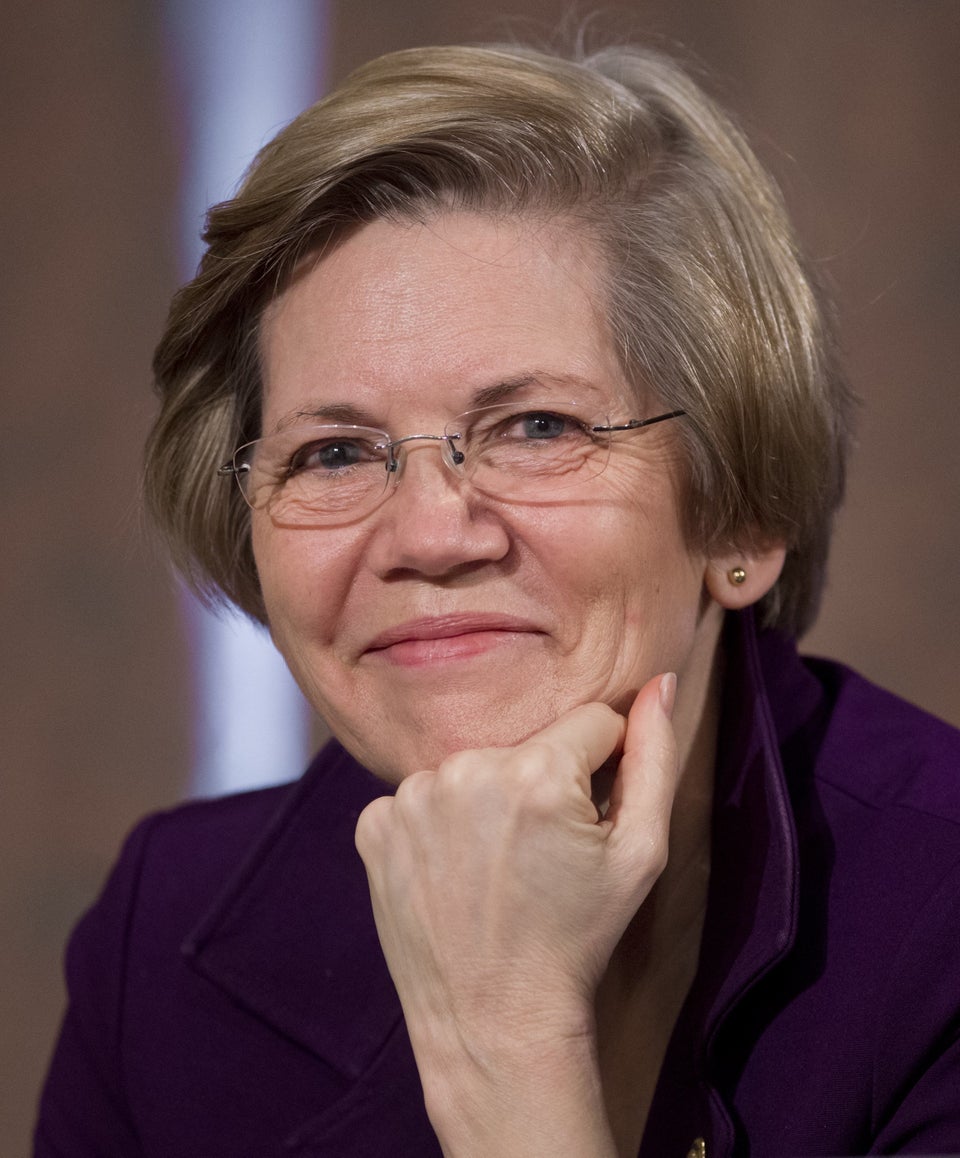 Elizabeth Warren
Popular in the Community