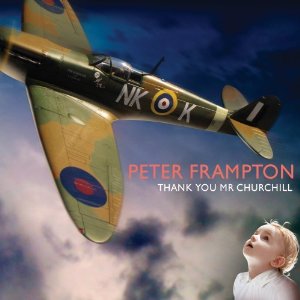 Peter Frampton - Thank You Mr. Churchill
At this point in his career, Peter Frampton could have tossed out a second guitar-based instrumental album and probably would have won yet another Grammy. After all, once you get a formula for success, why not ride that cash cow 'til it's steak. Thankfully, this time out, everyone's one-time 4:20 guitar hero did something bold and admirable--he played his heart in addition to his axe, creating what could be the best album of his career.
Confessional singer-songwriter albums are often adored or abused for their acres of personal joy and heartbreak. For the most part, we know who those artists are (we're looking at you Leonard Cohen through Mary Gauthier). But, God bless him, who knew Peter Frampton also was one of them. Thank You Mr. Churchill is most revealing and at its deepest during, well, almost all of its songs. We get gratitude ("Black Ice"), historical and familial memories ("Thank You Mr. Churchill," "Vaudeville Nana And The Banjolele"), a flawless pop love song ("I'm Due A You"), and some railing against social injustice ("Solution," "Asleep At The Wheel"). Yeah, you read that right. There's even a seven-plus minute classical-blues workout ("Suite: Liberte a. Megumi / b. Huria Watu") whose guitar strafing in the second section is more adventurous than many of his classic leads. You read that right too. This combination of literacy and honesty makes this the most interesting project Captain Wah-Wah has ever released as well as his first authentic contribution to the singer-songwriter genre.
But don't worry all you singer-songwriter haters...the guitar is still the thing. "I Want It Back," "Invisible Man" (with enough Motown to make you wanna holla), and perhaps the album's best track, "Road To The Sun," featuring Frampton's son Julian (sounding quite sixties yet Frampton-esque) will fully pacify the inner rocker in all of us. And don't let the title track's "I want to thank you Mr. Churchill for making sure that I was born, thanks for the innocence that made us feel secure" fool you; the lyrics and the rhythm section get acerbic and snarly immediately after that love letter to the British leader.
On his albums Wind Of Change and Frampton, we saw Humble Pie's ex-guitarist find his place in FM rock. With his hits "Baby, I Love Your Way," "Show Me The Way," and "Do You Feel Like We Do?" he came into his own as a pop songwriter. However, as many accolades as one can pile on the ground-breaking Frampton Comes Alive, it might have been more appropriately titled Frampton Live. Why? Because he truly is alive on Thank You Mr. Churchill, his most satisfying studio album to date. Thank you, Mr. Frampton.
Start Here: "Thank You Mr. Churchill," "Road To The Sun," "I'm Due A You," and "Suite: Liberte a. Megumi / b. Huria Watu"
Tracks:
1. Thank You Mr. Churchill
2. Solution
3. Road To The Sun
4. I'm Due A You
5. Vaudeville Nanna And The Banjolele
6. Asleep At The Wheel
7. Suite: Liberte a. Megumi / b. Huria Watu
8. Restraint
9. I Want It Back
10. Invisible Man
11. Black Ice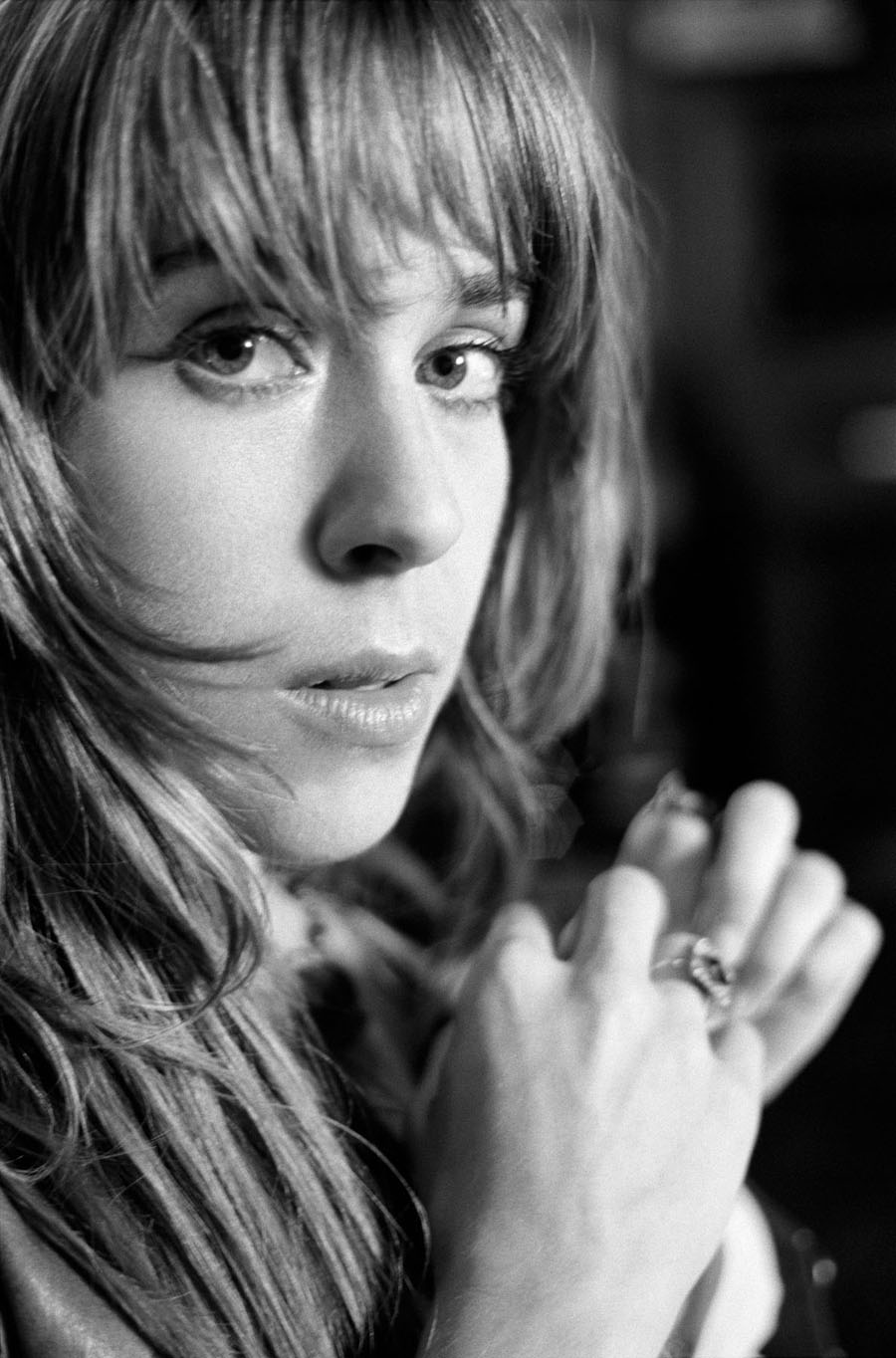 A Conversation With Serena Ryder
MR: How are you feeling today?
SR: First day of my tour...pretty excited!
MR: I just got off the phone with your pal Ryan Star who says hi.
MR: Say, aren't you a double Juno award winner?
MR: How did it feel getting that last one?
SR: It was amazing, I was definitely blown away. The first one that I won was two years ago, and that quite an amazing--in a literal sense of the word--experience. It's still a bit of a blur for me. Whenever you're going through that emotional process, I think the things that happen around you don't really exist as much even in your own little head going, "What the f*** am I doing at the Junos? This is awesome!" Then last year, I won another one which was amazing. I didn't expect at all to win that one, the category was for album of the year, and the other people that were nominated were also my peers. For me just being nominated was good enough.
MR: If you don't mind me saying it this way, it's like you came into your voice, and I imagine you were rewarded for that.
SR: It felt really amazing to have received an award for that record. I do feel like I'm on the path to knowing myself, you know? I'm really comfortable with what I'm doing and I'm really excited about being who I am. I'm having a great time.
MR: Speaking of peers, you have a duet with Mr. Jason Castro from American Idol, "You Can Always Come Home," on his latest album.
SR: Yeah, that's right. I have to tell you the truth. I've never watched American Idol, and didn't know Jason, then I had this song sent to me and I fell in love with it. It's so beautiful, it's so honest. That's what I look for. It's a very open, honest, broken-hearted story about the other man. Usually, you get the story about the person who got the girl. This is the story of the imagination of the man who was really in love with this woman and didn't end up being the one that she chose.
MR: Do you know if that's going to be a single?
SR: They already have a single on the radio right now that's not that one. I don't really know what's going on with this project right now.
MR: A little while back, you became known by Bruce Springsteen fans because of your "Racing In The Street" video for his website.
MR: How did that come about?
SR: I heard that Bruce Springsteen was putting up and coming artists onto his website and MySpace doing versions of his songs. Being a very respected and premiere artist in my mind and in my heart, I jumped at the opportunity, me and my guitar player and friend, Johnny Kengla--who is in a wicked band called the Madison Square Gardeners out of New York. He and I jumped into the studio right away, we're like, "Hey dude, let's try this." We had no idea if we'd get accepted or what it did. It was amazing...it was a definite phone call to the mom. "Mom, The Boss put me on his website!" Pretty cool.
MR: You also took place in that interactive show City Sonic too, didn't you?
MR: You grew up in Canada, land of a lot of heavy singer-songwriters like Neil Young and Joni Mitchell. Who were your inspirations?
SR: I grew up in Millbrook, Ontario, Canada, in a village of 1000 people. It's a village in the valley and there were, probably, 250-300 people in our school. Growing up, I was influenced by AM radio. I used to drive around with my dad on the weekends, and he was a handyman. We, all of our family, used to go together, every Sunday, to flea markets and garage sales and things like that. My dad had a bunch of mix tapes, my sister would make mix tapes. My dad was a big fan of Roger Miller growing up. Are you familiar?
MR: "King Of The Road," Big River...
SR: A lot of his songs were pretty crazy and awesome, I was so inspired by him growing up. I discovered a lot of singer-songwriters from my parents' record collection in the basement of our house. You know, like a basement trap door like on The Wizard of Oz, the wooden trap doors that you lift up and stick a piece of wood into the wall and stop it? Our house was like 150 years old at the time, I guess it's 170 years old now.
We used to go and take the records. There were a lot of John Prine records, Leonard Cohen, The Beatles, The Stones, Supertramp, and Max Webster. It was a really eclectic mix of music that my parents had, like they just shoved their record collections together, stuck it in one of those milk crates, and put it in the basement. One by one, I snuck them up to my record player in my room.
MR: Max Webster, nice. When you record, what is your process?
SR: I've always gone in with a group of songs already created, and for the most part, I enjoy it and I'm most honest when I write by myself. So, I go in with finished projects usually. Every record's different. I believe that there's no real way to do it for me because I'm constantly changing what I like and what I think is proper.
MR: And having an overview of your project right from the start in the studio seems pretty efficient.
SR: It was very efficient.
MR: When you're writing, are you writing from the perspective of the first person?
SR: I try and sing from the first person as much as I possibly can, even if it's a story that started out about someone else. I personally don't think it's right to write from a place that you haven't been personally, because then, you're being the most honest, you know? For me, it's about writing about things that I know and that I've felt and I've been through. And sometimes, we're relating so wholly to a story or an inspiration or something that you've seen happen or heard, that you relate wholly enough to experience it emotionally. Then I think you have every right to write about it.
MR: So, you really are singing from an area where it's not about the world at large. It's more about your place in it and people relative to you.
SR: Yeah, it's funny because it's like I think we've made a lot of mistakes by seeing the world as the world at large when it's really the world inside of us that counts.
MR: Nice, that's a beautiful thought. Your song "All For Love" was in Private Practice. You must have watched the episode when it was on, right?
SR: I was sent a link to the scene but I have no idea what their back story of it was. I don't have a TV or anything either. I don't know how many people saw it, but that's awesome.
MR: That's a huge show. When you saw the scene and how it was used, what was your reaction?
SR: I just remembered two people hugging I think, and something happening like they had gone through something emotionally. I didn't actually know what the story line was or anything. You don't really get the opportunity to see the script before you put the song in. But it was very cool, it was very cool. I was on the big screen, man, and that's awesome.
MR: I hope you get a lot more big screen time and a lot of success on your album. Even though it was released last year, Atlantic is still working it, I always see it plugged somewhere.
SR: Yeah, Atlantic's being doing really great. It was really in the States in November.
MR: It's an excellent label.
SR: Yeah, they're awesome. They're doing a really great job.
A Conversation With Ryan Star
Ryan Star: You grew up in Manhattan or outside of New York?
Mike Ragogna: Manhattan. I'm an East Side kid from Second Avenue and Twenty-Fourth Street, kind of near Peter Cooper and Stuyvesant Town.
RS: I live on Houston. I'm sure it was way different when you were growing up than it is right now. It's the most posh street you can imagine.
MR: It definitely wasn't gentrified when I was a kid. Okay, enough about me and the Stone Age. Let's talk about your tour. How long will it last?
RS: I think a little over a month. We're hitting a bunch of good cities. It's pretty much taking me all over the whole country, so it'll be fun. It's actually funny.
MR: In addition to the recent dates, you toured a little with your pal Serena Ryder a while back, right? What interesting story do you have about the lady?
RS: We played this one-off show together while I was on the West coast doing some other stuff, it was a little over a year ago. There were like four people in the crowd, and we were just starting together.
MR: For the moment, it's like you're on the same trajectory.
RS: We're kind of on the same path. On an artistic level, there is a similarity too because she's a girl. You know when you hear a girl on guitar or a solo guy, you always think coffee house...singer-songwriter. But she knows how to rock, she gets in there. You can hear the bigger sound when it's just her, and that's something I can relate to a lot.
MR: It must have been interesting to have had your self-titled album on Maverick. You've also had your share of really cool breaks so far like that reality show Rock Star. During the second season, you got real close. Dave Navarro called you the dark horse.
RS: That show is quite a circus, to be honest with you. For artists, there's a big difference between that show and American Idol. On American Idol, it's the Cinderella success story where you get some waitress from Iowa and, boom, they become stars overnight which is why people love that show. It's just a phenomenon, about watching that process happen. For the show I did, it was a little different 'cause like you said, I had a background, I had a record on Maverick.
RS: My first gig was when I was 15 years old, and I've kind of been out there for a long time, doing my thing, pushing, pushing, pushing.
MR: What was being on Rock Star like?
RS: They were real musicians. They'd been out there, doing it pursuing it. So, it made for a great show, great talent on the show, but probably not as big a phenomenon as American Idol only because it didn't have that zero-to-a-million miles per hour success story. But for me, it was great because it launched me as a solo artist. I didn't know what I was doing. I just came off being in a band.
MR: You broke up, typical story.
RS: We moved on. This is a band that I grew up with, a band of brothers. For me, it was like wow, I'm going to do a solo thing because of this stuff I got to do on the show. I got to play original music on my own. Dave Navarro kind of pointing me out as somehow someone that might have been right to win the contest, but someone to do their own thing. And it helped me to gain some fans right off the bat. Then I got to make a record with some great people. And then here we are. So, it's a whole process. No different than what you do. It's a long process, day in and day out.
MR: Your new EP is like a greatest hits record already because of the song placements in film and TV: "Last Train Home" is from P.S. I Love You, "Brand New Day" is from Lie To Me, and "Right Now" was used as the promo piece for The Philanthropist.
RS: Yeah, right now that's been in the #2 spot, and then "Breathe," of course, which is doing its thing. That's funny because that's the idea behind EP. It's a strange time in music, as you know. Years ago, it used to be...you heard the expression, throw it to the wall and see if it sticks?
MR: It stuck. Why did it?
RS: I was very careful. When I was in New York building my base before being a solo artist, I had the mindset of, you know, they will screw all this stuff up. I tried it with my band and it didn't really work. They took your dreams and they squashed 'em. With that mindset, for me, I was like going to take a look at Ani Difranco. I loved her and I loved the idea of just doing it yourself and empowering yourself. So I started doing that in New York. But you get to a point where you're hustling, selling out smaller venues in New York City, doing my thing, but there's still so much more out there. There is this part where you do need a bigger machine of some kind to help get it out there if you're playing that kind of music.
I realized that with the kind of music I'm playing, I do want to get it out there. It's not so underground that I needed to be hidden away. So, these songs that are on the EP are kind of the mentality of what I had done pre-record label. Now they're getting out there.
MR: And you have a full album coming soon.
RS: Hats off to Atlantic Records who got my record. They're not in the business of just like throwing it at the wall anymore. They're really developing things. Serena can tell you the same. It's a nice feeling to know it's just a slow and steady pace.
MR: I'm very familiar with most of your label mates because I've been very impressed by folks like Robert Francis and Matt Hires. Atlantic seems to know how to build acts properly, slow and steady, like A&M and Geffen did, and not burn them out for the quick buck.
RS: You're saying it. It's different than most. First of all, you probably never hear an artist compliment their label. For me, that's been great because that's been my path for a long time, since I was a kid. Not so slow, but the steady thing...getting to make records and learning how I want to make records. The process wasn't being thrown in it overnight and being told here's your one shot--go.
MR: Are all four EP songs going to make the new record?
RS: They most likely will, I'm making those final decisions now. The record will have plenty more. I over-recorded, if anything. When I was working with my producer, it was the opposite of what I always thought I'd work with. My background was from the indie world, and it was a little more left of center. But having this opportunity to collaborate, I was like, I'm going to go the other way. I'd rather like come and butt heads with someone straight in the middle and get into fights every day just to make something new out of that.
MR: One of the pictures of you that are floating around the internet shows you wearing a Leonard Cohen Songs Of Love And Hate album shirt. Who are some of your influences and inspirations?
RS: I played the saxophone and that was my thing. So, up until I was eleven or twelve, I believed that my calling was to be the next Kenny G. Thankfully, a band called Pearl Jam came out and changed my life forever. I remember getting the CD and saying to myself that's what I want to do, and the next day, I formed my band called Stage.
RS: We were 14 at the time. And since that day I haven't stopped. So, those are my early influences. The whole Seattle scene was a very big influence on me. Then, I also was into east coast side of things. I loved the Lemonheads and the Pixies and Morphine and that New England scene. Juliana Hatfield...do you know her music?
RS: She sang on my record. It turned out she was a fan, you know, it goes years back. I saw her was younger, gave her one of my demos, and it turns out she knew who I was and was excited to sing.
MR: Dude, you're humble and a New Yorker. This is good.
RS: I learned a lot, especially being on that TV show. I grew up in New York. Madonna walks down my street or Lenny Kravitz and no one cares. For me, I think what has kept me humble is the fact that at the end of the day, I have to go back and see all the people I've always seen, all the great musicians, and all the bands that are killing it in New York. You never really let anything get to your head because there's always something great right next door, and it just keeps your game up and keeps your head small which is a good thing. It's hard to let anything get to your head because there's always someone way bigger than yourself down the street.
Press Release Me, Let Me Go...
ROONEY CONFIRMS NORTH AMERICAN HEADLINING TOUR
BAND TO RELEASE NEW ALBUM EUREKA JUNE 8th / FIRST TRACK I DON'T WANNA LOSE YOU AVAILABLE FOR FREE DOWNLOAD
Los Angeles pop-rock quintet Rooney are thrilled to announce a North American headlining tour in support of their new album EUREKA. Beginning June 16th in San Diego, CA, Rooney will hit the road with this brand new collection of songs, which will be released June 8th on California Dreaming Records (through Warner Music Group's Independent Label Group.) Following the headlining run, Rooney will join Hanson for a month of dates. Tour dates below.
To get fans excited, Rooney is offering first track I DON'T WANNA LOSE YOU for free download at http://www.rooney-band.com/2010/04/08/download-i-dont-wanna-lose-you/
EUREKA is the follow-up to Rooney's two critically acclaimed albums ROONEY and CALLING THE WORLD and sees the band showcasing their most inventive and original material to date. Produced and crafted entirely by the band, EUREKA not only succeeds with 12 impressive and infectious tracks, but spotlights the band's gift to craft intelligent and stimulating rock songs that have continually captivated fans and critics with what Rolling Stone, Details, Entertainment Weekly, Alternative Press, Nylon, The New York Times and Spin Magazine hail as "real power-pop gems."
Developed through years of non-stop touring with artists like Kings of Leon, Weezer, The Strokes, Travis, Polyphonic Spree and Granddaddy, and two highly praised records, Rooney's irresistible songs has impacted modern rock & alternative radio stations and infiltrated video outlets such as MTV, VH1, Fuse and MTV2. Along the way, Rooney has built a fiercely loyal fan base and performed on THE OC, The Today Show, The Late Show with David Letterman, Jimmy Kimmel Live! and Late Night With Conan O'Brien.
With Black Gold and The Young Veins:
June 16 Wave House San Diego, CA
June 17 House of Blues Anaheim, CA
June 19 Henry Fonda Los Angeles, CA
June 20 Canyon Club Agoura Hills, CA
June 22 Slim's San Francisco, CA
June 23 The Boardwalk Orangevale, CA
June 24 Wonder Ballroom Portland, OR
June 26 El Corazon Seattle, WA
June 27 Knitting Factory Boise, ID
June 28 Urban Lounge Salt Lake City, UT
June 29 Marquis Theatre Denver, CO
June 30 Waiting Room Omaha, NE
July 1 Blue Note Columbia, MO
July 2 Juanita's Cantina Ballroom Little Rock, AR
July 3 The Collective Shreveport, LA
July 5 Republic New Orleans, LA
July 6 Seville Quarter Pensacola, FL
July 7 The Social Orlando, FL
July 8 Common Grounds Gainesville, FL
July 9 Crowbar Tampa, FL
July 10 The Loft Atlanta, GA
July 11 Amos' Southend Charlotte, NC
July 12 Handlebar Greenville, SC
July 14 Irving Plaza New York, NY
July 15 Bottle & Cork Dewey Beach, DE
July 16 Chameleon Club Lancaster, PA
July 17 Crazy Donkey Farmingdale, NY
July 18 Toad's Place New Haven, CT
July 19 School of Rock Hackensack, NJ
July 21 Club Infinity Williamsville, NY
July 22 The Chance Poughkeepsie, NY
July 23 South Shore Music Circus Hyannis, MA
July 24 South Shore Music Circus Cohasset, MA
July 25 Theatre of Living Arts Philadelphia, PA
July 27 Sonar Baltimore, MD
July 28 The Hat Factory Richmond, VA
July 29 State Theatre Falls Church, VA
July 30 Orange Peel Asheville, NC
July 31 Lincoln Theatre Raleigh, NC
August 2 Headliners Louisville, KY
August 3 Wildhorse Saloon Nashville, TN
August 4 Minglewood Hall Memphis, TN
August 5 Pageant St. Louis, MO
August 7 Beaumont Club Kansas City, MO
August 10 Minnesota Zoo Ampitheatre Apple Valley, MN
August 11 High Noon Saloon Madison, WI
August 12 Pabst Theatre Milwaukee, WI
August 13 House of Blues Chicago, IL
August 14 House of Blues Chicago, IL
August 16 The Intersection Grand Rapids, MI
August 17 Royal Oak Music Theatre Royal Oak, MI
August 18 The Strutt Kalamazoo, MI
August 19 House of Blues Cleveland, OH
August 20 Carnegie Music Hall Munhall, PA
August 21 Newport Music Hall Columbus, OH
August 23 Moonlite Gardens Cincinnati, OH
August 24 Egyptian Room @ Murat Ctr Indianapolis, IN
August 25 Cain's Ballroom Tulsa, OK
August 26 Granada Theatre Dallas TX
August 28 Emo's Austin, TX
MGMT are among the prestigous names performing "Live on Letterman," an exclusive webcast performance from the historic Ed Sullivan Theater. This special event takes place on Tuesday May 11, 2010 at 8pm EST via CBS.com. MGMT's webcast to follow taping of the band's performance on CBS' Late Show with David Letterman, which will be broadcast later that evening.

The popular "Live on Letterman" music series returns with Brooklyn's own MGMT, who will perform a "Live on Letterman" webcast concert from the Ed Sullivan Theater Tuesday, May 11, following the taping of the band's performance on the LATE SHOW with DAVID LETTERMAN. During the concert, MGMT will be performing songs from their recently released sophomore effort, Congratulations, and songs from their debut album, Oracular Spectacular.

This CBS Interactive Music Group event will be promoted across and broadcast on several CBS assets, as the concert will be streamed on the LATE SHOW website at CBS.com (www.cbs.com/late_night/late_show) that evening at approximately 8:00 PM, ET/5:00 PM, PT, with extensive coverage on-air and online provided by several CBS RADIO stations in major markets across the country. Additionally, access to live and on-demand video of the concert will be available on CBS properties including Last.fm, mp3.com, TV.com, etonline.com and theinsider.com, as well as the CBS Television Station websites.

MGMT's exclusive performance is the seventh time the LATE SHOW has used the historic Ed Sullivan Theater as a concert venue - Pearl Jam performed a live webcast concert for the LATE SHOW and CBS.com in 2006, Elvis Costello and the Imposters took part in 2007 and Paul McCartney performed from atop the Ed Sullivan Theater marquee last year. In the past year, Tim McGraw, John Mayer and Mary J. Blige have all been featured on "Live on Letterman."

Additionally, MGMT's LATE SHOW appearance will be broadcast that same night, Tuesday, May 11 (11:35 PM-12:37 AM, ET/PT) on the CBS Television Network.

With their unique and prolific style of music, Brooklyn-based MGMT are the voice of a new generation. The Grammy-nominated band burst onto the music scene in late 2007 with their critically-lauded debut, Oracular Spectacular. Crisscrossing the globe for two years on tour, MGMT brought their incredible live show to the masses and cemented themselves as festival favorites. They recently released their sophomore album, Congratulations, to more raves from fans and critics alike. Associated Press said "MGMT sounds spectacular on sophomore disc," while Reuters heralded the album as "timeless."

MGMT have added* more dates to their tour of N. America, see below for full itinerary. Check out www.whoismgmt.com for new, info and videos.

05/02/10 EAST RUTHERFORD, NJ -MEADOWLANDS SPORTS COMPLEX (BAMBOOZLE FESTIVAL)
05/28/10 SAN LUIS OBISPO, CA -AVILA BEACH CLUB
05/29/10 SANTA CRUZ, CA-SANTA CRUZ CIVIC AUDITORIUM SOLD OUT
05/31/10 GEORGE, WA -GORGE AMPHITHEATER (SASQUATCH! FESTIVAL) SOLD OUT
06/01/10 PORTLAND, OR-CRYSTAL BALLROOM
06/02/10 PORTLAND, OR-CRYSTAL BALLROOM
06/04/10 SALT LAKE CITY, UT -IN THE VENUE
06/06/10 AUSTIN, TX -STUBB'S BBQ SOLD OUT
06/07/10 HOUSTON, TX -HOUSE OF BLUES SOLD OUT
06/08/10 DALLAS, TX -HOUSE OF BLUES SOLD OUT
06/11/10 DENVER, CO - RED ROCKS AMPHITHEATER
06/13/10 KANSAS CITY, MO -UPTOWN THEATRE
06/14/10 INDIANAPOLIS, IN -THE VOGUE THEATRE SOLD OUT
06/15/10 COLUMBUS, OH-LC PAVILION
06/16/10 DETROIT, MI -THE FILLMORE
06/18/10 CHICAGO, IL -RIVIERA THEATER SOLD OUT
06/20/10 MILWAUKEE, WI -RIVERSIDE THEATER
*07/15/10 SAN DIEGO, CA - SDSU OPEN AIR THEATRE
*07/16/10 LOS ANGELES, CA -GREEK THEATRE-LA
*07/18/10 POMONA, CA -FOX THEATRE
*07/24/10 VANCOUVER -COMMODORE BALLROOM
*08/04/10 MONTREAL -METROPOLIS
*08/05/10 TORONTO -KOOL HAUS
*08/08/10 CHICAGO, IL -LOLLAPALOOZA
*08/11/10 HOLYOKE, MA- MOUNTAIN PARK
*08/14/10 COLUMBIA, MD- MERRIWEATHER POST PAVILLION