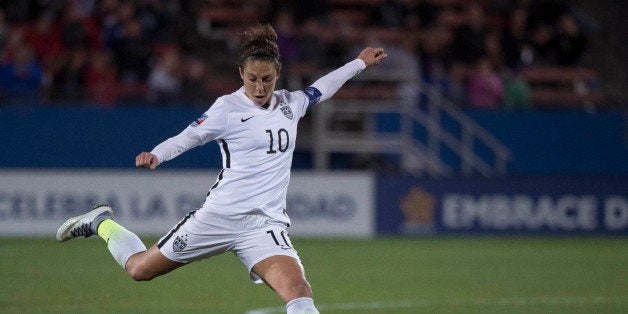 "Simply put, we're sick of being treated like second-class citizens. It wears on you after a while. And we are done with it."
That's what co-captain of the U.S. women's national soccer team Carli Lloyd wrote in a New York Times op-ed, about the wage discrimination suit she and four teammates filed against U.S. Soccer.
If I were a male soccer player who won a World Cup for the United States, my bonus would be $390,000. Because I am a female soccer player, the bonus I got for our World Cup victory last summer was $75,000.

The men get almost $69,000 for making a World Cup roster. As women, we get $15,000 for making the World Cup team.
This case illustrates how far we've come since Title IX was enacted in the early 1970s, and how much is yet to be accomplished. The law states: "No person in the United States shall, on the basis of sex, be excluded from participation in, be denied the benefits of, or be subjected to discrimination under any education program or activity receiving Federal financial assistance."
Athletics is only one of ten key areas addressed by the law which include: access to higher education, career education, education for pregnant and parenting students, employment, learning environment, math and science, sexual harassment, standardized testing, and technology.
Still, there's no question that without Title IX, women's professional sports would never have come as far as it has.
It's hard for women who didn't live through the pre-Title IX era to understand how different that world was for women and girls who simply wanted to play sports.
As Dionne Koller, Associate Professor of Law and Director of the Center for Sport and the Law, University of Baltimore writes,
In 1972, 295,000 girls participated in high school sports, compared with 3.67 million boys. Now, over 3.2 million girls participate in interscholastic sports, compared with more than 4.5 million boys. Similarly, before Title IX, fewer than 32,000 women participated in intercollegiate athletics. Today more than 200,000 do.
If you--or your daughter--ever enjoyed playing on a basketball, volleyball, lacrosse, softball or soccer team, Title IX has a lot to do with that opportunity. Historian Barbara Winslow, the founder and director of the Shirley Chisholm Project of Brooklyn Women's Activism, 1945 to the Present (chisholmproject.com) has written,

It's hard to imagine that just forty years ago, young women were not admitted into many colleges and universities, athletic scholarships were rare, and math and science was a realm reserved for boys. Girls square danced instead of playing sports, studied home economics instead of training for "male-oriented" (read: higher-paying) trades. Girls could become teachers and nurses, but not doctors or principals; women rarely were awarded tenure and even more rarely appointed college presidents. There was no such thing as sexual harassment because "boys will be boys," after all, and if a student got pregnant, her formal education ended. Graduate professional schools openly discriminated against women.
And Barbara Winslow tells this story by way of example:
Katherine Switzer, a 20-year-old Syracuse University junior, showed up to run the Boston Marathon in 1967. She wanted to prove to herself and her coach she was capable of running 26.2 miles. Women were not allowed to officially run the marathon, so no one questioned "K. V. Switzer" as it appeared on the application. In the middle of the race, Jock Semple, a Boston marathon official, jumped off a truck, ran toward Switzer and shouted, "Get the hell out of my race." Switzer managed to finish. She entered the Marathon with no agenda to promote women's running. Her experience radicalized her, changing her outlook on women in sports. Today, Switzer serves as an official commentator for the New York City Marathon.
I salute Carli Lloyd, her teammates, and the young women Carli calls her "soccer sisters" around the world. The Matildas, Australia's women's national team, which is ranked fifth in the world, went on strike last year over their federation's refusal to pay players more than $21,000 a year, and the Colombian national team recently went four months without being paid at all.
On April 12th, Equal Pay Day, Hillary Clinton spoke at a roundtable discussion of the gender pay gap along with another of the women's soccer team players, Megan Rapinoe.
"We cheered when they won the World Cup and we cheered when they won the Olympic Gold medal," Hillary Clinton said, "and we noticed that our men's team hasn't yet done that. And yet somehow the men are making hundreds of thousands of dollars more than the women.
"Now you know the phrase equal pay for equal work. Well, in America we believe in equal pay for equal play, too, and that's why we need to elevate this issue."
Women who grew up playing sports can't imagine turning back the clock to a time when opportunities to compete in athletics were denied them on the basis of gender. But equal opportunity without equal pay is no one's idea of justice.